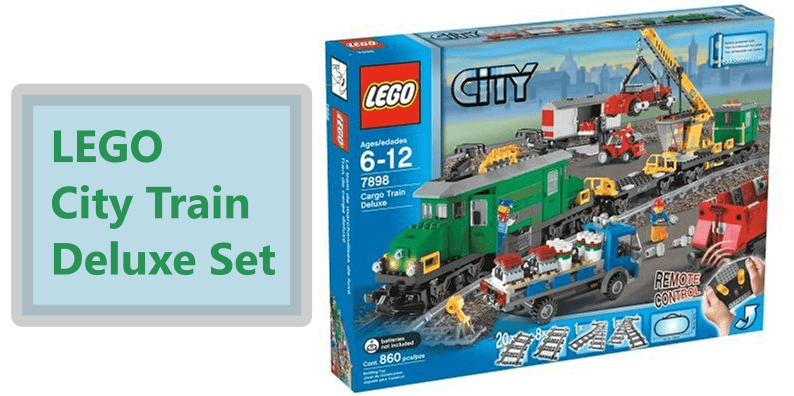 For children and for adults as well, Lego City Train Deluxe Set clearly says "full speed ahead!"
Since 2006, this product has been the delight and joy of all LEGO fans all over the world.
It is a dream come true not only for the younger fans of LEGO brand, but also for the older ones.
This amazing train set is equipped with everything that is needed for a genuine railway adventure.
Firstly, Lego City train set is modeled in the style of a small European cargo train and comes with an infrared remote control operating on three channels and six speeds!
In addition to all these, it also has a horn that is quite similar with a real one!
What is more exciting is the fact that the set has twenty semicircular rails, eight straight rails and two switch rails.
Moreover, the train comes equipped with lots of other wonderful detail pieces, which will make the delight of all LEGO fans regardless their age.
Let's Get into More Details
For those who are eager to know what surprises lie in the Lego deluxe train set, we will try not to be stingy with the details and show you how amazing this LEGO product is by telling you a little about its components.
The assembly has a 57-inch x 33-inch (145cm x 84cm) track.
Moreover, the train is equipped with functional lights and a horn.
Also, LEGO has included in this set a truck which has a platform that moves up and down in order to unload the cargo.
The complete set also contains an engine and three miniature cars, with a length of over three feet (95 cm).
Overall, the Lego deluxe train set has 856 amazing pieces!
The infrared remote control can move the train back and forth at three different speeds.
It requires batteries (9AA), which are not included in the set and will be purchased separately.
It is also useful for you to know that this train can also work with the 9V LEGO tracks.
Which Are the Main Advantages of the Lego Train Set?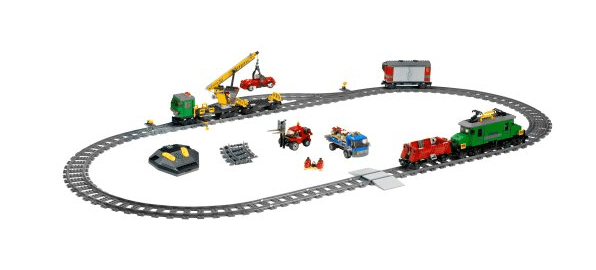 One of the greatest advantages of this Lego train set is that it is not difficult to build.
Being designed for children aged between 6 and 12 years old, it will be as easy to assemble for a 6 year old child as it will be for a 12 year old.
But probably the greatest advantage of this train is its similarity to a real one!
For instance, the remote control button must be pressed more than once for the train to speed up, so the train increases its speed gradually, just like a real one does.
After all your work is done, you will be surprised how fast this little train can fly on its miniature track.
Read more LEGO reviews:
But that's not all!
The Lego City Train Deluxe set has an even bigger surprise for its fans.
With little effort, you can also adjust and adapt the train to the first generations of tracks.
So, although the LEGO City train technology changes over the years, the tracks are built under basically the same principles.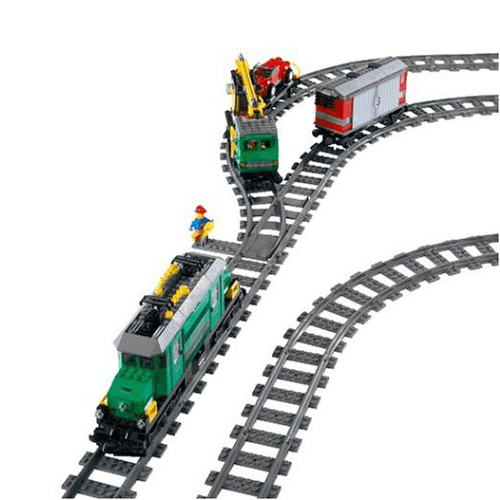 These are absolutely wonderful news for the LEGO fans all over the world!
And last but not the least, each train is separately packed, so children can enjoy building one at a time over a few days, and not all at once.
Are There Any Drawbacks?
The LEGO City set doesn't have major drawbacks really.
If we were to be picky, probably one disadvantage of the product we should mention would be the size of the pieces.
Children under 6 years old should not play with the set unsupervised by an adult because there is the risk of choking for the little ones, considering the fairly small size of the LEGO pieces.
And, as it is always room for improvement in everything in our world, another disadvantage of the LEGO City train set could be the number and shape of the tracks.
A larger number of tracks, curved rails and switch rails will make a true fan even happier than he already is with the LEGO train set.
What Do Reviewers Say about This LEGO City Train Set?
The majority of the customers who bought this awesome LEGO train set are simply delighted with it!
Below, we have chosen a few excerpts from their reviews to show you what they have to say about the set:
"Even though over the years LEGO came with newer models of miniature trains, this set is yet the best one ever produced by this brand." (R. Ferguson)
"I bought this wonderful set for my five year old son. We built each part of the vehicles in a couple of days, and it was awesome! The train is wonderful but it got a little boring after a while because of the simple tracks. So, it would have been more fun for as to have more accessories to build." (M. Parikh)
"We simply adore this set! My kid loves LEGO bricks and LEGO trains, so this train set came like the perfect toy for him." (Guthrie)
"For thirty years or so, I have been collecting LEGO miniature trains. And I must confess that this LEGO City set is as magical as the original one was for me the first time I saw it so many years ago. The only changes that I have noticed and are obvious are the improvements made in the system of the little train, and the fact that now it can function only on batteries." (Jon Akers)
LEGO Train Set Video Instructions
Bottom Line…
For the true fans of LEGO trains and LEGO games, this train set is a pleasant surprise and a "must have".
And for the others, we hope we made you curious enough to try this wonderful set.
Also, do not forget that the LEGO City Train set is a wonder not only for the little ones, but for adults as well.
So, if you decide to purchase a set for your child, please try to constantly remember for whom you bought it in the first place and do not get greedy and possessive with the little train!