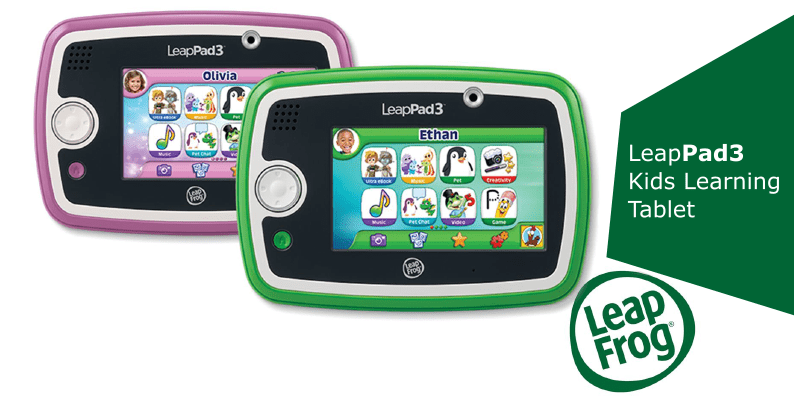 Welcome to ToyTico where we will be looking at features of the LeapPad 3 Kids Learning Tablet, giving you a full review, answering some frequently asked questions as well as telling you where to get the best price online.
Why this specific learning tables?
It's because LeapFrog products are always a super popular gift for kids at any age. Kids simply love LeapFrog tables, while we mentioned LeapFrog in our 2017 toy brands list.
If you are in a hurry you can visit LeapFrog LeapPad3 Kids' Learning Tablet to make sure you get free shipping and guaranteed fast delivery at Amazon.com.
LeapPad3 Kids Learning Tablet: Fast, High Performance Tablet Made Just for Kids Provides Education & Fun
What We Like: A faster quad-core processor amps up the tablet's speed, a rechargeable battery, a more responsive touch screen, strong parental controls and games that adapt to your child's ability.
What We Didn't Like: The screen resolution is not as crisp as could be. More internal memory would be a plus.
The Bottom Line: This is a great tablet for young children. The LeapPad 3 is a durable, powerful, feature rich tablet made just for kids and not an adult table that's made 'kid friendly'. Parents can feel comfortable knowing that their kids are not only having fun they're actually learning something also.
The LeapPad 3 Kids Learning Tablet, LeapFrog Enterprises upgrade of the popular LeapPad2, comes with some desirable upgrade features. If you however want to read about his successor, head to the LeapPad Ultra XDi learning tablet article.
Noteable upgrades include – a more responsive touch screen, wi-fi capability and a built-in lithium-ion rechargeable battery. Safety features include LeapFrog's "web-safe wi-fi" a proprietary browser that lets kids access the LeapSearch site to view age appropriate content.
The tablet is built with a shatter-safe screen and special impact zones for added durability.
Design & Features of LeapPad 3 Tablet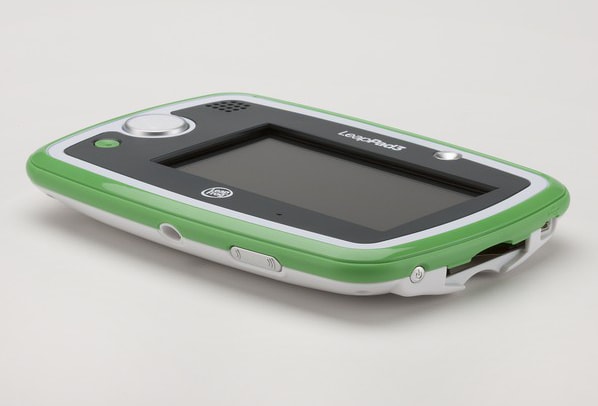 The LeapPad 3 is a sleek looking kids tablet. It's built for durability with special impact zones and a soft bumper.
The shatter safe screen means that if the screen should shatter that no sharp pieces will get out.
This tablet comes with nice graphics on a responsive touch screen that works very for children's fingers. There is also a stylus.
Wi-Fi Capability
Kids can get online but in a controlled environment. LeapSearch provides age appropriate content which has been pre-screened and approved by learning experts.
Rechargeable Battery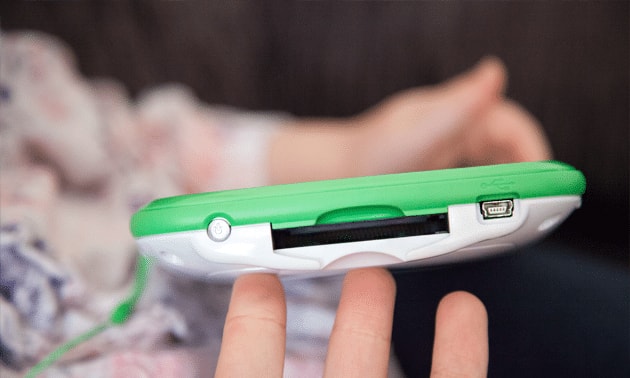 No more buying batteries! The LeapPad3 comes with a lithium ion rechargeable battery that's easy to recharge with either a USB or AC adaptor. The company says it will last up to 6 hours on a full charge.
Parental Controls
While the LeapPad 3 is designed to only serve up age appropriate content, parents still have the ability to control which of that content their kids have access to.
Parents set up a 4 digit security code that will allow them to control internet access, purchase digital content directly from the device, manage content, set up child profiles to control what their youngster has access to and much more.
Personalized Learning
Games automatically adapt to your childs learning. As your child masters the learning skills the games become more challenging. In addition to the core subjects such as math, science and reading, the LeapPad 3 games also teach creativity, problem and life skills.
Games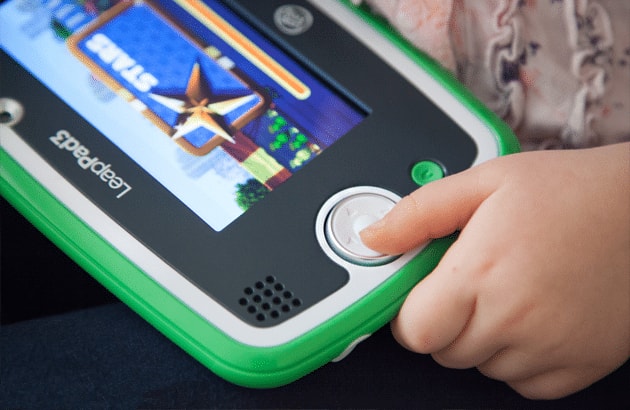 The LeapPad3 kid tablet has access to LeapFrog's huge learning library.
You can choose from hundreds of educator approved learning games, ebooks, apps, videos, music and more.
Kids will enjoy interacting with lots of familiar characters with offerings from Sesame Street, Disney and Nickelodeon.
You can purchase content from the LeapFrog website, directly from the tablet or by purchasing a digital download card (great for gifts!).
There is good news if you have several devices as you can add your purchased apps to up to four devices.
You can use the games purchased for the LeapPad or the LeapPad2 with the LeapPad3.
System Specifications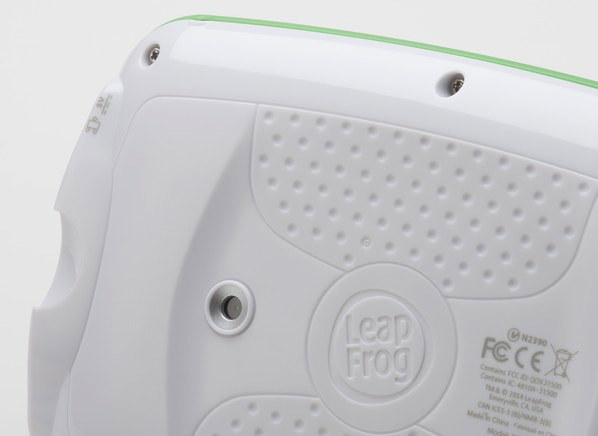 5 inch touch screen
Rechargeable Lithium ion battery (6+ hours battery life)
2 MP front and back camera
480p video recording
Wi-Fi
Quad-core processor
4 GB memory
Weight: .86 pounds
Dimensions: 7.5 x 5.2 x 1 (inches)
What's Included in the Box
LeapPad 3 Learning Tablet
USB Rechargeable Battery
USB Cord
AC Adapter
Parent Guide
Includes 10 apps
LeapPad3 Kids Learning Tablet Accessories
We've rounded up a few accessories to enhance and protect your investment in the LeapPad3 Kids Learning Tablet.
Find stylish and sturdy cases that will protect your LeapPad 3 investment, a download card that will make it easy to add to the learning and fun on your tablet as well as comfort headphones that provide the quiet time your youngster sometimes needs.
Check them out below!
| Image | Name | Description | Details |
| --- | --- | --- | --- |
| 1 | LeapPad3 Pink Carry Case | Hard outer shell protects device. Inside storage. Also works with LeapPad2 | More Info |
| 2 | LeapPad3 Green Carry Case | Hard outer shell protects device. Inside storage. Also works with LeapPad2 | More Info |
| 3 | LeapFrog Headphones, Green | Adjustable, padded headband and ear cushions for comfort. Works with all LeapPad tablets. | More Info |
| 4 | LeapFrog Headphones, Pink | Adjustable, padded headband and ear cushions for comfort. Works with all LeapPad tablets. | More Info |
| 5 | ACcase LeapFrog LeapPad3 Kids' Learning Tablet Case | 100% Leather. Built in stand. Cut outs for all controls. | More Info |
| 6 | LeapFrog Digital Download Card | Use the code to download learning games, eBooks, audio books, videos, music and more from the LeapFrog App Center. | More Info |
LeapPad3 Kids Learning Tablet – Frequently Asked Questions
We've complied a list of the most frequently asked questions about LeapFrog's Leappad3 Kids Learning Tablet.
If you are looking for an in depth review on the LeapPad3 Kids Learning Tablet you can view our main LeapPad3 Review page or alternatively you can look at our Where to Buy page where we will give you information on the lowest price available and how to ensure you get free shipping and super fast delivery.
What comes with purchase?
The LeapPad 3 is 1.5 pounds and measures 1 x 7.5 x 5.1 inches. It features a 5 inch touch screen, lithium ion rechargeable battery, 4GB memory, quad core processor, front and rear 2 megapixels cameras and video recording at 480p.
The LeapPad 3 also has wi-fi capability.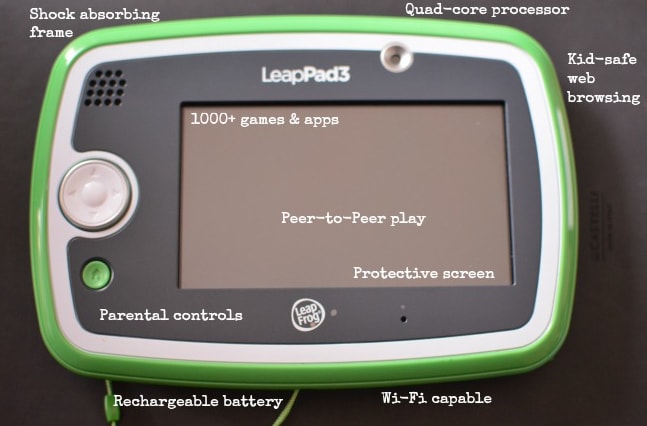 10 apps come with purchase and include: Photo Fun Ultra, Pet Pad Party game, Pet Chat, choice of 1 app download, Utility Suite and more.
Is LeapPad3 really kid-tough? How do you know it is?
Yes, LeapPad3 was built from the inside out just for kids. All LeapFrog tablets, including LeapPad3, go through rigorous drop-testing, impact-testing and compression-testing to ensure durability and child safety.
How long does LeapPad3 take to charge? Is the recharger included?
LeapPad3 is equipped with a rechargeable lithium-ion battery. Charging requires about 4 hours using the enclosed AC power adapter, or 7 hours using the enclosed USB cord and your computer, prior to use. Attempting to charge via connection to the computer while using the tablet takes much longer.
How long will the battery last?
LeapPad3 features a rechargeable battery for 6+ hours of uninterrupted play between charges.
Will LeapPad1 or LeapPad2 games and apps work on LeapPad3?
Yes, all LeapFrog Explorer and LeapPad cartridges and apps, work on LeapPad3, with the exception of Story Studio: All About Me, Story Studio: Mermaids, Story Studio: Pirates & Aliens, Camera Expansion and Art Studio.
Is the LeapPad3 web browsing experience safe for children?
LeapFrog takes pride in ensuring that every experience is kid-appropriate. The web browsing experience via Wi-Fi connection on LeapPad3 was designed just for kids with their safety in mind:
LeapPad3 features LeapSearch™ powered by Zui™—a secure browser that lets kids explore only content that is selected and approved by LeapFrog learning experts.
Intuitive controls let parents choose what their child can access from LeapFrog's already pre-selected and approved images, videos and websites.
Can I purchase LeapFrog apps on the Apple App Store for LeapPad3?
There is a small selection of apps on the App Store for Apple iOS devices however LeapPad3 is designed to work with the 1,000+ engaging, educational games, eBooks, videos and more in the LeapFrog library at leapfrog.com.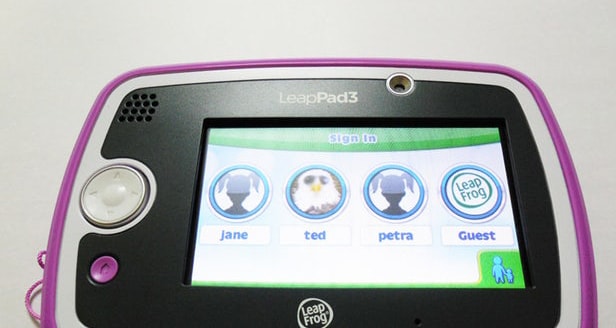 All content in the LeapFrog library is approved or reviewed by LeapFrog learning experts and is packed with age-appropriate fun. LeapFrog games and apps draw from a curriculum of 2,600 skills that go beyond core subjects.
Can I share apps between tablets?
Yes, apps purchased in the App Center can be saved to three (3) LeapFrog compatible devices at a time as long as all three devices share a common parent account email address.
Can I add videos and movies I own on the tablet?
No, LeapFrog tablets work only with games, apps and videos approved or designed by LeapFrog learning experts to ensure your child is exposed to safe, educational content.
Can my child access Netflix or YouTube?
In order to ensure a safe and secure experience for your child, LeapFrog tablets work only with games, apps and videos approved or designed by LeapFrog learning experts to ensure your child is exposed to safe, educational content. With LeapPad tablets your child can access a library of 1,000+ games, apps and videos. With LeapSearch™ powered by Zui™—a kid-friendly web environment of videos, games and more, all prescreened by LeapFrog learning experts—you can rest assured every content experience is safe and age-appropriate.
How do I access the included apps?
You will access your included apps during your child's tablet registration process; just follow the easy steps on the screen.
Can the LeapPad3 be used if you don't have a wi-fi connection?
Yes, you can use it without Wifi. The online content (Leapfrog-screened youTube videos, for example) won't be accessible, but previously downloaded apps as well as game cartridges can be used without any internet access.
Do I have the option to add my own websites which I would allow my kids to use. Or can the only use sites preset by Leapfrog?
No – this has 'kid-safe' web capabilities. LeapPad Enterprises has carefully selected sites with approve kid safe content.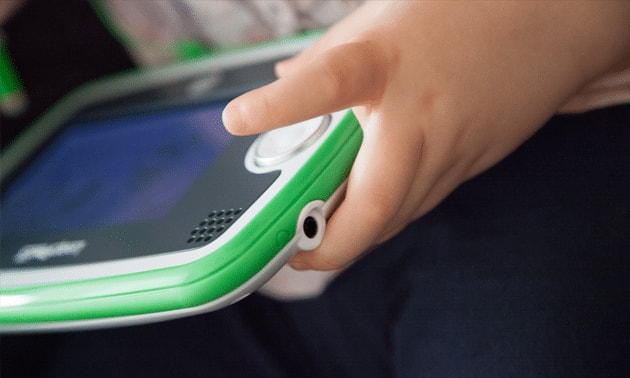 Does the LeapPad3 support other languages?
Yes, you can change the language in the Parent Settings.
Where can I buy the LeapPad3 Kids Learning Tablet?
The price of the LeapPad3 varies depending on where you buy it but Amazon tends to have the lowest price.
You'll also get free shipping which will save you even more money.
Conclusion
Other kids learning tablets can't match the large amount of educator approved educational games and apps that the LeapPad3 Kids Learning Tablet has access to.
We think this is a great tablet for the 4 to 9 age group that it targets. The more responsive touch screen, added wi-fi capability and rechargeable lithium-ion batteries are much desired features that make this tablet a great buy.
If you have earlier versions of the LeapPad you'll be happy to find that you can use your previously purchased cartridges with this unit. If you're new to LeapFrog Enterprises and their LeapPad products this tablet is a great choice to get your kids onboard with the fun and learning concepts.
Where to Buy
You can grab the LeapPad3 at the link below and get free shipping.