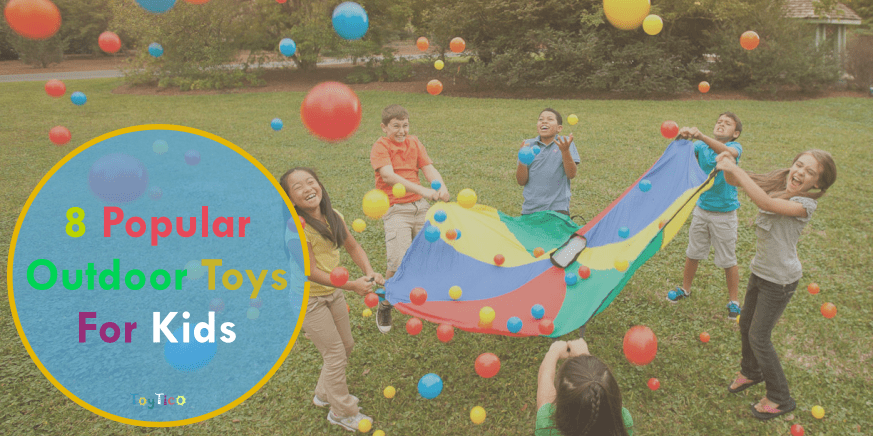 In the recent period, there is a growing interest in outdoor toys for kids.
This is quite natural because modern tech gadgets make children spend more and more time inside their homes.
As a result of that, they are experiencing many health issues including overweight and obesity.
With the right outdoor toys, both parents and children can experience many benefits.
For instance, outdoor toys for kids support physical fitness.
In addition, they are also encouraging curiosity and social development in children according this research paper on Imagination Playground.
Outdoor toys are here to provide different types of education mostly focused on the development of practical skills.
Now let's check some of the most popular outdoor toys for kids available in the market today.
1. Little Tikes First Slide, Red/Blue
The list starts with an all-time favorite – an ideal beginner's slide.
Little Tikes First Slide is the ideal slide for children that have never used a slide before.
As a well-established company for outdoor toys for kids, the creators of this slide had the needs of little children in mind.
That's why they have made a slide that has the right size for kids.
It is not too small for slightly older children or too big for small kids.
What makes this slide good for the parents is the fact that they can fold and unfold it in a matter of seconds.
This means that the slide has great mobility and that it is excellent for storing.
If you want to support your kid's fitness, coordination or balance then you should definitely take Little Tikes First Slide into consideration.
This slide is suitable for kids between 18 months and six years.
It comes in red and blue colors.
2. SpringBuds Princess Castle Play Tent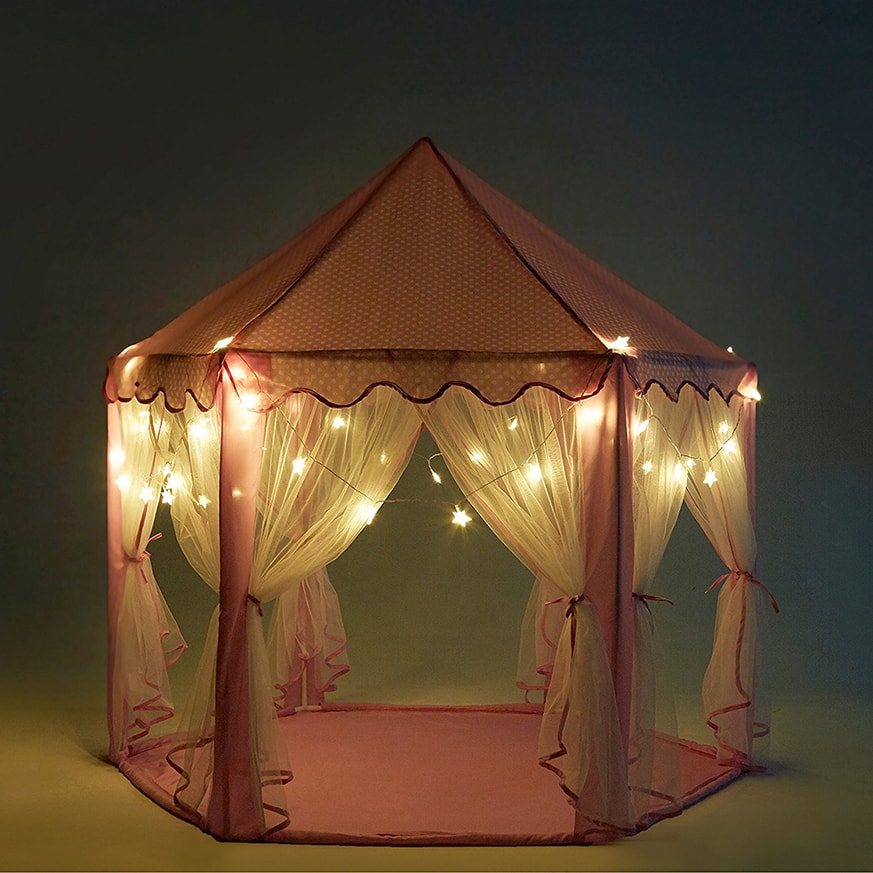 If you want to make your little girl feel special, then buying this princess castle may be the right thing to do.
This is actually a play tent that can be used not only by your daughter, but few of her friends too. With a 55″ diameter and 53″ height, this play tent can accommodate a few kids.
You can place this lovely princess castle in your backyard and allow your children to unleash their imagination.
These play tents can make them feel like they are in another place.
It gives them a feeling of protection and comfort.
Most children use it for playing dress-up, have chats with their best friends or even for outdoor reading.
Children need to learn to respect privacy and this is one way to show them what privacy means.
This play tent comes with mesh windows which keep the insects out and the fresh air in.
It is easy to fold and store and it is made from durable material.
3. Little Tikes 2-in-1 Snug 'n Secure Swing in Blue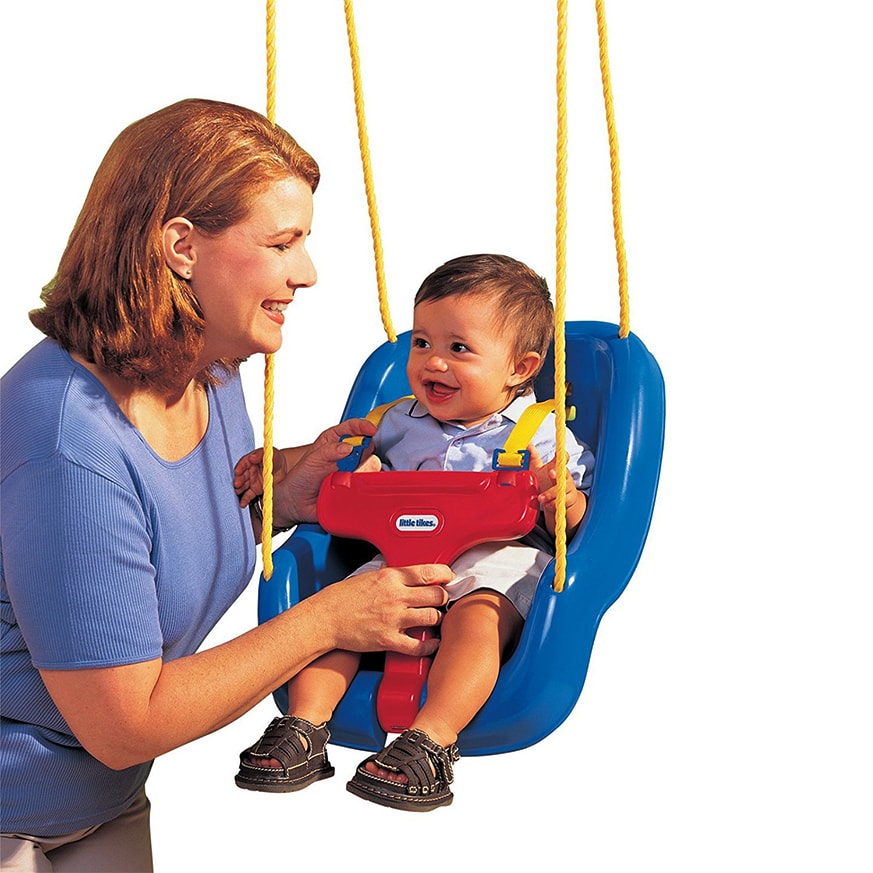 Swings have been used by children all over the world for hundreds of years.
Modern swings are not much different, but the best among them come with some special features and characteristics that make them, even more, fun and entertaining.
The 2-in-1 Snug Secure Swing made by Little Tikes promises great fun to kids who love to swing.
Safety and comfort are the two things that matter the most in this process and this is exactly what this small swing by Little Tikes provides.
Every responsible parent will be glad to hear that this swing comes with a few different safety features.
For instance, the straps and a special T-bar are here to keep the kid in place.
At the same time, this T-bar can be removed making the swing more suitable for older kids.
Of course, keep in mind that this is a baby and toddler swing – 2 in 1.
The recommended age is between 9 months and four years.
4. Step2 Big Splash Waterpark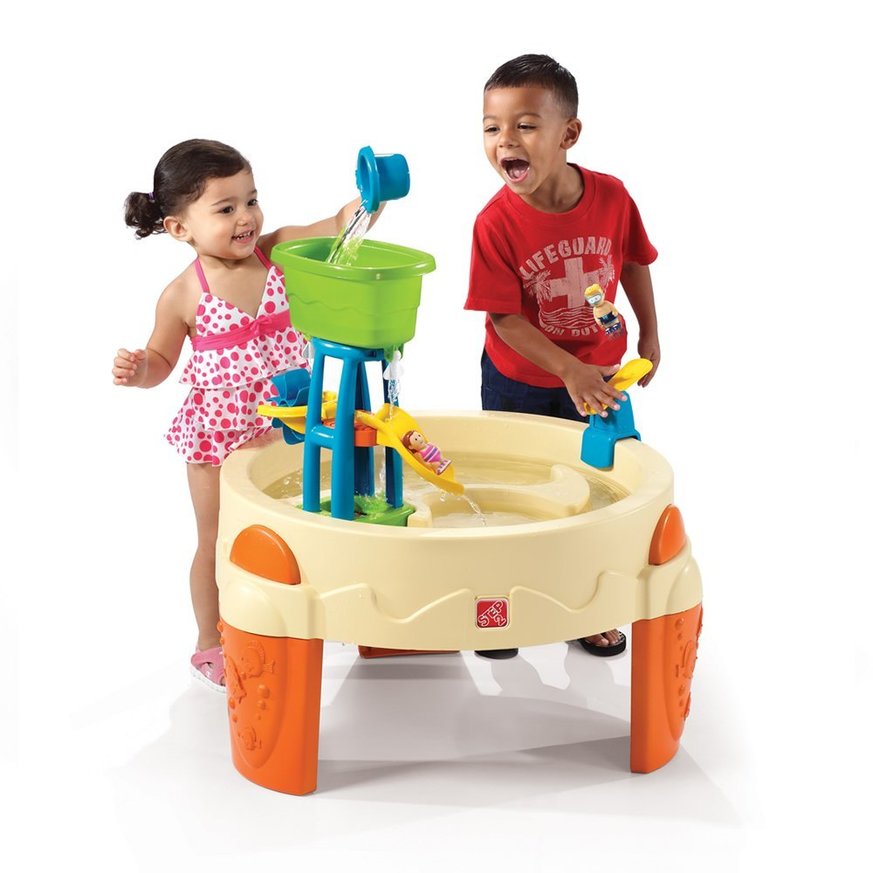 The warm summer days are ideal for outdoor activities and parents should encourage their kids to go out more frequently.
Obviously, placing an exciting outdoor toy in the backyard is one way to do this.
Kids enjoy playing with water, and this Big Splash Waterpark toy by Step2 is all about water activities.
This special toy comes with a few features and at the same time it allows kids to use their imagination and create their games.
With the help of this outdoor toy, kids can spin the water wheel or pour fresh water down the waterslide.
There are also small plastic swimmers inside the small pool and they can be catapulted into the pool with the help of a fun catapult.
Let your kids feel the beauty of summer and water and allow them to play in the backyard.
Don't worry about storing this product because its parts are removable and foldable and there is a drain plug too.
5. Step2 Naturally Playful Lookout Treehouse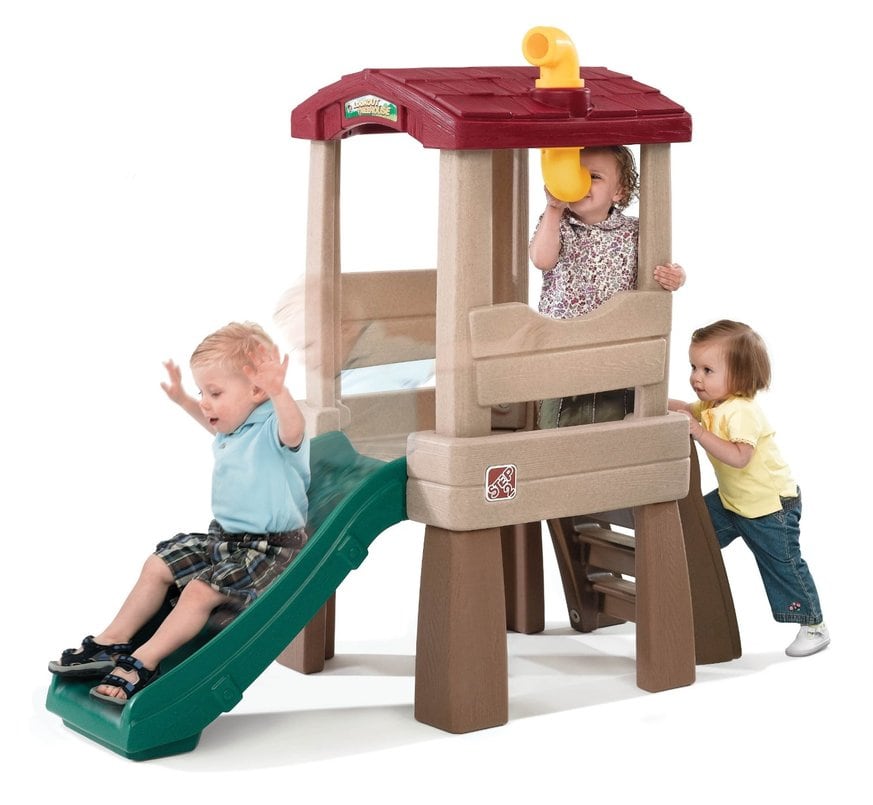 We all remember the days when we were playing in treehouses.
However, enjoying the time in a treehouse is not available to some children.
Some of them live in places where there are no strong trees for such structures.
Others are too small to be left in a treehouse.
This is where Naturally Playful Lookout Treehouse by Step2 comes into play.
This special outdoor toy serves as a lookout and as a treehouse.
It is made from sturdy, yet safe materials.
Since it's made for small kids (recommended age between 18 months and 5 years), it has large and simple-to-climb stairs.
In addition, it has a nice small slide and a relatively large platform (it can fit two kids at once).
The designers of this toy have taken care of all the small details including the realistic "shingled" roof which creates shade and a pleasant environment during sunny days.
6. Children Play Tent House with 2 Tunnel, 2 Tents and Zipper Storage Bag
It doesn't really matter whether you are looking for an outdoor toy for one child or for a group of children, this Adventure Children Ball Pit Play Tent is the perfect solution.
This is a tunnel tube based on spring-like mechanisms that join the Teepee and ball pit.
In this way, children can get a unified play area where they can enjoy in outdoor activities for hours.
There is no doubt that this product supports kid's creativity.
In addition, since it's made from different colors it also makes color perception easier for them.
Needless to say, this system of tunnels helps them develop coordination too.
Another thing that makes this system of tunnels special is that it can be used in many different ways to play.
It can be used as a playhouse or a castle.
It can also be used as a crawling space or you can fill them with balls and let your kids and their friends jump and have fun.
7. Kids Play Tent With Basketball Hoop and Balls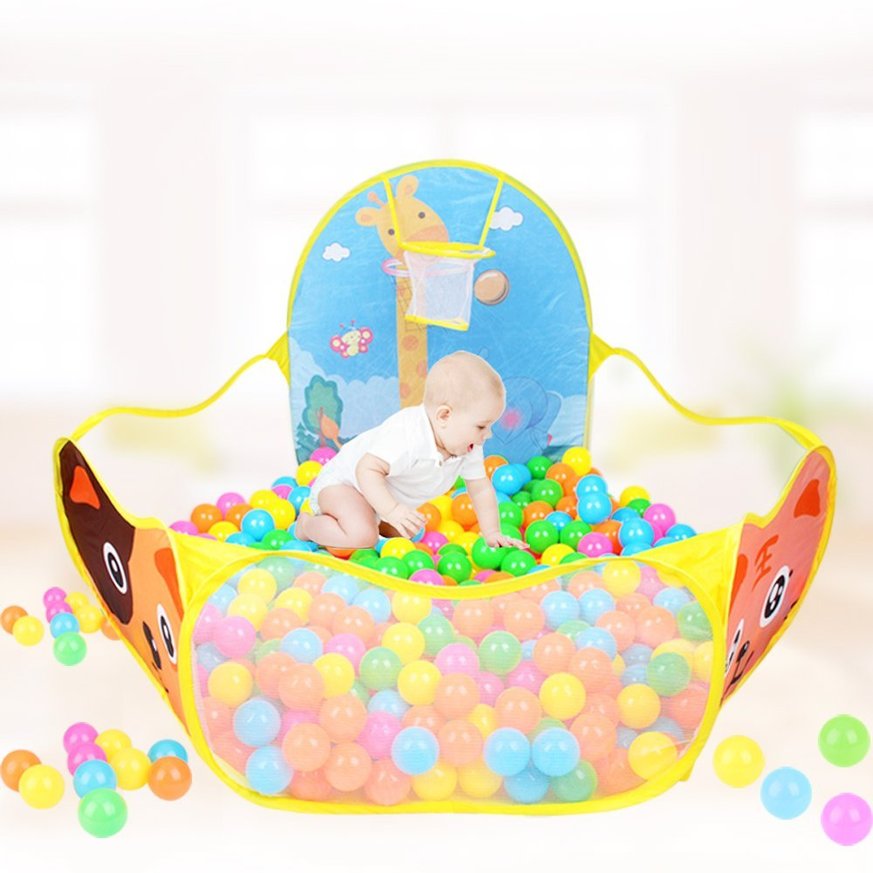 Play tents are one of the most popular types of outdoor toys used by modern children.
This Play Tent by Aobik can be used in different ways.
One of the first things you'll notice about it is the big, attractive images of cute animals on it.
It features an elephant and giraffe printing and few other interesting images.
The tent is very colorful which makes it attractive for small children.
It is made from safe materials and doesn't come with any scent.
---
Don't miss to read: Best Toy Kitchen Sets For 2 to 7-Year-Olds
---
It's also worth mentioning that this is an eco-friendly product which means that it doesn't pollute the environment.
Kids can use it as a castle, play tent or a big storage for balls.
Keep in mind that you must buy the balls separately, the balls are not included. It can hold up to 300 small balls which is enough for 3-4 small kids to have fun for many hours.
8. Little Tikes Cozy Coupe First Swing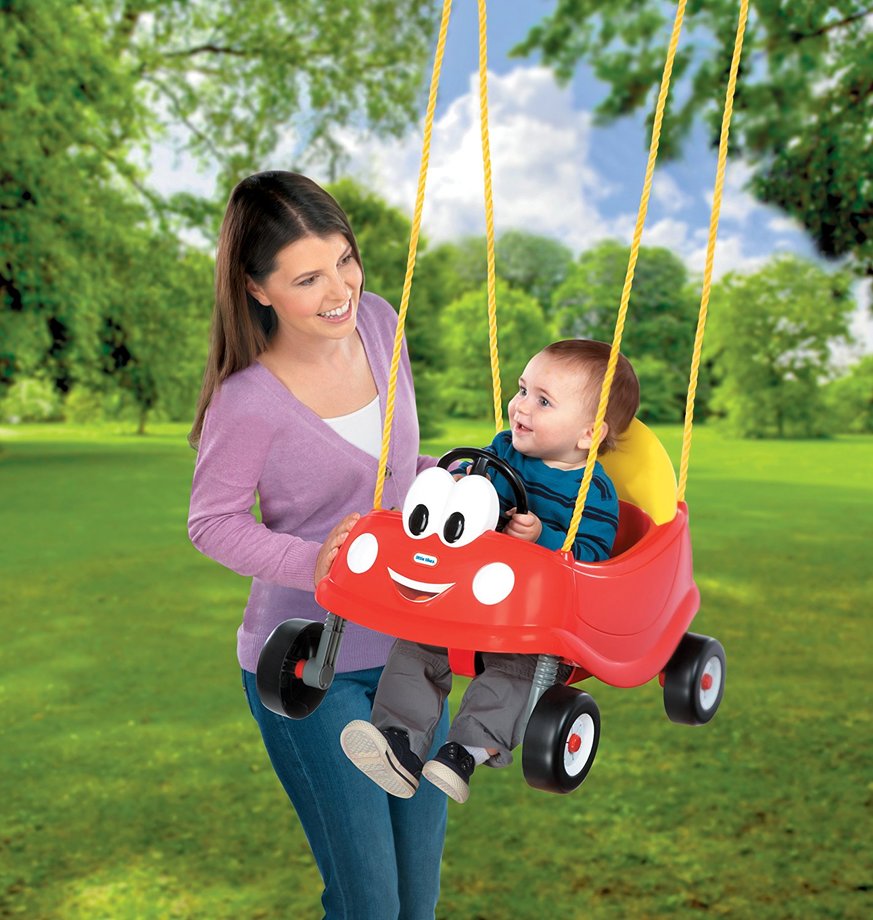 Swinging is something that every child should try at some point of their childhood.
According to many, even babies and infants can try this activity because it helps them develop properly.
Of course, in order to be sure that your kid is safe, you must look for a high-quality swing.
Cozy Coupe First Swing is a swing by Little Tikes made for babies and infants.
It comes with a safe seat belt that will keep the kid in place during this activity.
This outdoor toy comes in the form of a coupe with an interesting cartoon character representing the front side of this imaginary vehicle.
Parents can also add it to an existing swing set.
The maximum allowed weight is 50 lbs.
This swing for complete beginners is made from very durable materials.
It is very easy to attach and detach it from existing swings.
Overall, this is a fine first swing for small children that comes at a more than reasonable price.
Bottom Line
We'll try to keep this list alive by adding more popular outdoor toys as they come.
Do you have any special outdoor toys to share?
We wait for your suggestion.