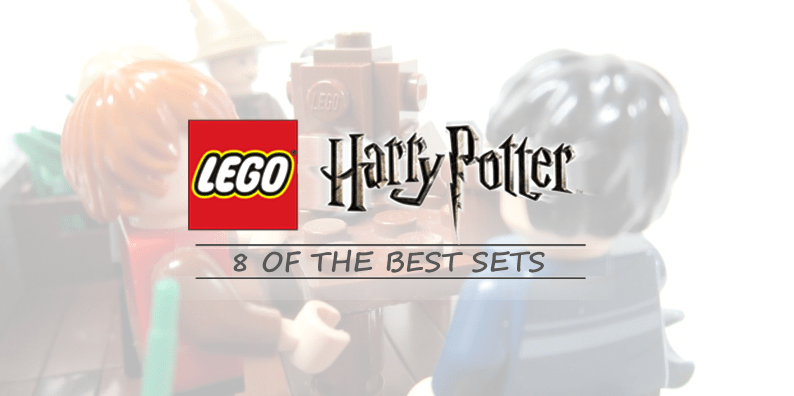 There is no doubt that Harry Potter series made by J.K. Rowling has become one of the most popular works of fiction of all time.
Harry Potter's ability to cast spells and unfold mysteries has impressed millions of children and adults around the globe.
From the Sorcerer's Stone and the Prisoner of Azkaban to the Chamber of Secrets and the Deathly Hallows, these series are promising great fun for people of all ages.
Harry Potter allows people to unleash their imagination and creativity by reading the books or watching the movies.
However, there is another way to enjoy Harry Potter series – by using Harry Potter Lego sets.
Lego has been making small plastic locking blocks featuring small people and robotic models since 1969.
The first Harry Potter Lego set was introduced in 2001.
Today, buyers can choose from more than a dozen of Harry Potter Lego sets featuring dozens of characters including Harry Potter, Hermione Granger, Ron Weasley, Dobby, Minerva McGonagall, Rubeus Hagrid, Oliver Wood, Lucius Malfoy, Severus Snape and more.
These sets represent fun and exciting collectibles that can be used by everyone. The best part is that you don't have to spend a small fortune to get them.
8 of the best LEGO Harry Potter sets
| | Set Name | Pieces | Age Rec. | Details |
| --- | --- | --- | --- | --- |
| | LEGO Harry Potter Diagon Alley 10217 | 2,025 | 14+ | Info |
| | LEGO Harry Potter Hogwart's Castle 4842 | 1290 | | Info |
| | LEGO Games 3862: Harry Potter Hogwarts | | 8+ | Info |
| | LEGO Harry Potter? Quidditch Match 4737 | | | Info |
| | LEGO Harry Potter: Hogwarts Express (4708) | | | Info |
| | Lego Stories & Themes Harry Potter Shrieking Shack (4756) | | | Info |
| | LEGO Harry Potter The Knight Bus (4866) | 281 | 7-12 | Info |
| | LEGO Harry Potter - The Durmstrang Ship | 550 | 8+ | Info |
1. LEGO Harry Potter Diagon Alley (10217)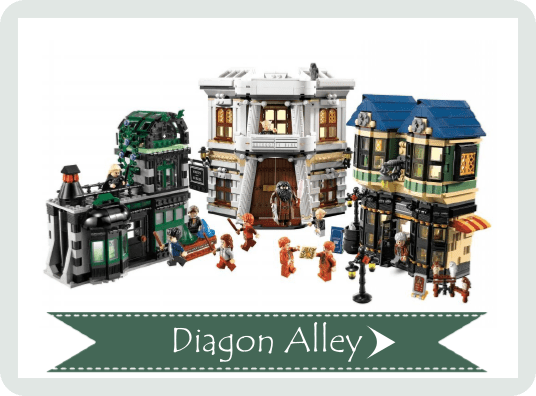 Harry Potter fans probably know that Diagon Alley is the most popular shopping district in this world of magic.
Thanks to Lego, you can now get closer to this world.
From the first time you see this set, you will notice that the creators from Lego have put a lot of effort to bring even the smallest details to life.
With the help of this set, you can build and tour three shops located in Diagon Alley.
First of all, you can build the famous Ollivander's shop where students come to buy wands and wand accessories.
When the shop is built it is 5 inches x 8 inches wide.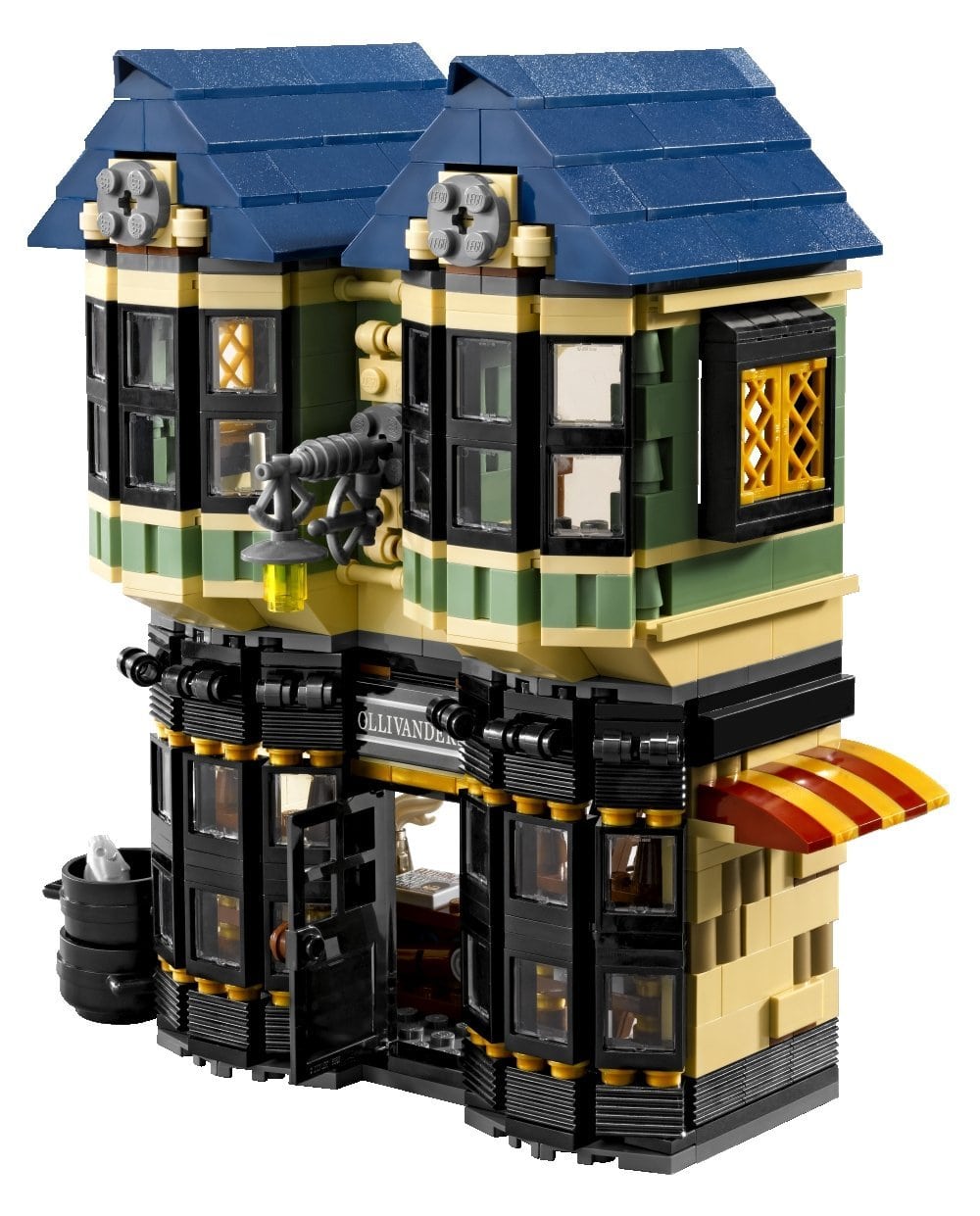 This is a two story building with many details that will surprise you.
For instance, there is a nice ladder that keeps the second and first floor connected. The set includes Mr. Ollivander too.
What many Lego lovers like is the presence of the detailed windows and window treatments.
The other structure that is part of Diagon Alley and this Lego set is Borgin and Burkes. This is a specially designed shop for students and wizards who are interested in dark arts. Even though this structure is the smallest in this set, it is also the one with the highest number of details.
For instance, this shop glows in the dark. There is also a spinning floor entrance and a cabinet that can vanish mysteriously.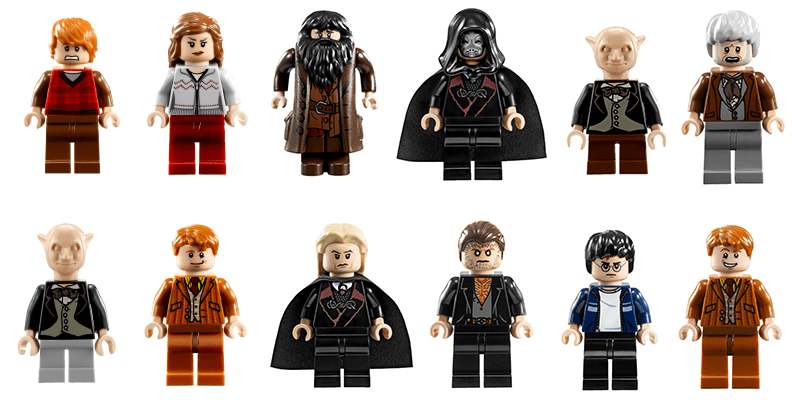 Finally, there is the Gringott's Bank, the biggest structure in this set. It is about 8 inches tall and 4 inches wide and has relatively large columns.
The center of this bank hides the best things about this special set. This is where you can find the bank vault, an impressive chandelier, and the Sorcerer's Stone.
Overall, this Lego set promises satisfaction and joy!
2. LEGO Harry Potter Hogwart's Castle (4842)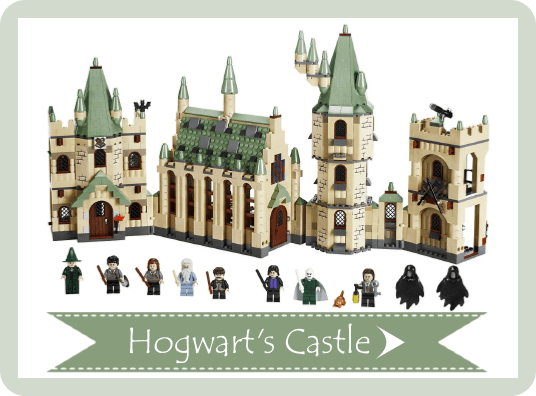 When LEGO Harry Potter Hogwart's Castle was revealed in 2010, it was the largest of all Harry Potter sets.
To be more precise, this set includes 1290 pieces, eleven exciting mini-figures, and three manuals.
Once it is built, you can see how impressive this castle.
It contains many details that will help users step into the world of magic.
From the restricted library and the Astronomy Tower to the room of Professor Dumbledore and Gryffindor's Sword – this set will keep you busy for hours.
One of the main reasons why Harry Potter Lego sets are so popular is the presence of mini-figures.
Buying them separately is impossible, so you have to buy the set.
As we said before, the LEGO Harry Potter Hogwart's Castle includes eleven mini-figures.
But, it's not just the number of figures that is impressive, it's who they represent that makes this set so interesting.
These mini-figures include Harry Potter himself, Albus Dumbledore, Hermione Granger, Mrs. Norris, McGonagall, Argus Filch and his cat, Lord Voldemort, Professor Snape and two dementors.
To be honest, this is a very complex LEGO set, so you should be prepared to spend more time to build the castle and put everything in place.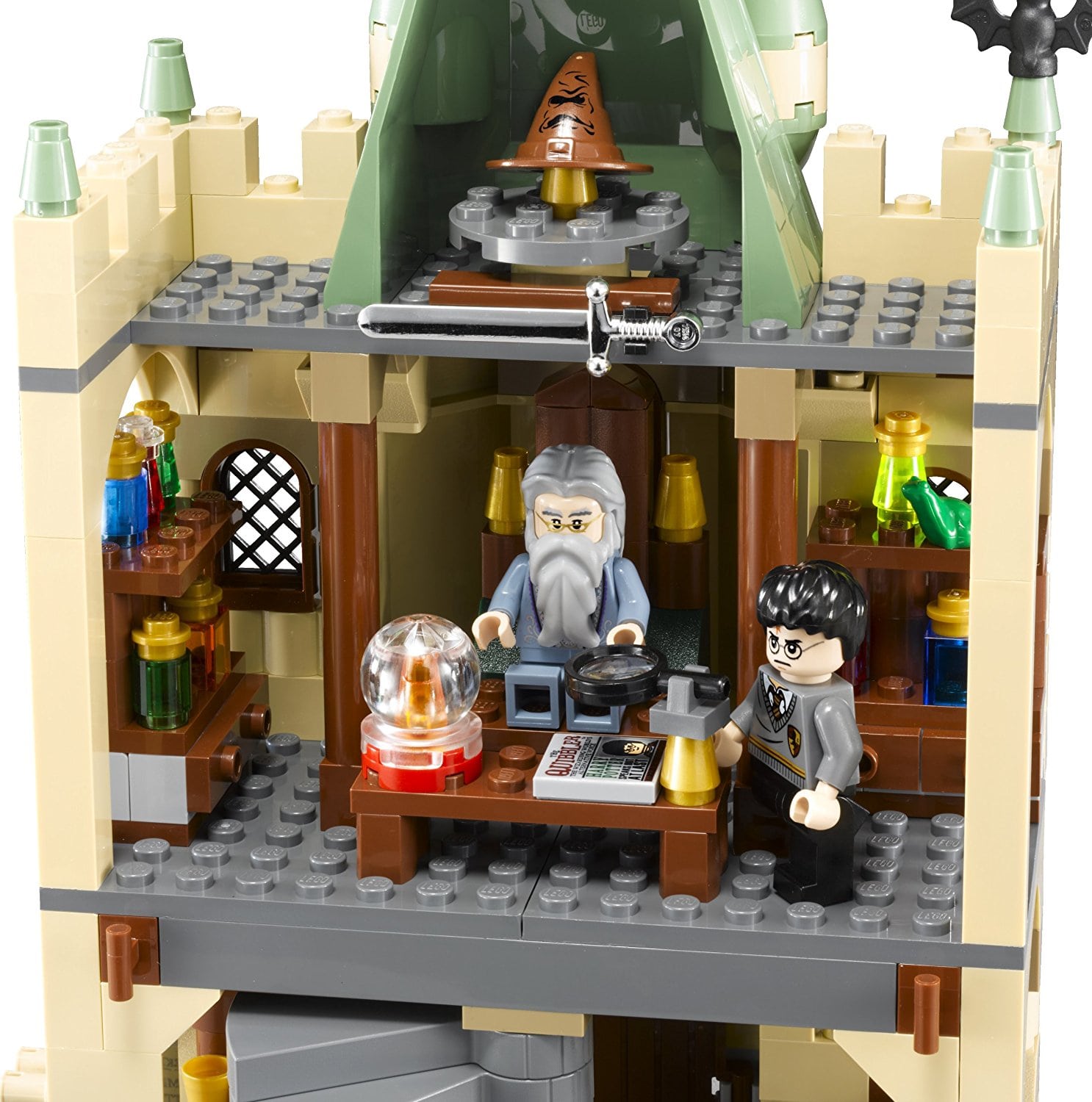 It's highly recommended to use a spacious room to build it.
Overall, the Hogwart's Castle is quite similar to the one found in the movie and the book.
The castle comes with the clock tower, the Gryffindor Tower, and the secret rooms.
The highly detailed castle is attractive for both Harry Potter fans and those looking for a fine Lego set.
To put it in simple words, the Harry Potter Hogwart's Lego Castle (in-depth review) set is a wonderful set for every Lego collector.
This is a high-quality set, just like every other set made by Lego. Due to the fact that this set is complex, you can expect to spend a lot of time building, playing and having fun.
3. LEGO Hogwarts Game (3862)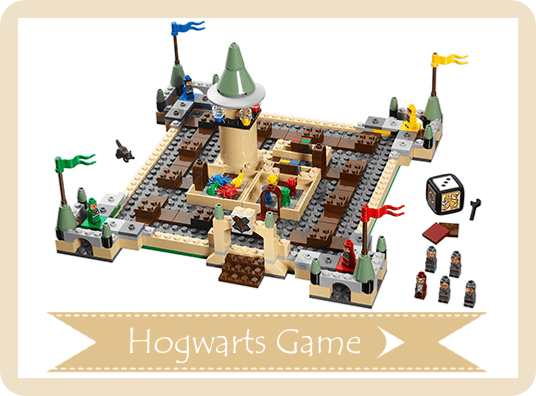 The Lego Harry Potter Hogwarts game is one of the most popular games from the first collection of Harry Potter games made by Lego.
This is a game that you can play, modify and build.
Many reviewers say that this is a fun, challenging and interesting game for both adults and children which is why it was one of the top sellers in 2010 when it was introduced in the market.
Of course, it is still popular today because its features are equally interesting and Harry Potter's popularity will never drop.
Harry Potter Hogwarts game was created for two to four players. It is designed for individuals over eight years and for adults too. It's good to mention that even though it contains tiny parts, kids that are four years old or older can play it too but only if they are monitored by an adult person.
The game set delivers an opportunity to build an incredible 3D playing board. In addition, users can also become part of a classic Lego-inspired board game which relies on creating and moving tiny pieces. The board represents the
Hogwarts School of Witchcraft and once you build this structure, you can explore the secret rooms and passages found in the famous castle where you will find and teach your eager students some magic tricks.
The game is based on the Harry Potter series and the players will use Harry Potter, Ron Weasley, Hermione Granger, Albus Dumbledore, and Draco Malfoy to complete the missions.
The best part is that this Lego game comes with detailed instructions on how to build the board and how to play the game.
You should feel free to set your own rules and play by these rules.
Lego Harry Potter Hogwarts game is a perfect family game that can be used as a gift too.
LEGO Harry Potter Quidditch Match (4737)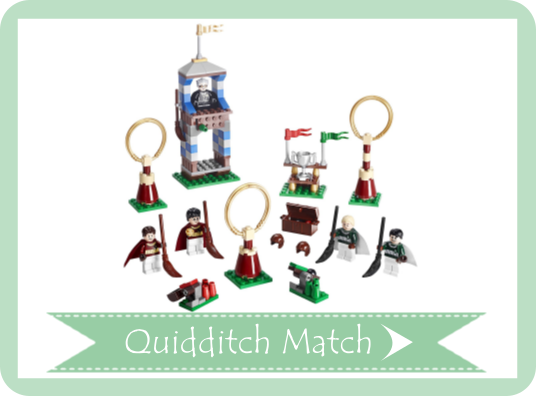 Have you heard about Quidditch?
Well, if you are a Harry Potter fan then the answer is probably yes.
This is a special sport that is quite popular at the Hogwarts School of Magic.
This sport is visually stunning and if you want to see it in your home, you can now get the LEGO Harry Potter Quidditch match game.
This game consists of three basic elements – the ball joints, the trophy and the hoses. In the game, the hoses and trophy have special metallic colors and they can be placed in many different places. In other words, we are talking about highly flexible elements.
The aforementioned ball joints come in black color and they are used in certain builds only. It's also good to know that the trophy is relatively large. Finally, the hoses are 16 studs long, ridges like axles and can be used for storing other Lego gears and elements.
Another thing that is interesting is that the ball joints are relatively small and are often used as decoration for the builds.
What makes Quidditch set by Lego special is that there are many different free-standing objects and items. The central item is here to accomplish three goals – to accommodate spectators, to serve as a referee's post and to help the announcer complete his announcements easily. Additionally, this Lego game comes with two catapults that use colored ammunition.
Lego Harry Potter Quidditch match game includes some mini-figures too like Harry Potter himself, Madame Hooch, Oliver Wood, Draco Malfoy and Marcus Flint. Almost all of them are wearing cloth caps.
While it is true that you can't expect to get the same experience as the one seen in the movies, the Quidditch Match provided by this unique Lego game will definitely make you happy and satisfied.
5. LEGO Harry Potter Hogwarts Express (4708)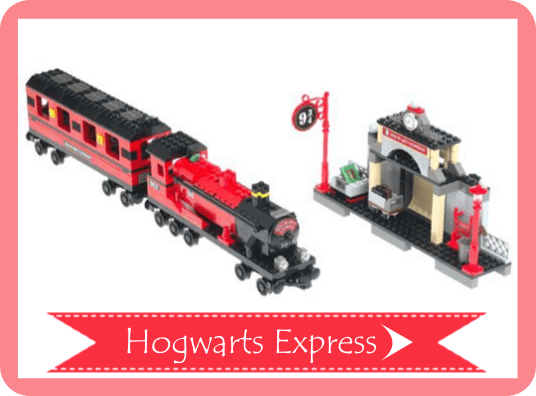 When the Lego Harry Potter collection was released in 2010, many people had high expectations and it seems that they were right.
This collection includes some amazing games and sets and the Hogwarts Express is one of them.
Before we go into details, let us mention that this special toy is not suitable for children under 3 years old. This is quite normal because the toy is made from tiny parts.
The Hogwarts Express toy is based on one of the most remarkable scenes in the movie when Harry Potter and his friend Ron have decided to use Mr. Weasly's blue car that flies in the air in order to get to the Hogwarts Express.
Thanks to this Lego toy you can go through this scene again and again.
So, with its help, you can create the iconic flying blue car. The top part of the car is removable and you can easily slip in the mini figures that represent Harry Potter and Ron in it. When it comes to the locomotive, it looks like the set is designed to be built without putting too much effort.
This is not common for Harry Potter sets which are usually complex and require time to be built. In addition to the locomotive, users can also create a removable passenger compartment where you can add different mini-figures including Draco Malfoy, Luna Lovegood, and Ginny Weasley.
The set comes with other tiny accessories. For example, you can use a food trolley and an ice cream addition.
The Hogwarts Express includes the owl that Harry owns and his invisibility cloak. Harry can use the small black suitcase too. After all, he is a real wizard, right?
The Hogwarts Express is one of the most successful Lego toys and now thanks to this review you can see why.
6. Lego Stories & Themes Harry Potter Shrieking Shack (4756)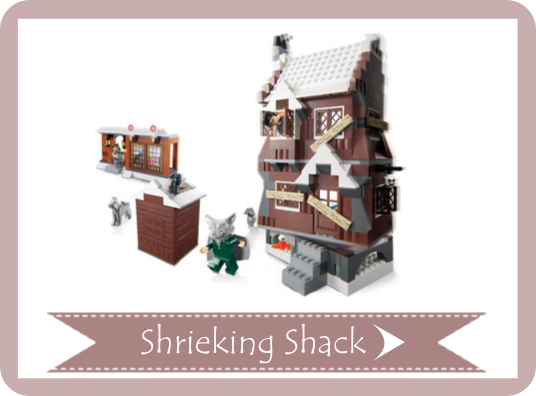 If you have watched Harry Potter and the Prisoner of Azkaban, you will definitely find this Lego set familiar.
The set was introduced in 2004 and it is inspired by one of the most memorable scenes in the movie.
This is the point when Harry together with his friends enters the Shrieking Shack in the Hogsmeade village.
It turned out that the building is haunted.
Lego has decided to create a set called Shrieking Shack which includes three main buildings. Obviously, the Shrieking Shack is the centerpiece of this set. It comes with a white roof that is completely rotatable. There is a bed located on the top floor where users can place the mini-figures.
Another interesting detail is the presence of a fireplace on the bottom floor. You can rotate the structure by 360 degrees. The white pieces are here to recreate the weather (snow).
There are also a few elements that are designed to make the structure look more creepy and scary.
The second building is the Transfiguration Shed where animals can be turned into humans and vice versa. Simply put the shed over a model and click the button.
Once you lift it you will notice that the figure has been replaced. The last building is known as the Honeydukes Sweet Shop.
As the name suggests, you can find a wide range of goodies like cherries, popsicles, chocolates, and apples. This the place where you can find the entrance to the One-Eyed Witch Passage.
Another thing that's worth mentioning is the mini-figures that are part of this set. There are four high-quality mini-figures: Harry Potter, Peter Pettigrew, Sirius Black and Remus Lupin. By buying this set you will get an opportunity to enjoy this fantasy world for a long time. You can buy it for yourself or as a gift to your kids or friends.
7. LEGO Harry Potter The Knight Bus (4866)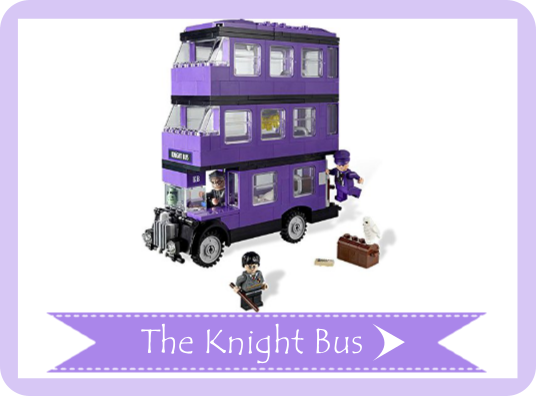 Now here's another great example of a successful Lego set dedicated to Harry Potter.
The Knight Bus was released back in 2011, but it is still equally amusing today especially among hardcore Harry Potter fans.
What makes this set different is that it represents a model of the famous Knight Bus.
This bus appeared in the Harry Potter and the Prisoner of Azkaban movie where it saved Harry Potter.
Just like in the movie and the book, the Knight Bus comes in a violet color and represents a triple decker bus. Due to the fact that this is a relatively small toy, you can't expect to put many mini figures in it. Lego has decided to include just three mini-figures. So, besides Harry Potter, the Knight Bus also includes Ernie Prang and Stan Shunpike mini-figures.
Another great thing about is that you can turn the amazing Knight Bus into an ordinary bus or a London double-decker bus. In addition to them, the set includes a Shrunken Head, Hedwig, and a chest.
Inside the bus, users will find a removable bed that goes back and forth whenever the bus is used. The roof of the bus is the place where you will find a chandelier.
Keep in mind that this is not the same bus as the one in the movie. For example, this Lego toy comes with seats, and there were no seats in the movie. There are different wheels and the roof is not curved.
Finally, we should not forget to mention that the Knight Bus includes some unique purple pieces like roof parts, window frames, the legs, body, and hat of Stan Shunpike and some fenders too. This item is a must-have for both Lego and Harry Potter fans. The price is more than reasonable, so you don't have to worry about that.
8. LEGO Harry Potter – The Durmstrang Ship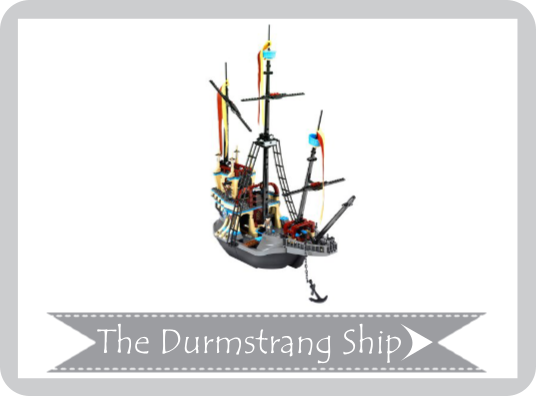 Do you remember the lake by the famous Hogwarts Castle? Well, the Durmstrang Ship is one of the vessels that mysteriously appear in this lake.
The Durmstrang Ship represents a Harry Potter Lego set which was introduced in 2005. As the name suggests, the set is based on the ship that was used by Durmstrang Students who wanted to reach Hogwarts. They were headed to the renowned Triwizard Tournament.
The Durmstrang Ship set made by Lego is suitable for children over the age of eight. It includes 550 pieces which mean that it will take some time to build it. The Lego set includes two mini-figures – Professor Karkaroof and Viktor Krum.
One of the most important parts of this toy is the cabin of the ship where you can find many interesting elements. This is the same place used by Viktor Krum and Professor Karkaroff when they were planning their strategy for the Triwizard Tournament.
It's clear that the designers have taken care of every detail, so don't be surprised that you will get a chance to drop the small anchor and go to the shore with the mini-figures. The table included in the set can be opened and it includes a few interesting tools. The ship is relatively large – it is 20 inches long and 21 inches high. There are some unique features too.
For example, users can press the plank and launch one of the mini-figures directly into the lake. We would like to point out that there is a special version of this ship which includes a few more mini-figures like Harry Potter, Ron Weasley, and Professor Dumbledore.
All in all, this is an attractive Lego set for children and adults alike. It is a little bit complex, but it's worth the time (and the money).
Finish
If you and your kids love the challenge of building LEGO sets, then there are some amazing LEGO Harry Potter sets that will keep you busy and satisfied.
From Hogwarts Castle to the Knight Bus and from the Hogwarts Express to the Durmstrang Ship, these sets will help you refresh your memories of one of the best fictional series in the world.
Of course, these sets are challenging which means that you will have a lot of fun and excitement trying to build and use them.
Despite their great features, the prices for all these sets are more than reasonable.