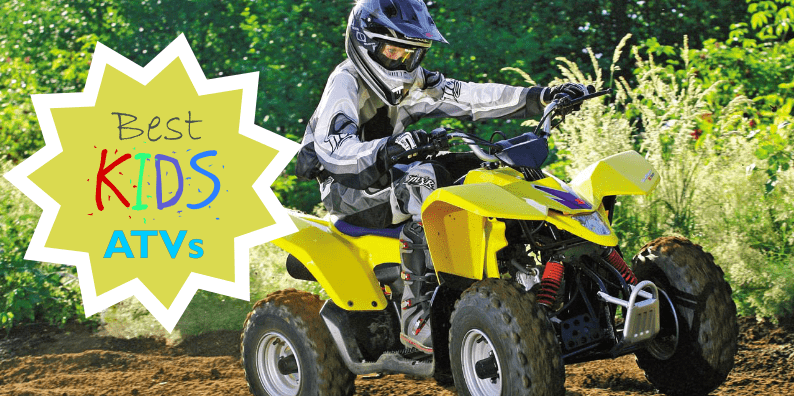 Last Update: 14 Nov 2017 In the last ten years, the popularity of mini ATVs or kids 4 wheelers has increased rapidly. One of the main reasons for this is the advance in the field of technology which allowed production of much safer and more affordable youth ATVs.
There are many different manufacturers that have dozens of different four wheelers, specially designed for kids, in their offer. This makes finding a good one a little bit difficult.
Needless to say, there are also many ATV scammers trying to sell practically useless ATVs for children.
If you are interested in buying an ATV for your kid, you should take a few things into consideration like the quality, size, safety, price, features and few other things.
Generally speaking, it is better to stick to reputable brands. They have proven to be successful in designing and creating reliable electric and gas 4 wheelers for little kids.
In order to save you some time and money, we have created a list of the best ATVs for kids currently available in2017.
All the models presented in this guide are chosen carefully. Our choice is based on the aforementioned criteria.
By reading these reviews, you should be able to find an ATV that will suit your kid the most.
The Best Kids 4 Wheelers in a nutshell.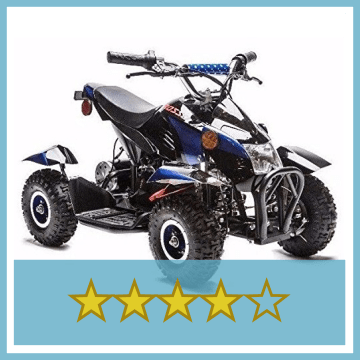 Rosso Motors is a relatively new company in the world of ATVs for kids, but they have already managed to create a strong fan base thanks to their outstanding products.
Namely, they have over a dozen of kids ATVs in their offer and the Kids Electric ATV 4 Wheeler Quad 36V 500W Boys & Girls seems to be among the most popular ones.
This specific model is very easy to use and children aged between 3 and 8 years won't have any problem to handle this attractive 4 wheeler for kids.
However, the parents must be involved in this process all the time. The Kids Electric ATV 4 Wheeler Quad 36V 500W Boys & Girls comes in a few different colors and the blue one is definitely kids' favorite.
The smooth design of this little 4 wheeler is not the only thing that makes it popular. Children love it because even though it's small and designed for kids, it can actually go fast – it has three different speed options which allow a maximum speed of 25 kilometers per hour.
There is a special switch that provides cruising speed that is slower and probably more suitable for younger kids.
Kids can use this ATV by Rosso Motors for up to six hours when it is fully charged. The batteries (12 volts each) are obviously doing their job in the best possible way.
Safety
Safety is one of the main concerns of all parents interested in ATVs for kids.
Well, this is exactly where the Kids Electric ATV 4 Wheeler Quad 36V 500W Boys & Girls is the strongest.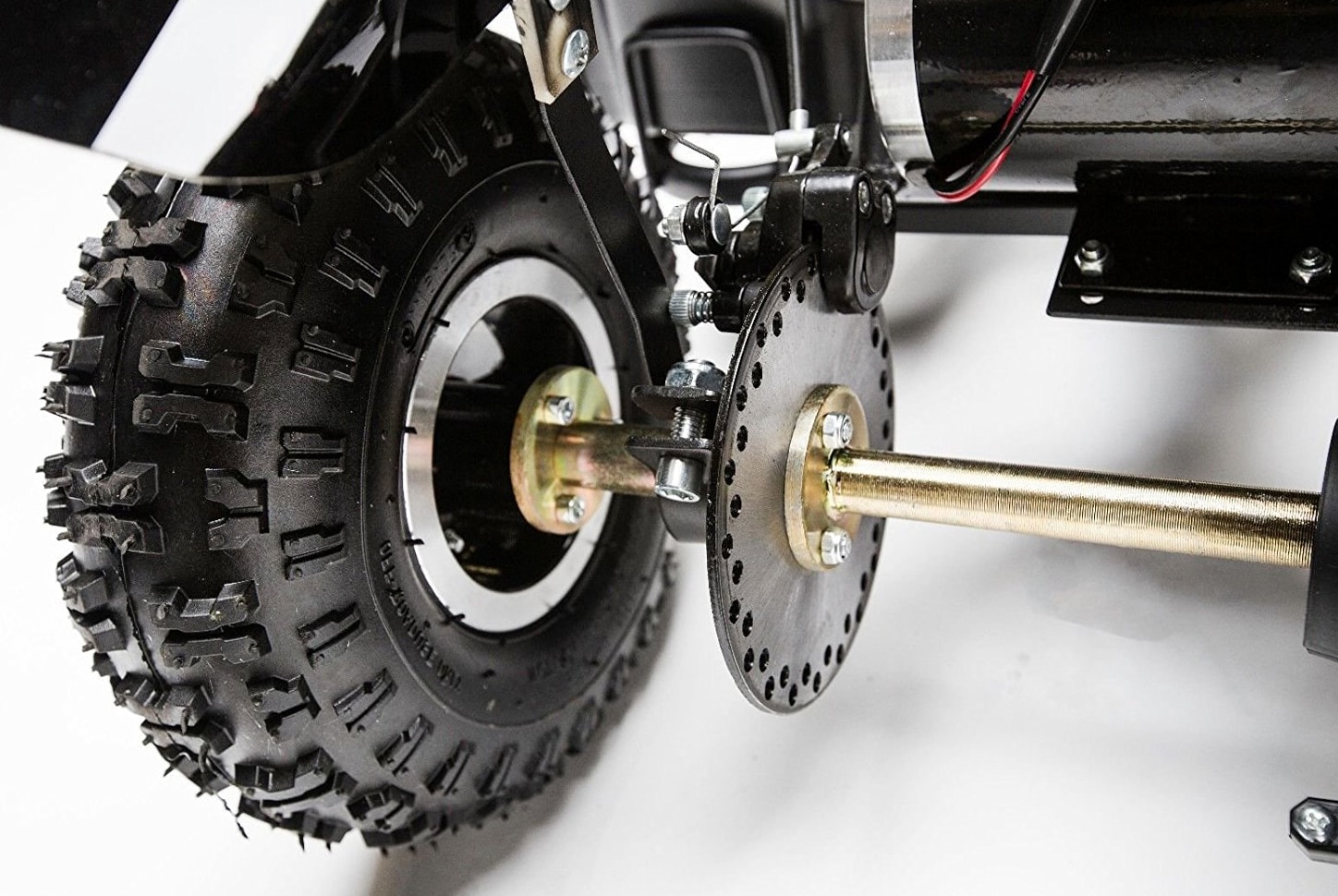 First of all, it uses very strong rubber tires. Next, it comes with a powerful steel frame which is virtually impossible to break during use. Additionally, parents would be glad to hear that this four wheeler for kids has electric light and metal sidebars for extra security and safety.
Your kid will be visible to other drivers, pedestrians and anyone around you.
Instead of using cheap plastic that would've probably lowered the price, Rosso Motors have decided to invest in a long-lasting metal construction.
Although we are talking about a relatively cheap youth four wheeler, this model has a chain transmission which is another great advantage when it comes to safety. We have also mentioned that parents can easily limit the speed mode.
The lowest speed that they can set is around 8 kilometers per hour which is ideal for complete beginners.
Conclusion: A durable 4 wheeler for children that promises great ROI.
Specifications
Brakes: Disc
Battery: 36V12AH lead acid
Charger: UL 36V
Speed: 3-speed + reverse
Engine: 500w
Wheelbase: 70 cm/28 inches
Tires: Rear 10×4-6 / Front 13×5-6
Seat height: 53 cm/21 inches
Ground clearance: 8 cm/3 inches
Dimensions: 105x70x69 (cm)/ 41x28x27 (inches) – L/W/H
Suitable for kids between 3 and 8 years

Pros
Cons
Attractive design
A little bit expensive
Suitable for both boys and girls
Long battery life
Easily adjustable speeds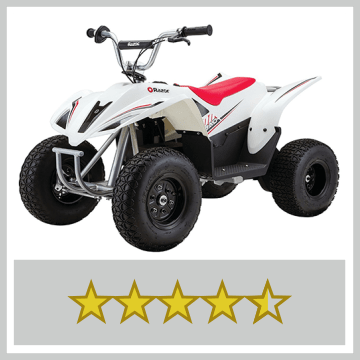 This is another ATV for kids made by the popular ATV manufacturer Razor.
They have many different ATVs for kids in their offer, but once you check the characteristics of this one, you will probably agree that it can be the ideal gift for your son or daughter.
The Razor 500 DLX Dirt Quad Bike was built to last for many years. This is one of those ATVs that will make both parents and kids happy and satisfied.
One of the first things that you will realize is that this ATV is quite powerful. In addition, what makes it even more interesting is that this is an all-terrain vehicle.
Razor has been present on the market for over a decade now, so it is quite natural that their products including Razor 500 DLX Dirt Quad Bike include the latest technological achievements. For example, this specific model has a chain-driven motor of 500 watts. It also has special rubberized tires which are 13-inches high.
The seat is well-cushioned and comes with useful mud flaps.
Another thing that is unique about it is the presence of a 36V sealed lead acid battery. This is the only ATV for kids on our list with a battery like this. The good news is that this battery is rechargeable.
Thanks to the powerful battery kids can drive this ATV for one hour – we are talking about drive time. The easy start switch is helpful for both parents and kids.
With a sporty appearance, this ATV will become your kid's favorite toy. It's especially attractive for kids and parents who are interested in using ATVs on off-road terrain. Everything in this vehicle is optimized for this kind of terrain.
Safety
When it comes to safety, you won't be able to find many ATVs for kids that are safer than Razor 500 DLX Dirt Quad Bike. As we have already mentioned, this is a safe ATV for any off-road terrain.
The premium-quality rubberized tires will work perfectly well on literally any terrain from rough and sandy roads to wet and smooth roads.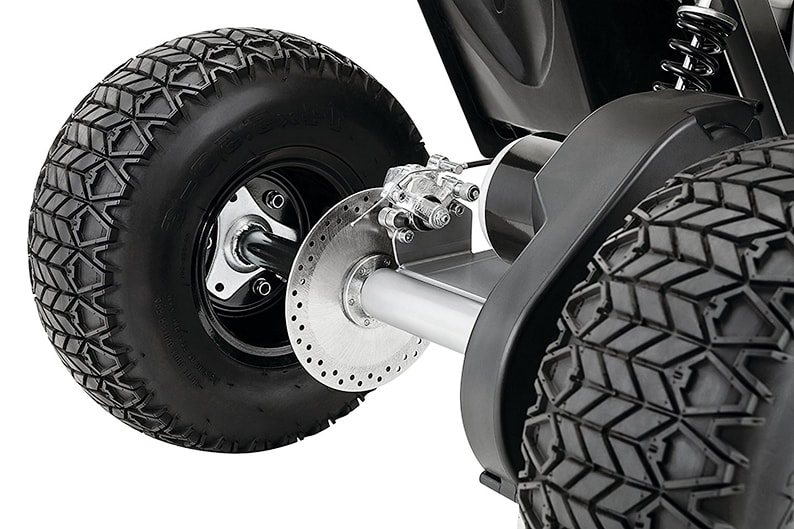 There is also a strong rear suspension that lets the kids enjoy a stable and comfortable ride. Another thing that makes this ATV great is the twist-grip throttle control which obviously gives the rider better management of the vehicle. Due to the fact that this ATV doesn't have headlights, it is better to avoid using it at night and in dark places where you need light. Keep in mind that this
ATV made by Razor doesn't have a reverse option.
Conclusion: This is a very safe ATV for kids with a great sports look.
Specifications
Motor: 500 watts
Brakes: standard
Battery: 1x36V standard battery
Speed: 2 speeds
Tires: Good for literally any terrain
Dimensions: 51.4 x 29.7 x 29.7 inches– L/W/H
Suitable for kids that are 14 years old or older
Pros
Cons
Suitable for any terrain and weather
No headlights
Powerful engine
Powerful battery
Sporty appearance
3. Power Wheels Kawasaki Brute Force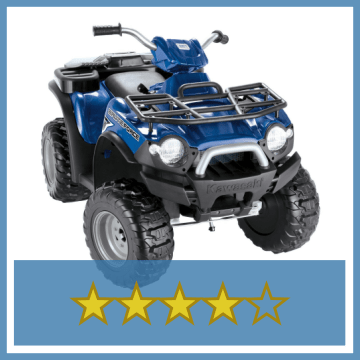 Kawasaki has been one of the giants in the motorcycle industry for many years. A few years ago, brands producing of 4 wheelers for kids have decided to use the name of this automotive giant in their products.
Nowadays, it seems that their investment was definitely worth it.
If you have a kid that is 2 years old or above, and they have never used an ATV before, then you should definitely take the Power Wheels Kawasaki Brute Force model into consideration.
With its help, you can rest assured that your kid will fall in love with these fun four wheelers. This ATV might be a little bit fast, but in any case, it's not too fast. It has two speed modes – 4 km/h (1.5 mph) and 8 km/h (5 mph).
Just like most of the kids 4 wheelers today, it has a 12V battery that can be recharged easily. The package comes with a recharger too.
In case your kids enjoy exploring and acting like grownups, this kid 4 wheeler will become their favorite item. This is a low-profile 4 wheeler for a little boy or girl. It has a comfortable seat which guarantees many hours of fun.
A gentle push on the paddle will take your kids on an incredible journey. Once they remove the feet from the pedal, the ATV stops automatically.e
Safety
This is another area where this ATV for kids gets high grades. Namely, we have already mentioned that the Power Wheels Kawasaki Brute Force comes with two-speed modes. These modes can be set by parents at any time.
The speed used in ATVs is one of the most important things when it comes to safety. Another thing that is worth mentioning is the presence of the specially designed Power Lock brake system. With this system, the driver can stop the movement of all 4 wheels at once.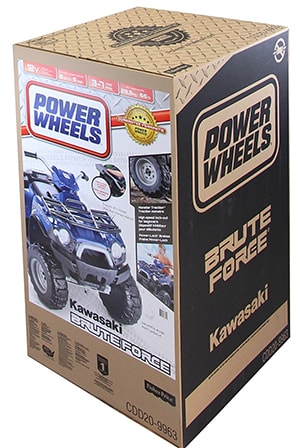 Furthermore, the four tires included in the packaged are designed with so-called Monster Traction – a pattern created by Power Wheels. This pattern guarantees smooth rise over different types of terrain including wet grass, gravel, mud, and dirt. There is also a propulsion system controlled by the throttle and pedal link. We also have to highlight the fact that the youth ATV has an on-board shovel that can certainly improve the off-road experience by making it smoother and more stable. This tough ATV for kids supports a maximum weight of up to 65 pounds which is more than the average weight of children aged between 3 and 7.
Conclusion: Power Wheels Kawasaki Brute Force delivers a smooth ride on any terrain and it's perfectly safe for kids aged 3 or above.
Specifications
– Brakes: Standard
– Battery: 1 x 12V
– Charger: Included
– Speed: 2-speed + reverse
– Tires: Suitable for different terrains
– Dimensions: 49.8 x 29.8 x 27.6 inches– L/W/H
– Suitable for kids between 3 and 7 years

Pros
Cons
Unique design
Certain spare parts are difficult to be found
Special Power-Lock brake system
Monster Traction system
Reasonable price
4. Fisher-Price Kawasaki KFX – The perfect 4 wheeler for toddlers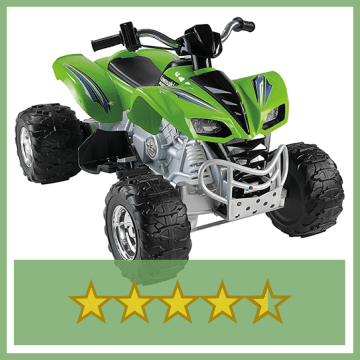 Fisher-Price is one of the most famous American toy brand, and preschool products company.
For years, the management of this company has produced interesting and unique toys for kids of all ages. Their Power Wheels brand was introduced in 1984 and includes dozens of different ATVs for kids including Power Wheels Kawasaki KFX according Impact Battery.
The Power Wheels Kawasaki KFX is the ideal wheeler for kids between the age of 3 and 8.
This model of ATV is designed in a way which makes it easy to ride on rough terrains and terrains covered with mud, gravel, wet grass or ruts.
One thing is for sure – your kid won't get stuck anywhere if he or she is using the Power Wheels Kawasaki KFX.
Similar to most 4 wheelers for kids found in the market today, this model has 1 12-volt battery.
It also has two speeds. The first mode allows speeds of up to 3 miles per hour while the other can reach 6 miles per hour which means that is more powerful than most ATVs for kids.
The green version of this four wheeler features are sleek and attractive design and looks as close as possible to real ATVs used by adults.
So, if you want to help your child understand the thrill of ATVs, you can't go wrong with the Power Wheels Kawasaki KFX.
Safety
Modern kids 4 wheelers are equipped with tools and technology that guarantees a high level of safety and the Power Wheels Kawasaki KFX is not an exception.
To start with, this model has the patented Power Lock Brake System incorporated in it which is why many beginner kid drivers want to use it. This system lets the driver reach any speed they want, but stops the vehicle right away in case the foot is off the pedal. To put it simply, there is no need for a brake pedal.
Furthermore, parents can easily adjust the speed of this vehicle. Obviously, younger kids will be satisfied, happy and safe when they are driving at 3 mph. Of course, even when they master this ATV and start driving a little bit faster, the safety levels remain the same.
If you want to stay on the safe side, don't use this ATV if your kid weighs more than 65 pounds.
While we are talking about safety we would have to mention the tires again.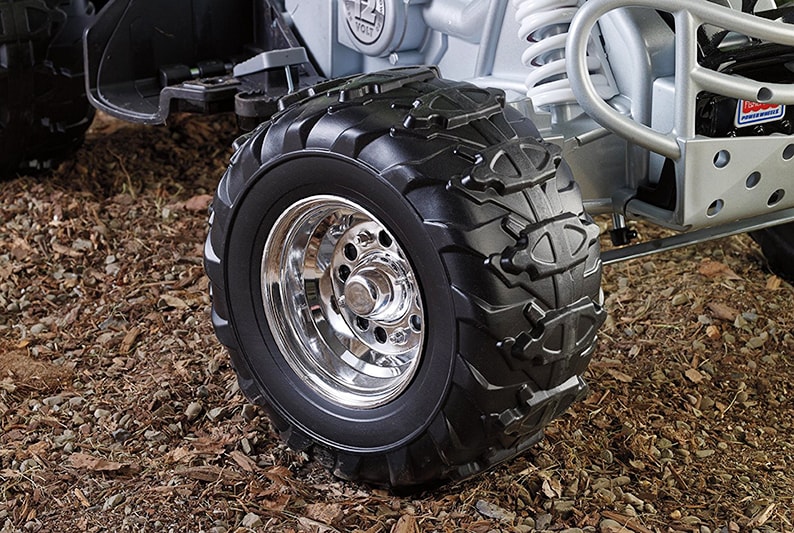 Namely, they tires of Power Wheels® Kawasaki KFX® are quite wide and large and this is how this ATV delivers a high level of traction. Your kid will get the best stability even when the terrain is rough and the ground is wet.
Conclusion: Overall, the Power Wheels Kawasaki KFX Green is a great ATV for kids who want to have fun and for parents who want to keep their kids safe.
Specifications
– Brakes: Standard
– Battery: 1 x 12V
– Charger: Included
– Speed: 2-speed + reverse
– Tires: Suitable for rough and smooth terrains
– Dimensions: 44 x 31 x29 inches– L/W/H
– Suitable for kids between 3 and 8 years

Pros
Cons
Comes with 2 speeds and reverse.
A little bit expensive.
It includes a battery and a charger.
Modern design that resembles real ATVs.
5. White Mini Quad ATV Dirt Motor Bike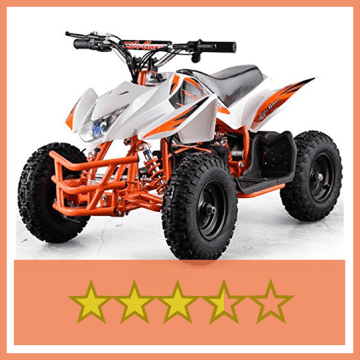 The guys from Titan have obviously done their homework when they were creating this magnificent ATV for kids.
They have used the latest technological achievements and made it look quite interesting too.
The Mini Quad ATV Dirt Bike Ride On Titan V5 that you are looking at comes in a blue color, but this doesn't mean that it is exclusively made for boys – girls can enjoy the ride too.
What is known for sure is that the ATV is created for kids 6 years or above and that it is perfect for backyard and driveway excitements.
There are a few things that people like about this ATV for kids and one of them is the fact that their kids can ride it a little bit longer compared to other ATV models. The science behind the longer ride time is very simple – this ATV relies on two 12V 12amp batteries. As you are probably aware, most of the ATVs for kids today use one. It also has a relatively powerful motor with a capacity of 350 Watts.
It's also good to mention that the Titan V5 has a beautiful sports styling and we are sure that the appearance of this mini quad will leave your kid stunned. The battery charge level is clearly displayed on the handlebars for better orientation. This is a 2-speed vehicle with reverse option too.
Safety
We would not have listed this kid 4 wheelers on our top list if it wasn't for the myriad of useful safety features found in it.
One of the innovations that the manufacturers of Titan V5 have used is the presence of a key used for the speed limit. As previously mentioned, there are two different speeds, but in order to avoid problems, parents can use a key to set the speed limit they want.
Obviously, it's better to use a lower speed for beginner users. There is also front and rear suspension for added safety even though the maximum speed of 10 miles per hour that Titan V5 provides can't bring many problems.
If you are planning on using this vehicle at night or in the dark, you'll be glad to hear that there is a great headlight. We have already mentioned that the ATV has a battery matter so you can avoid sudden stops.
This ATV also has tires made of high-quality rubber which should provide safe braking even at relatively high speed. These tires are designed for off-road activities in mind. There are two types of brakes includes. The front ones are a disc with ventilated rotors and the rear ones are disc on the axle.
Conclusion: A mid-range ATV for kids that deserves your attention.
Specifications
– Brakes: Standard – 2 front brakes, one rear brake
– Battery: 2 x 12v 12ah batteries
– Charger: Included
– Speed: 2-speed + reverse
– Tires: Suitable for almost any type of terrain
– Dimensions: 43 x 25 x 22 inches – L/W/H
– Suitable for kids aged 6 and above

Pros
Cons
Beautiful design especially for boys.
Younger kids can't use it.
It has two batteries for extra ride time.
Easy to set speed limits.
Very safe.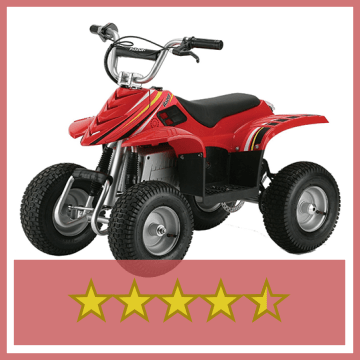 In case you are planning on buying a product that will guarantee hours of fun and entertainment for your kids, then you can't make a mistake if you buy an ATV.
Of course, this ATV for kids must provide different features and must be built to last and this is exactly what you get from Razor Dirt Quad Electric Four-Wheeled Off-Road Vehicle.
Razor is a company that is making this type of vehicle for more than 15 years now and this electric quad is among their best selling products.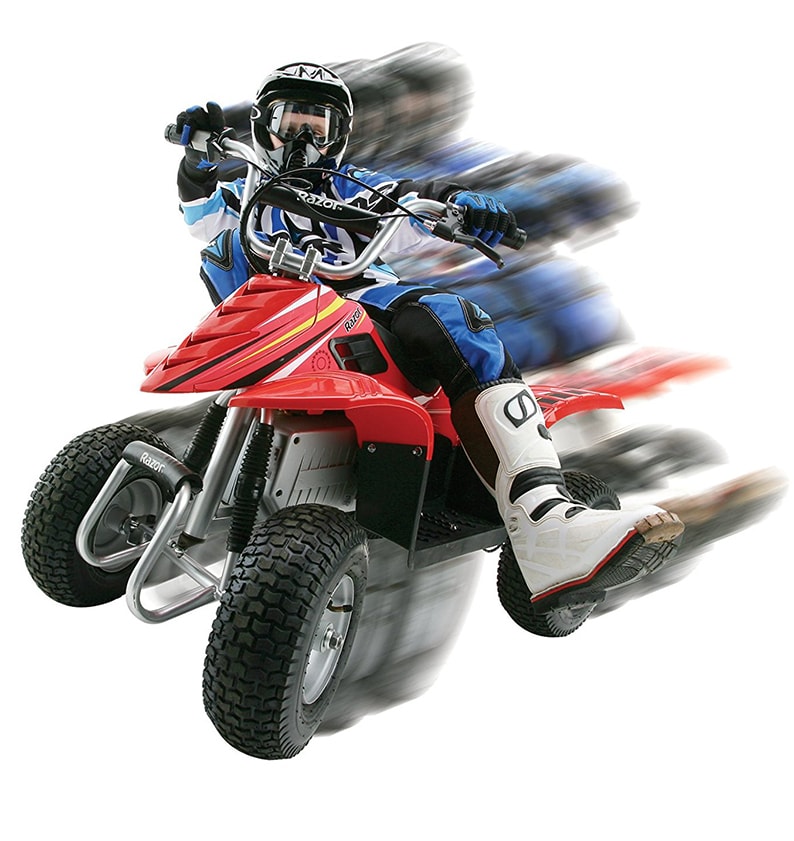 This is a strong vehicle for kids that can conquer any terrain.
The high-torque drive and modern frame design have made this model one of the most efficient models in the market.
Another thing that's great about this ATV for children is the battery life. Namely, the Razor Dirt Quad has a 24V battery which is much stronger than the batteries found in the majority of popular ATVs for kids. This battery will provide at least 60 minutes of ultimate driving experience before it should be charged.
Many ATV owners complain that these devices are a little bit noisy. Well, the Razor Dirt Quad is nothing like that. You can let your kids use it even in the early morning and you can rest assured that no one will wake up because this ATV is very quiet. As the name suggests, this is an electrical vehicle which means that there is no need for fossil fuel that will pollute our nature.
Safety
In order to make their products cheaper, many ATV manufacturers are using plastic wheels. Well, the designers from Razor have proven that it is possible to come up with a relatively inexpensive kids 4 wheelers and include high-quality rubber tires. With their help, kid drivers have better control over the vehicle and improved safety. The tires can let them drive on all types of terrain even rough ones without hassles.
Even if your kids decide to drive on bumpy and uneven roads, they will be perfectly safe because of the presence of travel rear suspension that absorbs the shock caused by such roads. Additionally, you can use the Razor Dirt Quad. The 250-watt motor belongs to the mid-range ATVs for kids. Due to its specific design, this ATV is recommended for kids aged 8 and above.
Conclusion: Overall, the design and features of this ATV set a new standard in the world of ATVs for kids.
Specifications
– Motor: 250 watts
– Brakes: standard
– Battery: 1x24v
– Charger: Included
– Speed: 2 speeds
– Tires: Suitable for any kind of terrain and weather conditions (except snow)
– Dimensions: 42.2 x 26.2 x 25.2 inches– L/W/H
– Suitable for kids over the age of 8

Pros
Cons
Excellent safety.
It doesn't have a reverse option.
Realistic design.
It doesn't have taillights or headlights.
High-quality rubber tires.
A wide range of useful features.
7. Kids ATV Quad 4 Wheeler – Best youth ATV for the money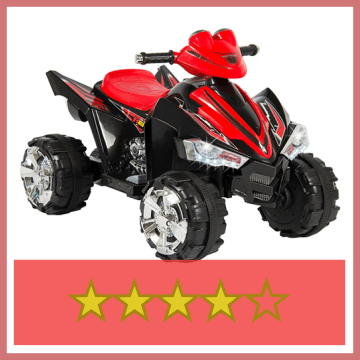 Those interested in purchasing an ATV for their kids should always look for a model designed and created by a company that has a good reputation.
This is definitely what Best Choice Products is all about.
The company was founded 15 years ago and it has many different products in its offer including this Kids ATV Quad 4 Wheeler Ride On.
From the moment you see this ATV, you will realize that you are looking at a special vehicle. The ATV quad by Best Choice Products was introduced not while ago and It comes in red color.
This is obviously a color accepted by both girls and boys today and we can all agree that it looks great on this ATV.
Your kids will feel the excitement once you turn the key on because the ATV is made to produce imitation sound that represents a real engine. When the car is on, you should feel free to let your children explore the area without worrying about their security and safety.
Truth be told, this mini car doesn't have a very powerful motor – 15W. That's why it can develop a speed of no more than 2 miles per hour.
However, this is more than enough for young kids to feel the thrill of driving. Similar to other popular models, this one uses a 12V standard battery.
While we are talking about the power, we should also point out that Best Choice Products ATV has only one speed mode for going forward and one for reverse.
There is a nice switch that provides an instant change of directions. The LED head lights allow driving even at night or early morning – whenever your kid wants to use the ATV. This mini car is suitable for kids that are 3 years old or older.
Safety
We have already mentioned that you can forget about safety issues when you are using an ATV for kids made by Best Choice Products. One of the main reasons for our claim is the motor which is less powerful compared to other ATVs on the market.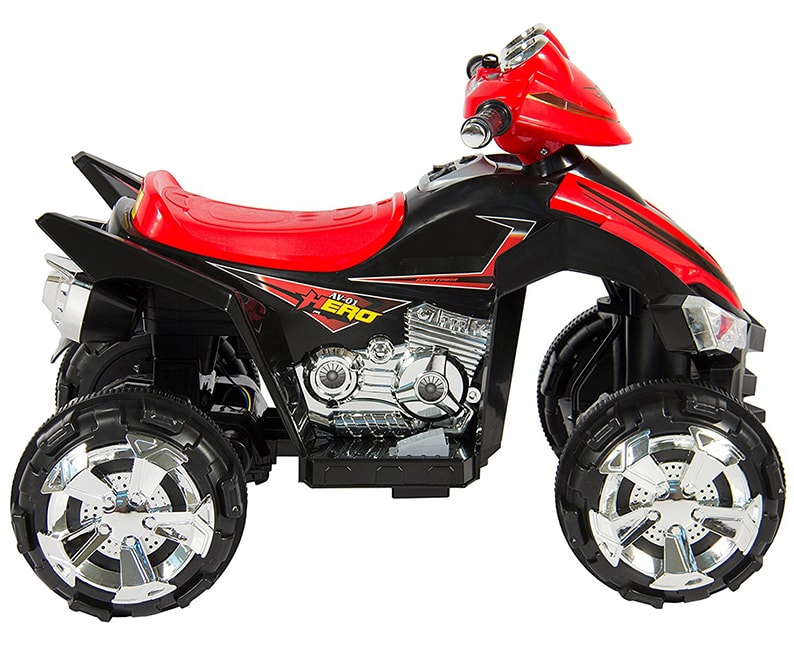 There are only a small number of things that can go wrong when your kid drives 2 miles per hour. The same goes for the switch which lets you or your kids to choose forward or reverse and that's it.
The modern, bright LED headlights will improve visibility at night and this is another thing that improves safety. People want to use these ATVs for kids on different surfaces and without good construction and design, it can be dangerous to drive on specific surfaces.
Well, the Best Choice Products ATV that you are looking at was made to drive smoothly on almost every surface including gravel and dirt.
Conclusion: This is an ATV for kids that comes at a price well worth the money.
Specifications
– Motor: 15W
– Brakes: standard
– Battery: 1x12v
– Charger: Included
– Speed: forward + reverse
– Tires: Good for different types of terrains including gravel and dirt
– Dimensions: 34 x 24 x 25.5 inches– L/W/H
– Suitable for kids over the age of 3

Pros
Cons
Works great on different kinds of surfaces.
Relatively low weight limit.
Safe youth ATV.
Great features like LED headlights and FM radio.
– Relatively low weight limit
8. ATA-110B1 TaoTao Kids Gas ATV – The best kids four wheeler on gas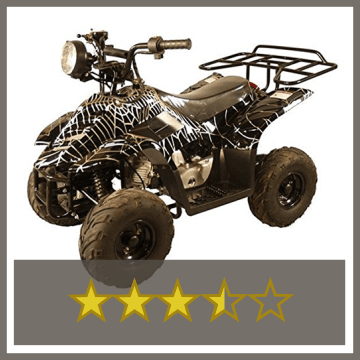 Contrary to popular belief, TaoTao is actually not a Chinese company, it's an American one. They are a popular brand focused on the production of dirt bikes, go-karts and of course – ATVs. Known for its quality, this brand has won the hearts of many ATV lovers.
One of their most successful models of ATVs for kids is the ATA-110B1 TaoTao Kids Gas ATV that comes with Army Camo design.
It is perfect for little boys who want to take a glimpse at the world of adults. What you are looking at is a completely automated ATV for kids that have an engine that runs on gas.
However, it's worth mentioning that it has an electric start. Let's be clear – the motor of this ATV is not very powerful, it has only 110cc.
However, this doesn't mean that it's slow, in fact, it can go really fast. The maximum speed guaranteed by the manufacturer is 40 mph which is way more than most of the models we have presented on this list. When we take its size into consideration, this speed looks even more powerful.
This attractive ATV was designed for kids that are up to 4 feet tall. Just like most of the ATVs for kids in this guide, this one has rubber tires with excellent quality. The back rack is also a great feature that your kid or you might find it helpful. For instance, you can place water bottles, backpacks, gear, food or other things back there.
This ATV is automatic which means that it is very easy to operate it. Even if your kid has no experience with this type of vehicles before, we are sure that he or she will master the TaoTao ATV fast.
Safety
Due to the fact that this is one of the fastest ATVs for kids on our list, it would be a good idea to talk about the safety features of this model. One of the best safety features of this TaoTao ATV for children is the presence of speed limiter. This is a convenient feature that allows parents to get full control of the maximum speed the ATV will develop while their kid is riding it. In addition, there is a kill switch which is quite useful in cases of minor accidents.
Furthermore, this great ATV has front lights that are quite powerful so your kids can use it at night too. Finally, the tires of this vehicle are excellent and provide increased safety even when the weather conditions are not perfect.
Conclusion: An American product that promises many memorable moments for your kids.
Specifications
– Motor: 110cc (40 mph top speed)
– Brakes: standard
– Fuel: gas
– Speed: forward + reverse
– Tires: All-terrain tires
– Dimensions: 45.7x28x33.3 inches– L/W/H
– Suitable for kids over the age of 10

Pros
Cons
Great safety features.
Kids under 10 can't use it.
Very fast.
Unique design.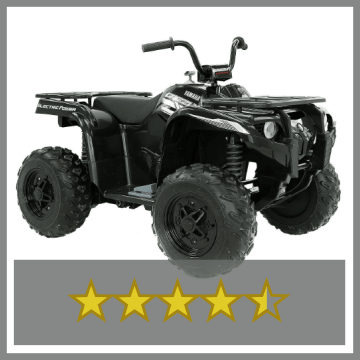 What is the first thing that comes to your mind when someone mentions grizzlies? It's probably power.
Well, this is exactly what you (and your kid) can expect from this electric ATV made by Yamaha. The vast majority of people are familiar with Yamaha, one of the most famous manufacturers of motorcycles in the world. This time, we have a nice example of their ATVs for kids.
The Yamaha Grizzly ATV is an electric ATV designed for kids that has reached record high levels of popularity that goes beyond the expectation of the manufacturer. Many say that the design of this mini vehicle which looks very similar to the ATVs used by adults is one of the main reasons why kids like it. This ATV is ideal for every terrain and surface and it is obvious that the designers have used their experience from adult ATV models to make this happen.
The Yamaha Grizzly ATV has a very strong motor for thrilling rides, seats that are cushioned well for comfortable driving and a long-lasting battery that is easy to recharge. These ATVs are made for kids aged between 3 and 7 and weight under 130 pounds. The 350-watt motor is something that tells us a lot about the intention of the manufacturer. They wanted to create one of the most powerful ATVs for kids in the market.
The durable tires are here to support the motor and let the little riders explore every area without any hassles. The top speed that you can expect from Grizzly ATV is between 5 and 8 mph depending on the terrain. Finally, as previously mentioned, the ATV comes with a standard 12V battery which allows a ride between one and three hours. Once the battery is drained simply leave it on the charger overnight.
Safety
The relatively big tires with deep treads are here to provide maximum stability on uneven, rough terrains. If your child loves exploring sandy beaches, roads rigged with holes and any rough terrain in general, they can count on the Yamaha Grizzly ATV.
Additionally, we should mention that this electric ATV for kids has completely functional shock absorbers for a more pleasant and safer ride. The extra traction wheels are here to add stability.
When it comes to speed, there is no doubt that the maximum speed of 8 miles per hour should not cause any problems. Yet, parents can choose between two-speed limits (5 and 8 mph). Riders can also reverse this vehicle without problems.
Conclusion: All in all, this is one of the best versatile electric ATVs for kids currently found in the market.
Specifications
– Motor: 350 watts
– Brakes: standard
– Battery: 1x12V standard battery
– Speed: 2 speeds + reverse
– Tires: Good for any terrain
– Dimensions: 51 x 28 x 27 inches– L/W/H
– Suitable for kids between 3 and 7

Pros
Cons
It has shock absorbers.
There is no safety rail.
Powerful motor.
Long-lasting, easy-to-charge batteries.
Attractive design.
Read further: 9 Best Balance Bikes for 2017
10. Peg Perego Polaris Outlaw Ride-on Vehicle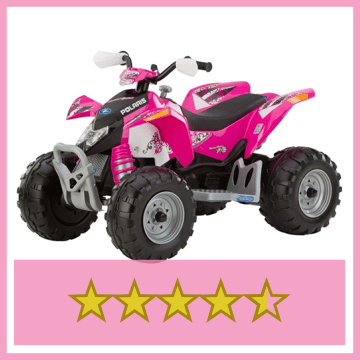 Now here's a great 4 wheeler for kids made in Italy.
Peg Perego is one of the most famous companies in Italy when it comes to toys and kids products.
They started in 1949 when they have introduced their first stroller, but today they have many different products including ATVs for children.
The Peg Perego Polaris Outlaw is based on the popular quad made by Polaris (the US company). The designers of this model of ATV have taken care even of the smallest details making it look as great as the original. This is an electric ATV that relies on high-quality 12V rechargeable battery. It is made for kids from three years up looking for excitement and adventure.
Another thing that makes this 4 wheeler special is the presence of tires with specific, chunky treads which allow drivers use on literally any type of terrain without any hassles. The ride quality that you can expect from the Peg Perego Polaris Outlaw is really high. The special enveloping design promises comfortable for every body part regardless of the size of the kid (as long as it is 3 years or older). The pink color is ideal for girls.
Safety
Since this is one of the priorities of every parent, we will mention a few things that the creators of this ATV for kids have included to make their ride safer than ever.
Besides the excellent tread depth on the four wheels, this ATV comes with a front rollbar positioned strategically for neutralizing the effects of possible collisions.
The manufacturer has also included hand guards and rubber handles as well as a durable handlebar for better control and added safety. If you are worried about the electric wires situated under the seat, you should know that Peg Perego Polaris Outlaw comes with a sealed based that keep these wires covered.
At the same time, the sealed based is keep the vehicle and the driver safe from sand, mud, and water. There is also a child-proof battery lock for the 12-volt battery.
Peg Perego Polaris Outlaw has many different features, but what's important for the safety of kids is that this model has automatic breaking connected to the pedal accelerator. In other words, kids should just lift their foot off the accelerator pedal to stop the ATV. There is no need for using a separate braking pedal.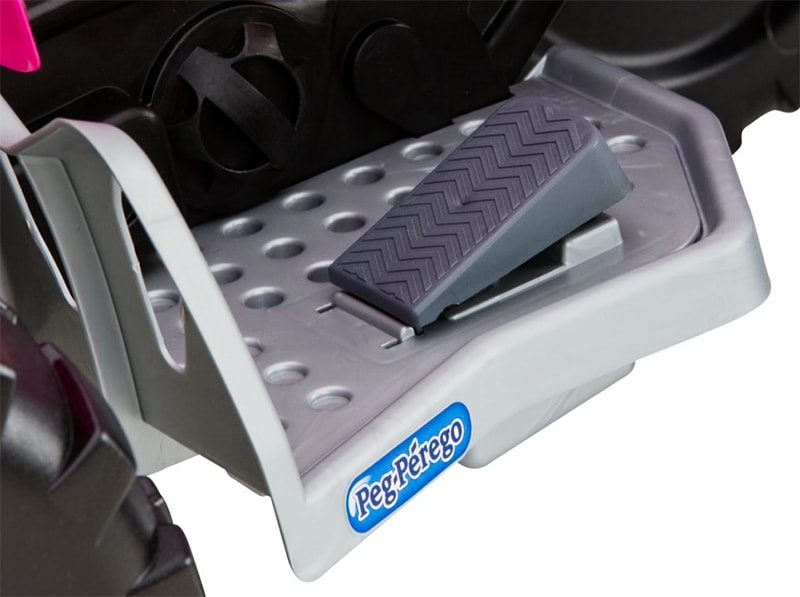 This is a 2-speed ATV with a reverse feature too. Helping kids learn to drive safely in the first gear is the best idea.
Conclusion: Peg Perego, the famous Italian manufacturer, has made a safe ATV with useful features.
Specifications.
Brakes: All in one
Battery: 1 x 12V/8Ah lead acid
Charger: 1 x 12V battery charger
Speed: 2-speed + reverse
Engine: 1 x 165W
Tires: Grooved tread
Dimensions: 110×72.5×72 (cm)/ 43 ¼ x 18 ¼ x 28 2/3 (inches) – L/W/H
Suitable for kids 3 years and above
Pros
Cons
Two engines for great performance
Some people say that it's difficult to assemble
It's lightweight and portable
Made of high-quality materials
Made by a well-known company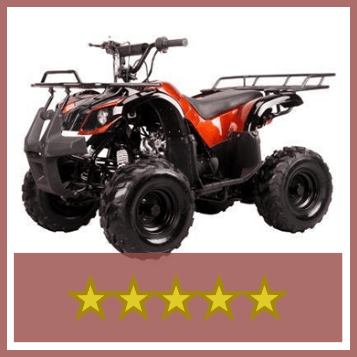 With Coolster 3050D, the makers have shown something, an ATV, which got a strong look and killer ATV design.
All the way, what we have seen so far is an ATV which has the potential to bring you to a completely new level.
While the ATV and UTV market has been crowded, where there are many options that can be considered, Coolster really offers ATV figure that is likely to attract the attention of many kids, and become one of the most favourite youth four wheeler.
Let's give an in-depth consideration for those who want to buy an ATV that has a class of its own, and most importantly, suitable to give to your child.
First Impression
Just like we have said earlier, the Coolster 3050D is a sturdy ATV yet it has strong design as well.
When looking at it, its headlamps and the surrounding body would eventually remind you of a jeep.
And it is getting better, in our opinion, that the Coolster 3050D is actually a mini jeep or at least a perfect imitation of it.
Take a look at first sight, it is a fun ATV to have and comes with a very rich feature (although you won't call it as a high-end ATV).
Let's take a look at this 4 wheelers for kids key features.
Coolster 3050D 4 Wheeler Key Features
Some of key features of Coolsters 3050D are worth mentioning here. The following list will tell you more about that:
It comes with full automatic transmission that is easily operated, which was designed for amateur rider.
The rider was promised with a more comfortable ride, thanks to its rear single and front double a-arm suspension.
A front luggage rack to help your child bring anything s/he wanted.
Want a safe, fast stopping? Front hub brake will help you.
Better control and stability is provided by footrest with a non-slippery surface.
Stopping system was even better, thanks to quality rear disc brake.
Coolster 3050D 4 Wheeler Specification
Single cylinder, 110 cc, 4-stroke engine (air cooled, electric starter, 12 V/4Ah batteries)
Semi-automatic transmissions with chain drive system.
Double A-Arm front suspension.
Single swing arm rear suspension.
Rear brake: disc; front brake: hub.
Rear tire: 16×8-7
Front tire: 16×8-7
Dimension: 57.67×36.2×36.4-inch.
67-inch wheelbase.
24-inch seat height.
5-inch ground clearance.
Coolster 3050D 4 Wheelers Final Judgement
We received crucial information, telling us that the Coolster 3050D is Yamaha Grizzly clone.
This information is important because now you have a chance to own a much smaller version of Yamaha Grizzly that can be presented to your child as a birthday or Christmas gift.
The whole design is elegant, monstrous, and sturdy as well.
Indeed it is not a high-end ATV, but appears to be a modest option without leaving the comfort and safety aspects.
Under $1,000, the Coolster 3050D should be another interesting consideration and indeed Coolster 3050D is one of the most recommended Four Wheelers for Kids.
Things to look for in ATVs for kids
We have listed some of the best ATVs for kids available worldwide. If you have read the reviews we've presented, you have probably noticed that there are a few things that make a good ATV for kids.
First of all, take a look at the maximum speed of the vehicle. Keep in mind the age of your child and the options to limit speed. Next, check the wheels – focus on ATVs that have wide wheels because they promise better stability. Finally, analyze the safety features because you certainly want to keep your kids safe all the time!