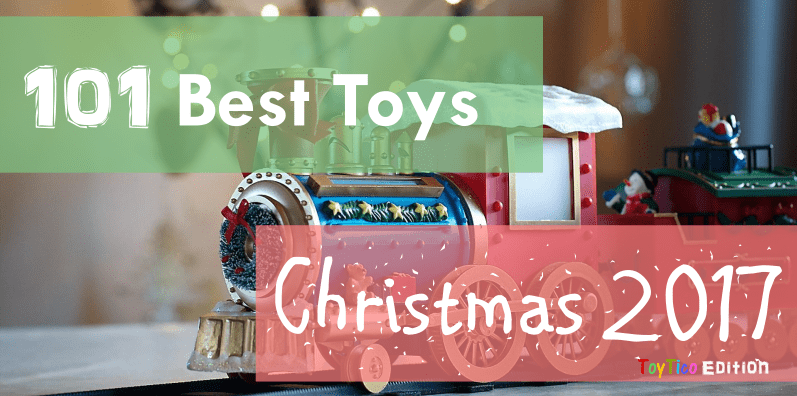 Last Update: 07 Nov 2017 The list is here. We present a list of 101 of the hottest toys for christmas 2017. Enjoy!
1. Disney Moana's Magical Seashell Necklace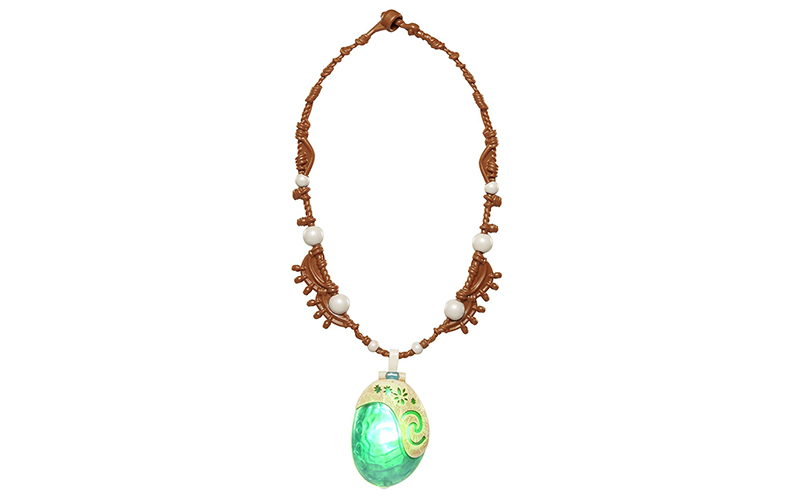 The lovely teenage girl Moana featured in one of the best animated movies in the last decade is a huge hit among girls of all ages.
Without any doubt, this necklace that resembles Moana's necklace is the perfect gift for your daughter or niece.
Moana was wearing her magic seashell necklace everywhere she went and we are sure that the girl that will receive this gift will follow her steps.
2. Hatchimals – CollEGGtibles 4-Pack + Bonus (Styles & Colors May Vary) by Spin Master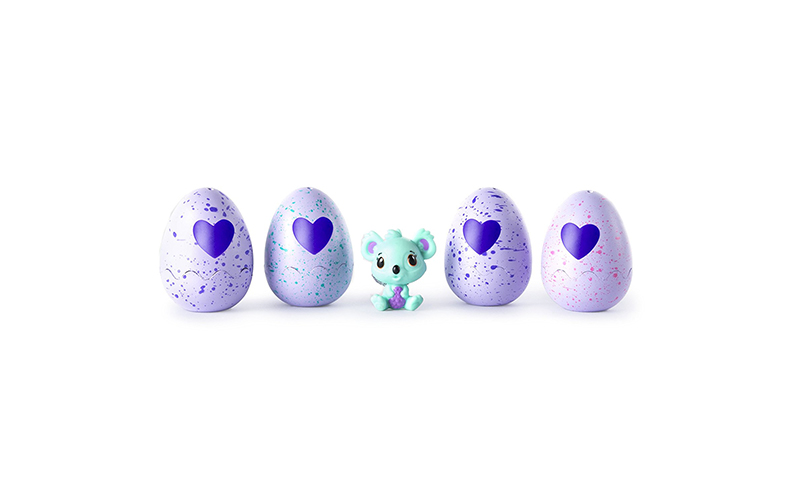 For some reason, kids just like adults like to create collections that include different items.
With the help of Hatcimals, you will get a chance to make a collection that will include more than 70 cute CollEGGtibles!
The manufacturer has done a great job by making a toy that can actually simulate hatching.
So, we are talking about fun and attractive toy for boys and girls over the age of 5.
3. Magnetic Building Blocks Toy Set – Create Cars, Truck, Motorbikes, Robots and More – 108 Pieces
According to many experts, learning through playing games is one of the most effective ways of learning.
The magnetic building blocks set includes different elements that will help your child develop STEM and cognitive skills.
It's durable and safe and it allows kids to unleash their creativity in the right away.
4. LEGO Star Wars Advent Calendar 75184 Building Kit (309 Piece)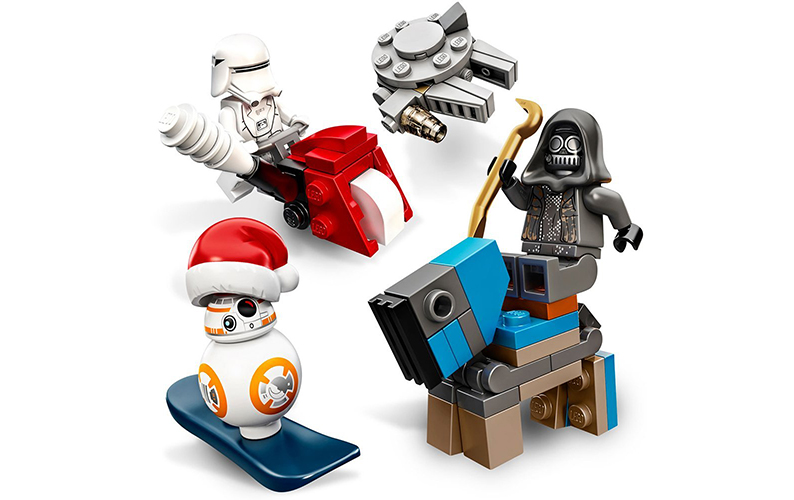 LEGO has surprised its fans with another successful Star Wars-themed set.
This set includes attractive figures from the movie and a special figure inspired by the holiday season.
The Advent Calendar building kit also has different vehicles like the Phantom or the TIE Striker.
Overall, this is a building toy that every child (and some adults) should have!
5.Nuby Octopus Hoopla Bathtime Fun Toys
Bath time is not a fun time for many parents and children, but with the help of Nuby Octopus, you should be able to turn into an enjoyable activity.
The cute purple octopus has interesting tentacles that you can use as ring holders.
The octopus is excellent for developing hand-eye coordination in infants.
6. Hasbro Connect 4 Game
As one of the leading toy brands, Hasbro has a wide range of interesting your for children.
This time, the designers from Hasbro have developed a great version of a classic board game.
Connect 4 is an easy-to-play game which features red and yellow discs that players can drop down the grid.
This game promises fun for the whole family.
7. Baby Einstein Take Along Tunes Musical Toy
If you are looking for a gift for a kid aged between 3 and 36 months, this might be the perfect options.
Free of any kind of toxic materials, the Baby Einstein musical toy will introduce the beautiful world of music to any kid.
In order to keep babies interested, the toy has a few interesting lights too.
8. Nerf N-Strike Elite Strongarm Blaster
Nerf N-Strike strongarm blaster is an amazing blaster toy.
It comes with so-called elite darts that users can fire quickly by pressing the trigger.
On top of that, it's quite easy and simple to load the rotating barrel once you are out of ammunition.
Keep in mind that you can use the same darts in other blasters made by Nerf.
9. Fingerlings – Interactive Baby Monkey – Zoe (Turquoise with Purple Hair)
10. Barbie Dreamhouse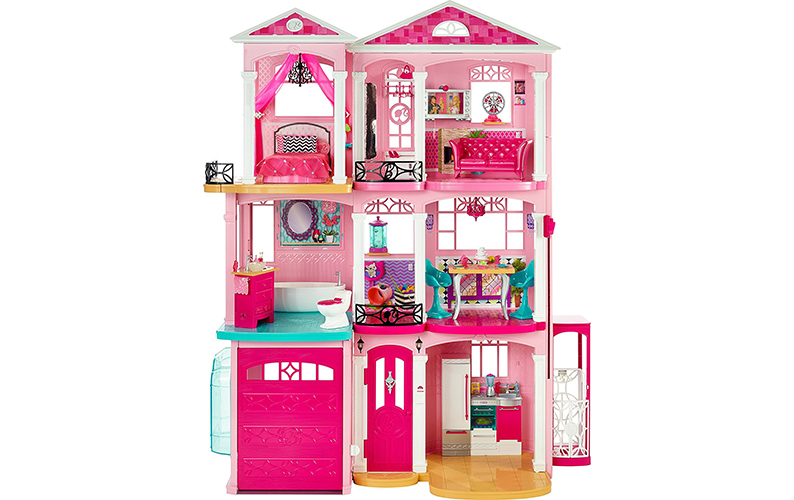 Those interested in buying a playset for a girl should definitely check the Barbie Dreamhouse.
Even though this playset doesn't include the famous Barbie Girl, it comes with so many elements that will certainly keep the girls busy for a very long period of time.
Three floors, seven rooms, and over 70 accessories are here to amuse the users.
11. Barbie Pop-Up Camper Vehicle
When someone mentions Barbie playsets people usually think about houses, but the fact is that there are some great Barbie vehicle playsets too.
This one represents a pop-up camper vehicle that any girl will like.
It's easy to convert different parts of the vehicles into rooms full of accessories. All in all, this is one of the most interesting playsets by Barbie.
12. VTech Write and Learn Creative Center
Without any doubt, toys are fun, but did you know that they can be very useful too?
Let's take this creative center by VTech as an example.
The main feature is the drawing board that will help kids learn how to write and draw.
There are also animated displays that will help kids understand how to write down something.
13. Dinosaur Toys Figure Tyrannosaurus Rex
Both kids and adults love dinosaurs.
These extinct creatures look amazing and remind us of times when everything was different on our planet.
The dinosaur toy figure that you are looking at represents a T-rex, one of the greatest predators of that time.
Highly detailed, made of safe plastic, this is one of the best dinosaur toys available in the market.
14. Snap Circuits Jr. SC-100 Electronics Discovery Kit
Parents planning on helping their children develop STEM skills since earliest age must take this toy into account.
With its help, they can create working models of different electronic devices like a flashing light or even a photosensor.
There are actually one hundred different projects that you can complete with this set, so it's definitely worth the investment.
15. Be Amazing Insta-Snow Jar, Makes 2 Gallons
Let your child feel the power of chemistry with this simple, yet effective toy.
Insta-Snow can turn tap water into a snow-like substance. This simple jar can create more than two gallons of fluffy snow.
Insta-Snow is the ideal solution for parents looking for educational toys that give children a hands-on experience.
16. Lewo Wooden Educational Toys Magnetic Art Easel Animals Puzzle Games for Kids
More and more people are using organic and natural products, so there is no reason why toys should be different.
These wooden educational toys will bring you back to a different time when kids were growing without electronics around them. It is a nice idea to give children an opportunity to feel those times and Lewo's puzzle game seems to be the perfect option.
17. Kids Binoculars Set
This is a gift that every kid, be it a boy or a girl, will love.
The binocular set by Kidwinz is made from durable material and has shock proof abilities.
The magnification is excellent and the item is easy to use.
Children can use it for bird watching, learning, hiking and other activities.
18. Doinkit Darts – Magnetic Dart Board
Who doesn't like playing darts? Many people avoid giving darts to their kids because they think that they are not safe. Well, this safety concern goes away with this dartboard that comes with magnetic darts that are completely safe. With the beautiful board, any kid can enjoy hours of playing.
19. EpochAir Remote Control Car
Collecting car toys is the favorite activity of many children (and some adults). This is especially true for boys. This time we are looking at a remote-controlled car that comes with many fun features. For instance, this toy has rear and head LED lights, it's charged with the help of a USB and has an IR sensor control. On top of that, the car has a futuristic appearance.
20. Mega Bloks 80-Piece Big Building Bag
It's in kids' nature to build things and it's their parents' duty to help them do something like this. By using a building set like this one, any children will get an opportunity to use their creativity and get that special feeling of accomplishment once they create a new structure. There are 80 building blocks in this playset which is more than enough for hours of fun.
21. VTech Sit-to-Stand Learning Walker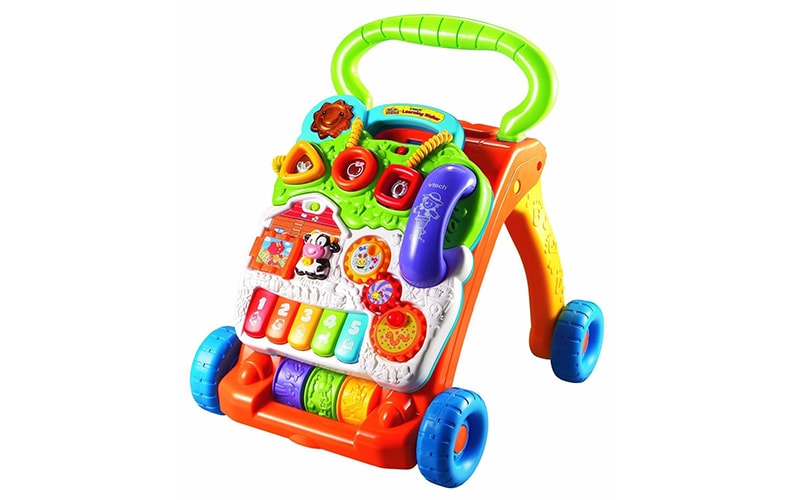 Kids love their baby walkers which is why the guys from VTech have decided to create a special learning center based on a cute little baby walker.
This is one of the best options you have for interactive learning.
It has different educational games an more than 70 sound effects, music, songs and catchy phrases.
22. VTech Baby Lil' Critters Moosical Beads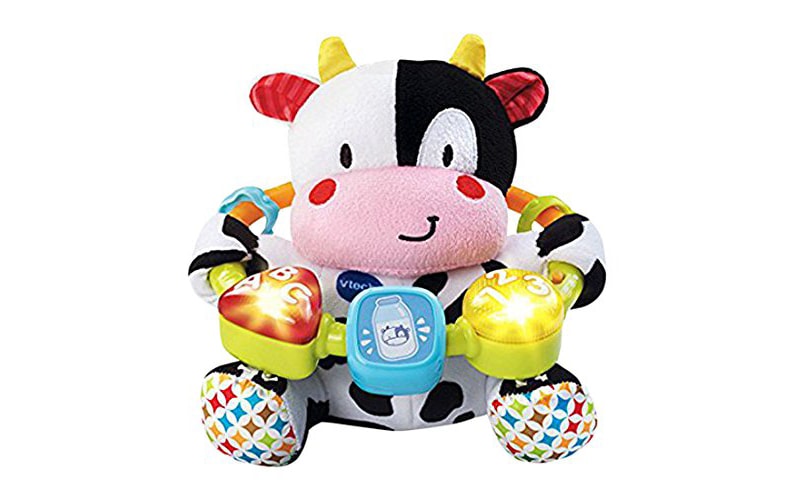 Just like adults, babies and young children love music. This musical baby toy comes with a wide range of songs, sound effects, and melodies that support proper development of children. It also has a great bead ring with colorful buttons and a few additions that support proper motor skill development.
23. Fisher-Price Brilliant Basics Baby's First Blocks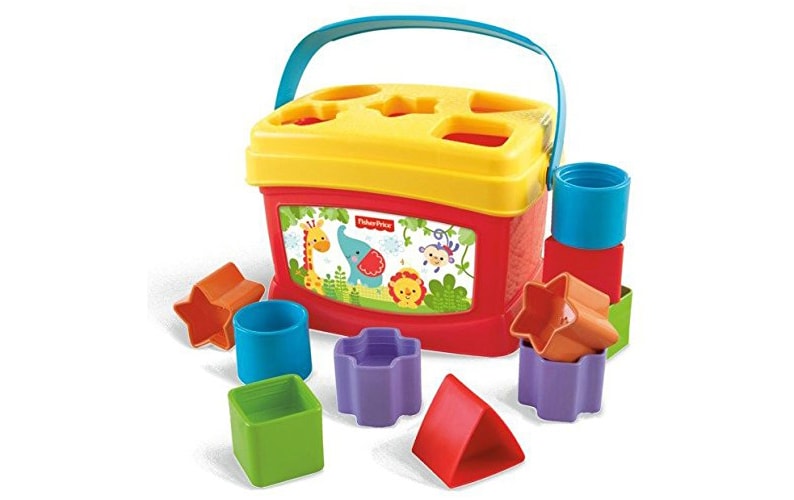 Children should learn shapes and colors from their earliest age and this is exactly what this baby toy from Fisher-Price is all about. It lets kids organize and stack shapes and colors allowing them to learn these things in a fun way. This interactive learning tool comes with ten blocks with different colors.
24. VTech Drop and Go Dump Truck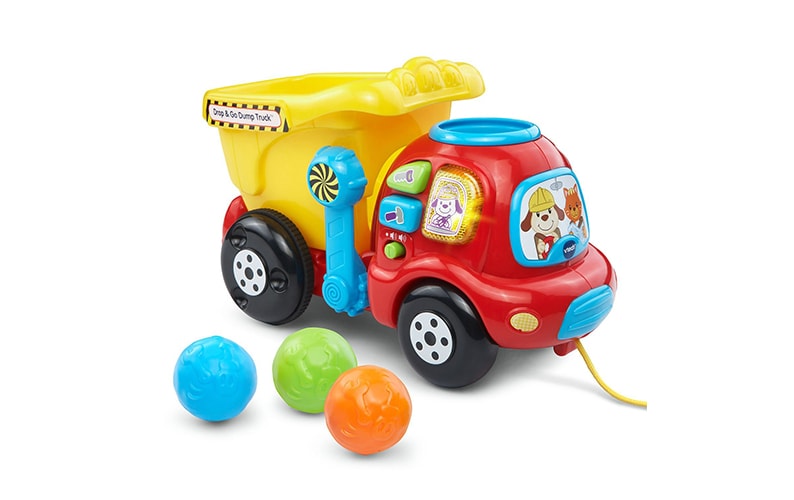 Both girls and boys enjoy playing with vehicles. If you choose this toy, they can play with a colorful dump truck. This is actually a learning toy that is focused on motor skills. It also has three buttons in different colors that kids can use to play phrases, melodies. It's great for toddlers learning colors too.
25. ALEX Jr. My Busy Town Wooden Activity Cube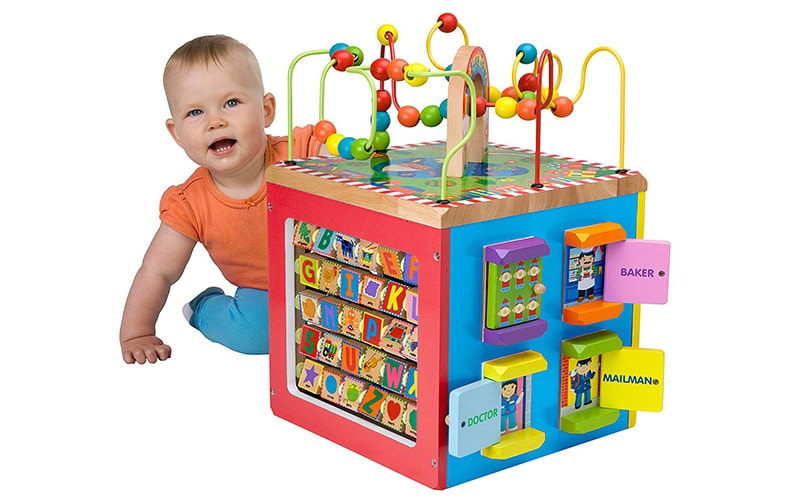 In some cases, big things come in big packages! Take this activity cube for example. Made from solid wood, this fun and colorful activity cube provides five different sides of fun for toddlers. The award-winning toy has spin and match game, peek a boo doors, word tiles and more. It's great for every child older than 12 months.
26. VTech Turn and Learn Driver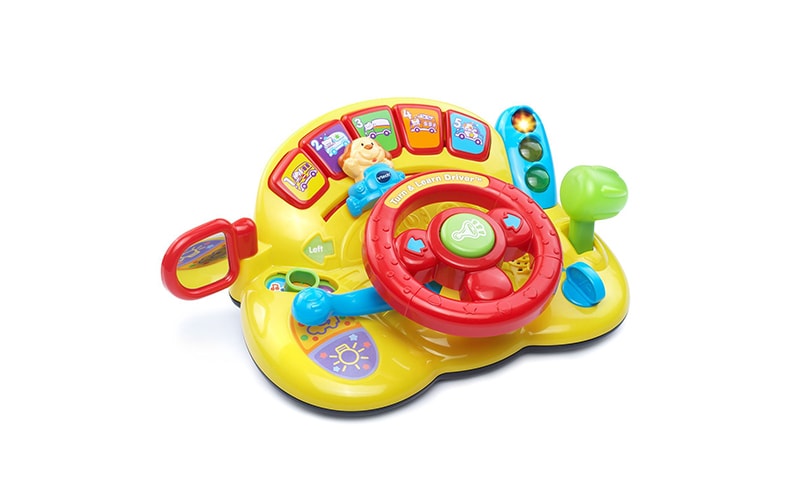 In case you are interested in buying an excellent gift for a girl and boy between 6 and 24 months, you should take this toy into account. Allow your loved ones to put themselves into the position of a driver. This driving toy comes with 3 fun drive modes and a few interesting features.
27. My First Flybar Foam Pogo Jumper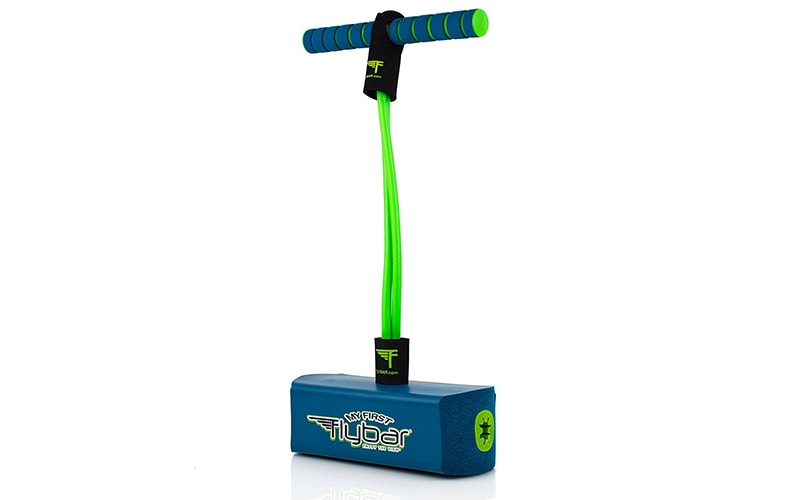 Keep your child active with this simple, yet entertaining toy. The classic pogo with a modern twist is here to provide hours of fun for your kids and even for you. Since we are talking about a product that is used in a specific way, it's good to point out that this My First Flybar pogo stick is safe, durable and strong.
28. Pull Back Vehicles, 12 Pack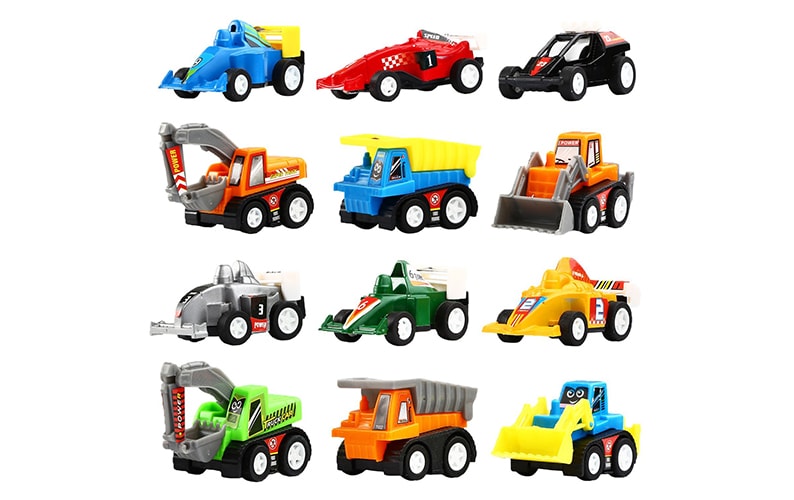 Pull back vehicles are one of those toys that will never become outdated.
This product contains a dozen of vehicles including different construction vehicles and race cars.
They are very detailed and they can serve as great learning tools because they come in different colors, they produce sounds and special effects.
29. GAMZOO Doctor Kit Set Dentist Playset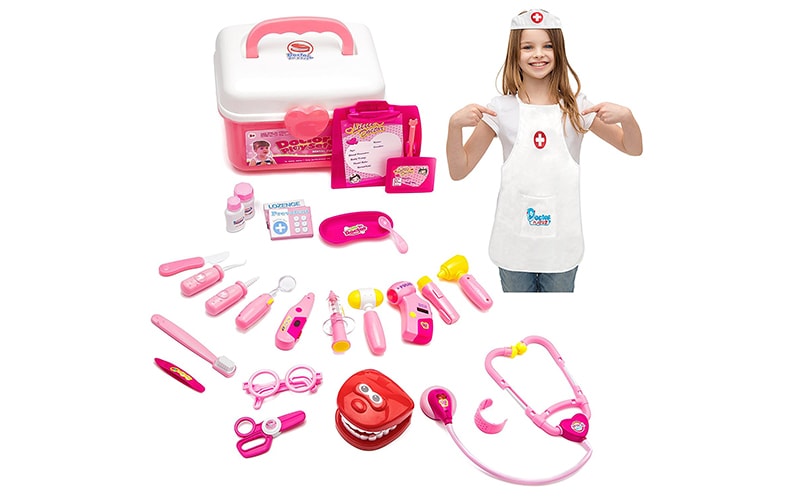 Being a doctor is one of the best things because as a doctor you can save people's lives and take care of their health.
With this special kit, you can explain the positive role of doctors and nurses to your daughter.
The package comes with 25 tools that promote learning and enhance creativity and imagination.
30. Melissa & Doug Dress-Up Tiaras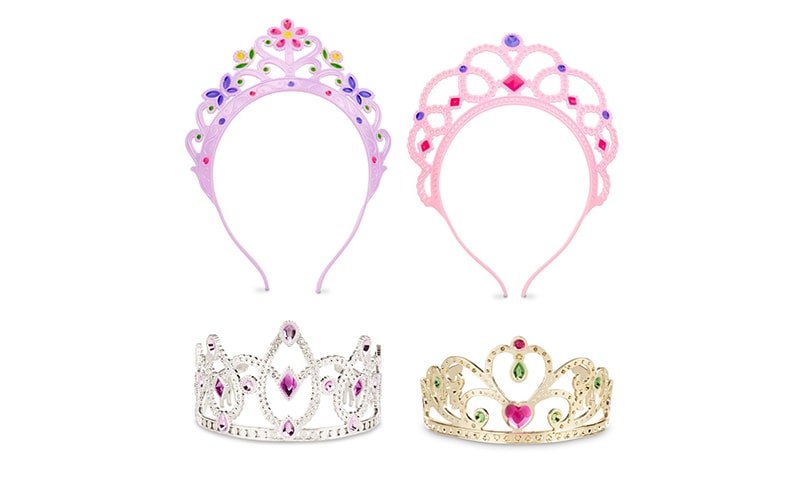 There are only a small number of girls that don't like to look like princesses.
The rest of them would love to get a tiara as a gift.
The Melissa & Doug Dress-Up Tiaras product is a set that includes four tiaras and crowns.
They are made for children between three and six years. With their help you can let your kid unleash her imagination.
31. Play-Doh 10-Pack of Colors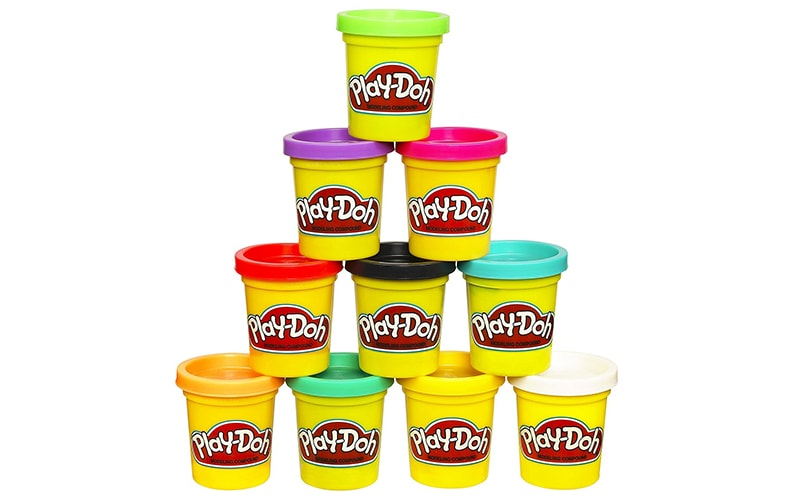 Clay and dough look even better as a art and craft materials when they are made from a reputable company.
Play-Doh has created a case of ten different colors that represent excellent modeling compounds.
We are talking about ten cans, 2 ounces each with great modeling properties.
Allow your children to create some unique models and pieces of art.
32. Melissa & Doug Scissor Skills Activity Book With Pair of Child-Safe Scissors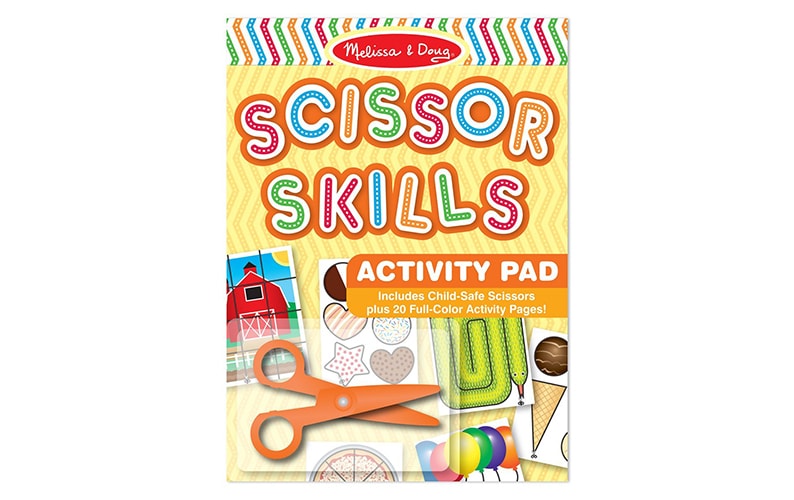 With this special book that comes with pre-made activity pages (20 of them), you can let your kids create puzzles, mazes, sequencing activities and more.
This product guarantees hours of fun and a chance to improve cognitive and fine motor skills.
33. Crayola Inspiration Art Case: 140 Pieces, Art Set, Gifts for Kids and Adults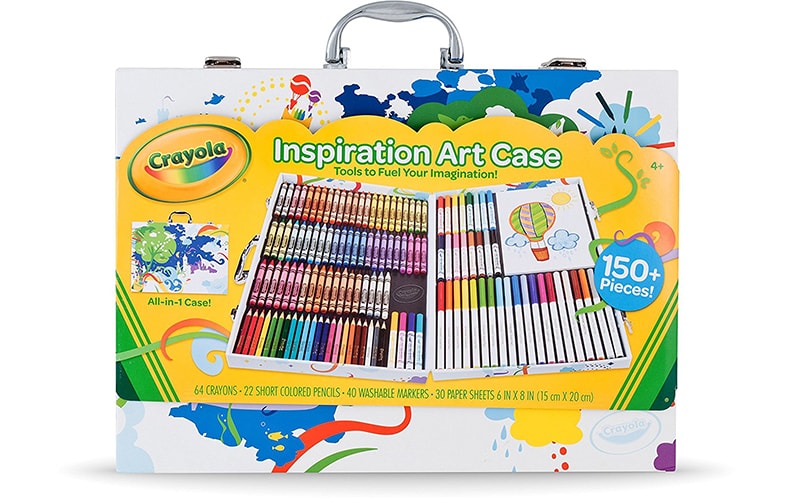 Drawing has always been considered one of the best activities for stimulating proper development in children of all ages.
This art set by Crayola includes 140 kids craft and art supplies.
The most important ones are the crayola crayons even though there are some great washable markers, colored pencils and 15 high-quality sheets of paper.
34. 25 Rare Pokemon Cards with 100 HP or Higher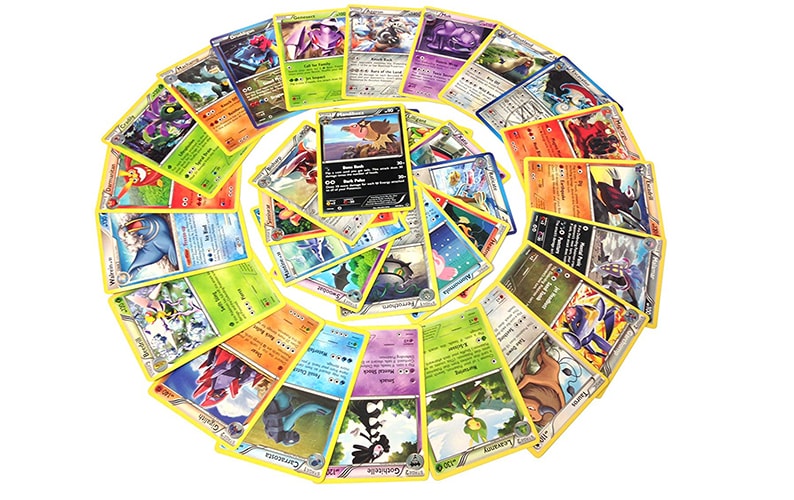 Pokemon is one of the most popular animated series of all time.
Let your kids step into the world of Pokemon by getting these 25 unique Pokemon cards. Each card comes with at least 100 HP.
In this way, you can show your kids the joy that gathering collectibles brings.
35. VTech KidiBeats Kids Drum Set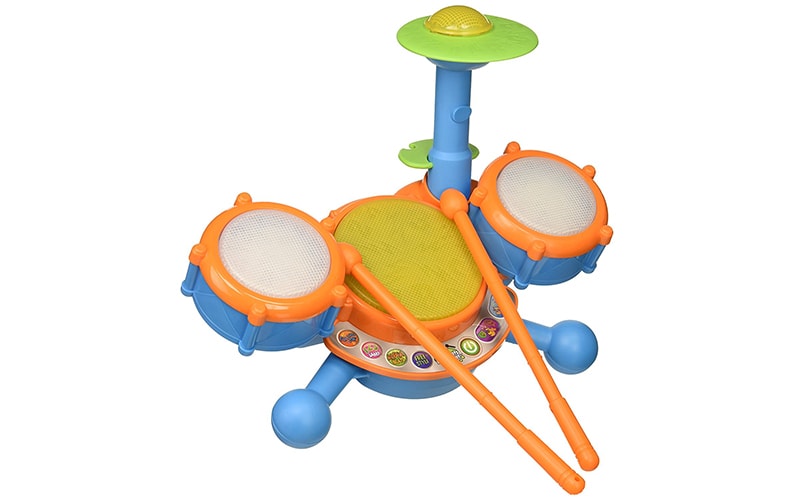 Have you noticed that young kids like to hit things in order to create sounds?
Now you can help them turn these hits into music.
The three drum set by VTech is an exciting learning toy that comes with four different modes of play – numbers, letters, free play and follow along mode.
This is a great gift for kids between two and five years.
36. EACHINE E010 Mini UFO Quadcopter Drone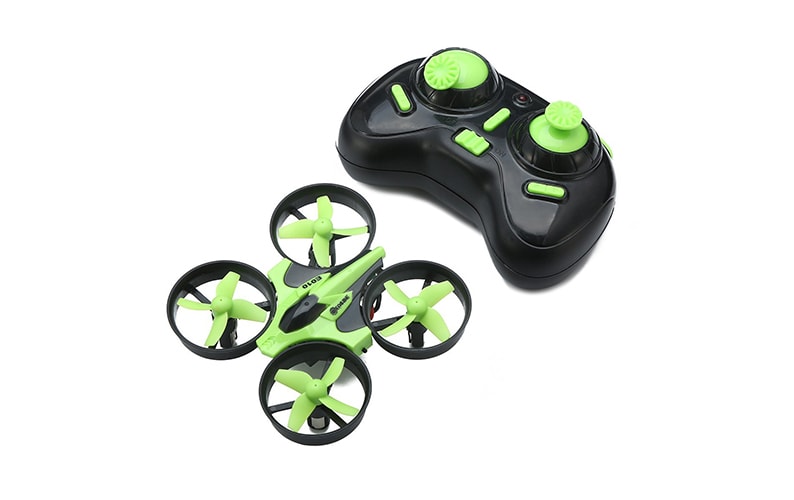 The popularity of drones has reached record high levels in the last two years.
There is no doubt that these flying objects will be used even more in the future and that's why it's a smart move to get a kid-friendly version of drones for your children.
Eachine Mini UFO Quadcopter is the perfect solution because it's easy to use, it has good battery life and a few unique features.
37. My Little Pony – Rainbow Dash 8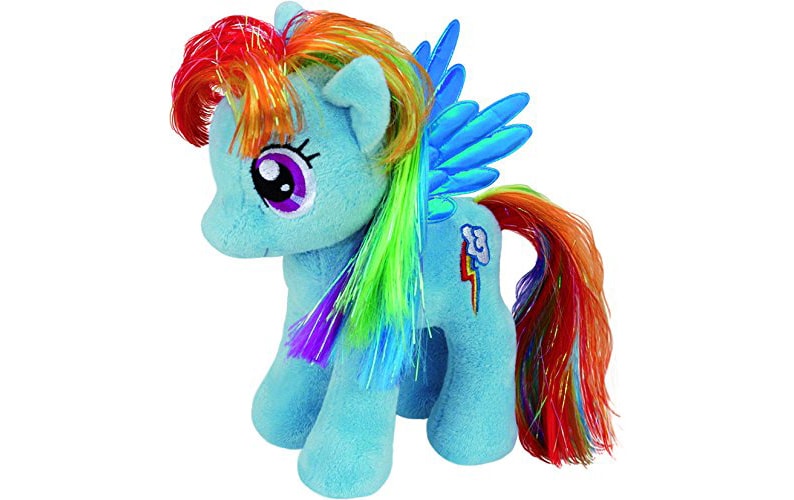 Let's be clear – kids love stuffed animals.
Even modern kids that grow with different electronic toys, want at least one stuffed animal.
If you want to get one for your children, then you should check My Little Pony, a colorful pony made from durable material.
It's good to point out that this is a handmade product.
38. Disney Pixar Toy Story Slinky Dog Jr Plush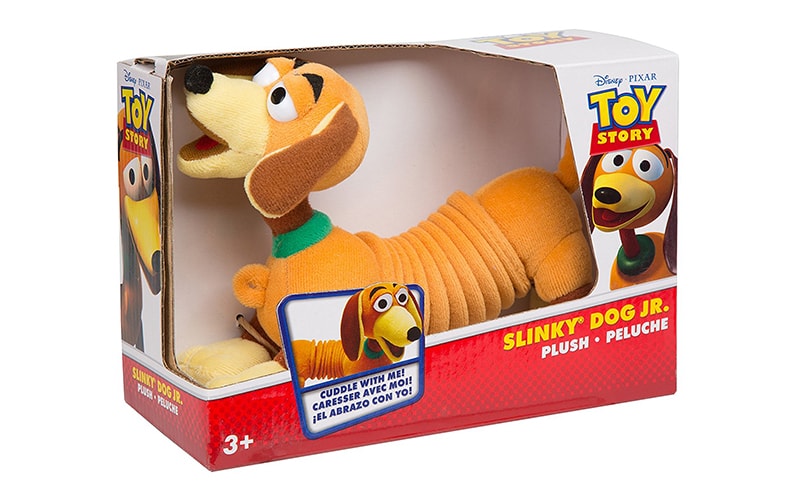 Do you remember Slinky Dog from Toy Story?
This is one of the favorite fictional characters of many kids.
This time, the guys from Slinky have made a small version of this fun puppy.
It's made from soft and durable material which means that kids can keep it in their beds.
Slinky Dog Jr is a plush dog for children that are at least three years old.
39. LEGO Creator Mighty Dinosaurs 31058 Dinosaur toy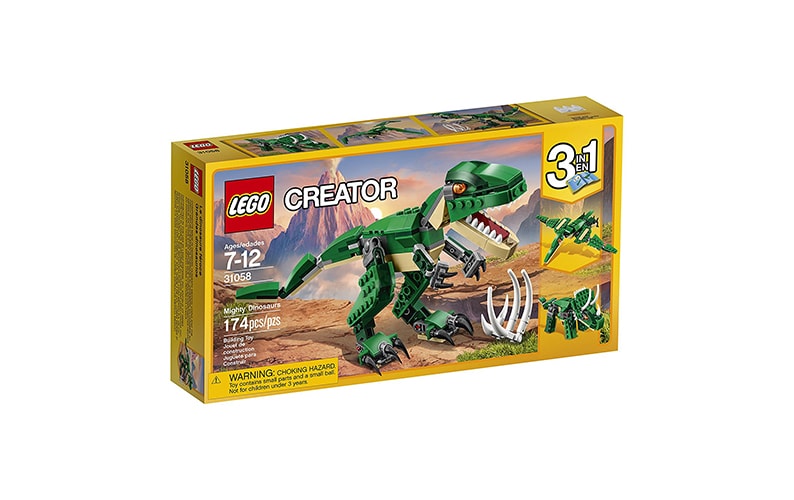 If you are planning on buying building toys, don't make your purchase without checking LEDO Creator Might Dinosaur toy first.
The dinosaur is very realistic which makes the toy even better.
This 3-in-1 toy was made for children between the age of 7 and 12 and promises many happy moments for these kids.
40.Melissa & Doug Zoo Friends Hand Puppets (Set of 4) – Elephant, Giraffe, Tiger, and Monkey

Step into the world of animals with the help of these animal-inspired hand puppets.
You can use them to entertain your kids or teach your kids how to use them.
The set includes four high-quality hand puppets featuring a giraffe, a monkey, an elephant and a tiger. It's great for communication skills, motor skills, self-esteem and proper hand-eye coordination.
41. VTech Touch and Learn Activity Desk Deluxe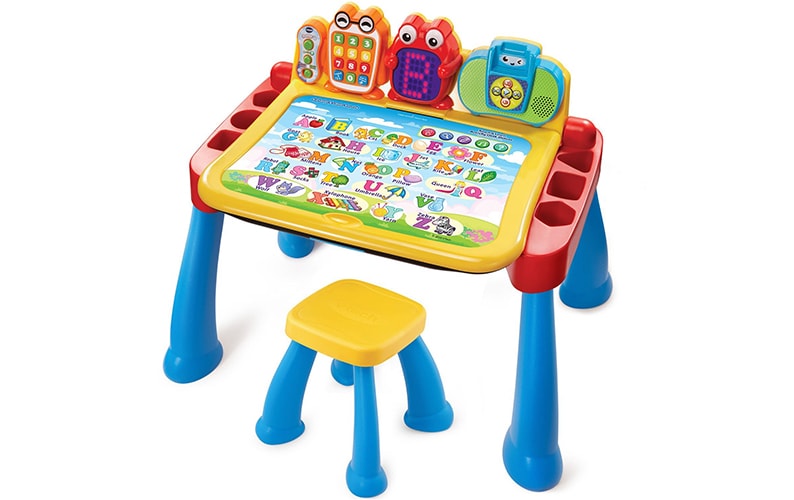 Now here's an excellent example of a learning center that comes in the form of a desk.
This desk lets children learn many great things by simply touching the interactive surface.
It includes many words, over 20 activities and many melodies, sounds and songs.
In addition, you can buy expansion packs to make this learning toy even better.
42. Kangaroo's Ultra Glow in the Dark Stars; 200 Count w/ Bonus Moon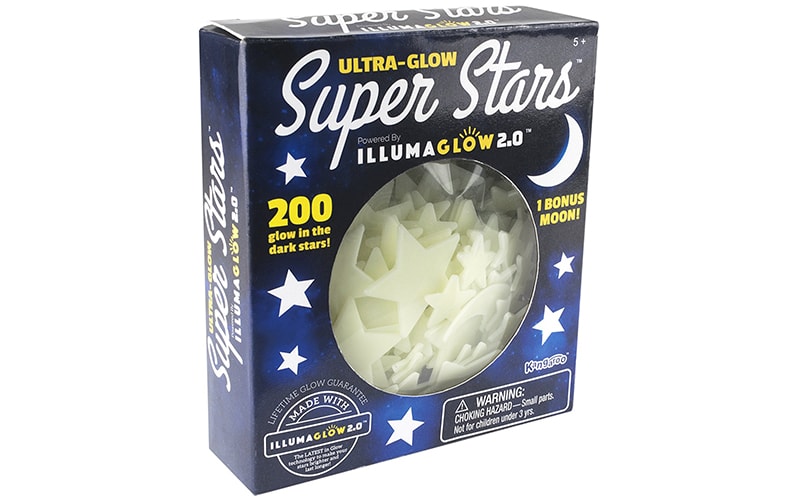 Some kids find darkness scary others don't, but with this toy you can definitely make them love it.
This is a set that includes 200 star stickers that glow in the dark.
They can be placed anywhere you want in your kid's bedroom.
There is a bonus moon in the package too for a complete astronomic experience.
43. VTech Drill and Learn Toolbox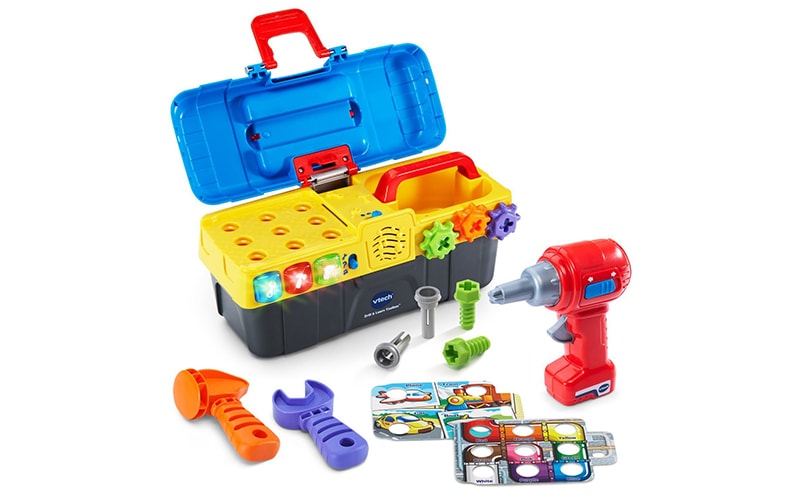 Take a closer look at one of the best electronic learning toys on the market.
VTech has included even the smallest details into this toolbox toy which allows boys and girls to fix and play with different tools and pieces of equipment.
Designed for kids between 2 and 5 years, this toy imitates different tools and has some great songs.
44. Tot Tutors Kids 2-in-1 Plastic LEGO-Compatible Activity Table and 2 Chairs Set, Primary Colors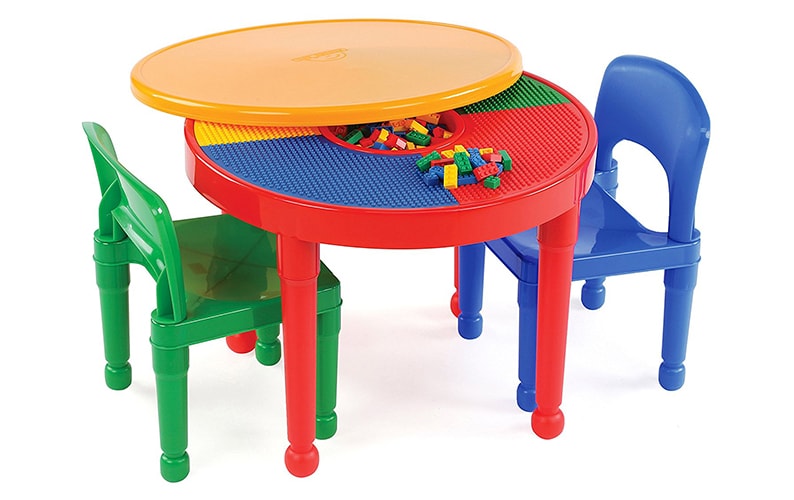 Little kids love to play games where they are impersonating their parents. With this playset they can do this and more.
The colorful chairs and table can be used as storage space for their building blocks.
Keep in mind that the building blocks don't come with this set. This is a nice gift for kids over 3 years.
45. Despicable Me 2 – 12″ Minion Backpack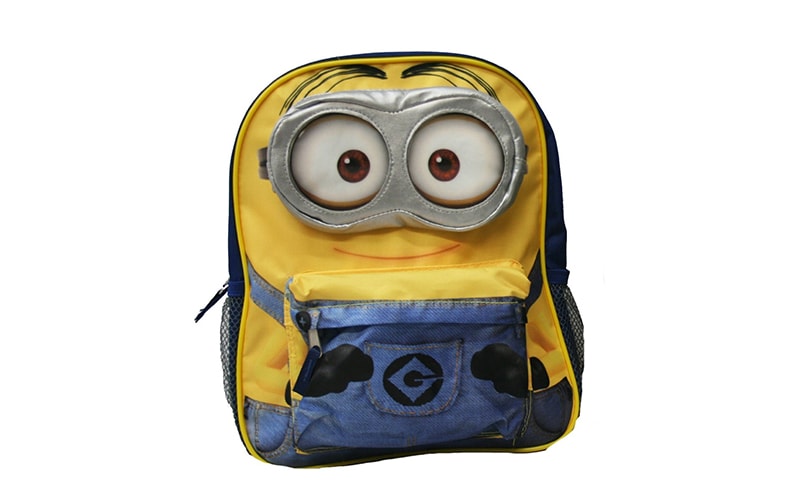 Despicable Me is one of the favorite animated movies of all time for children (and adults) of all ages.
If you want to help your kid show the world that they are great fans of this movie, you can get this backpack for them.
Inspired by the well-known, cute minions, this backpack is actually quite useful because it includes side pockets, compartment with a zipper and front pockets too.
46. PlayBoom Educational Train Toy with Bump-N-Go & Lights & Sound, For Boys/Girls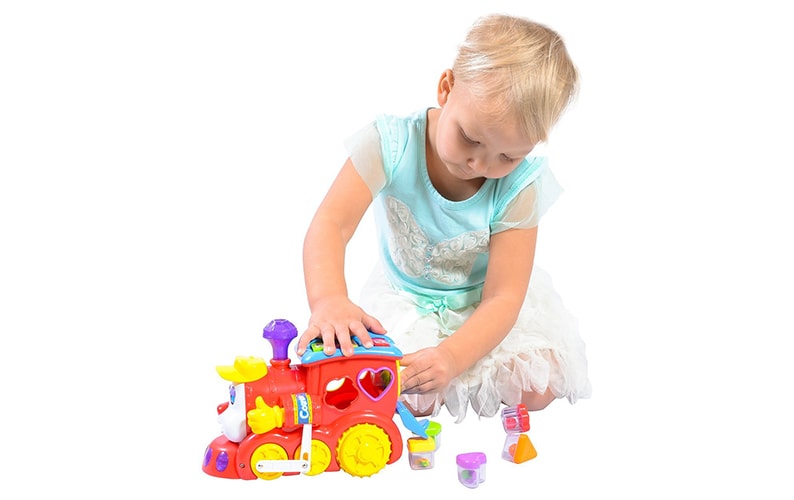 In case you are interested in purchasing a useful educational toy, give this electronic train toy a try.
Designed by PlayBoom, this toy is featuring a few things that can help your toddler develop some skills like fine motor skills for example.
It includes a myriad of songs, melodies, lights and interactive features.
47. NiGHT LiON TECH mini block toy christmas snowman with christmas music – 290 PCS brick toy gift for kid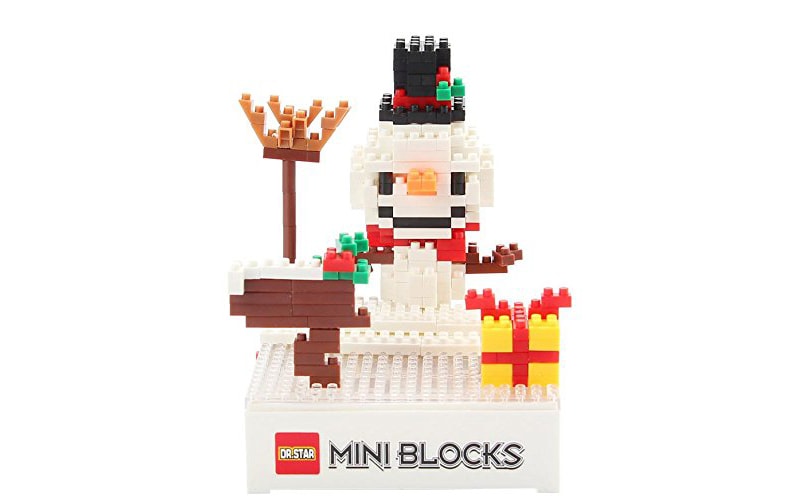 It seems that kids can never become tired from playing with building blocks.
This is especially true when the building blocks allow them to create fun objects and scenes like this Christmas inspired building block toy.
It comes with 290 small building blocks which means that your kids will have hours of fun with it.
They can use it to create a snowman while listening to beautiful Christmas music.
48. Jax and Bones Red Christmas Moose Holiday Woolie Dog Squeak Toy, 9″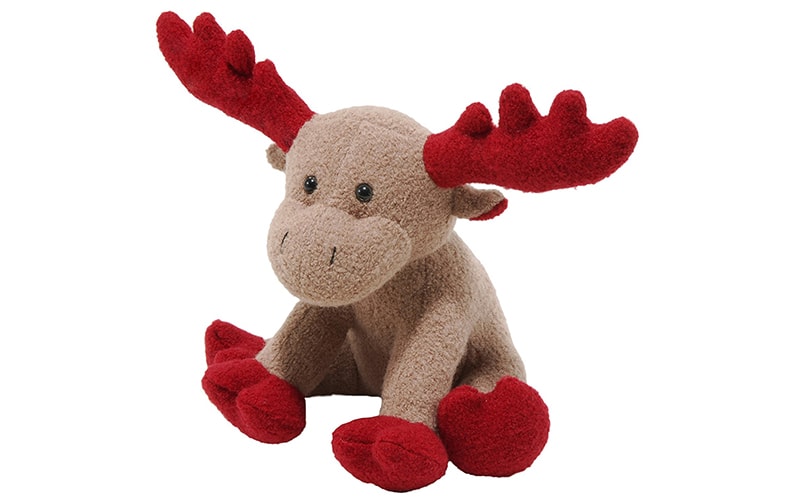 Even today when we are surrounded with electronic devices, it is good to use old-fashioned toys for developing some basic skills in small children.
Take this Christmas Moose toy for example.
This is a squeak toy with a great design made from safe materials that creates fun and memorable sounds.
49. Christmas Toys (Disney/Pixar Toy Story) (Step into Reading)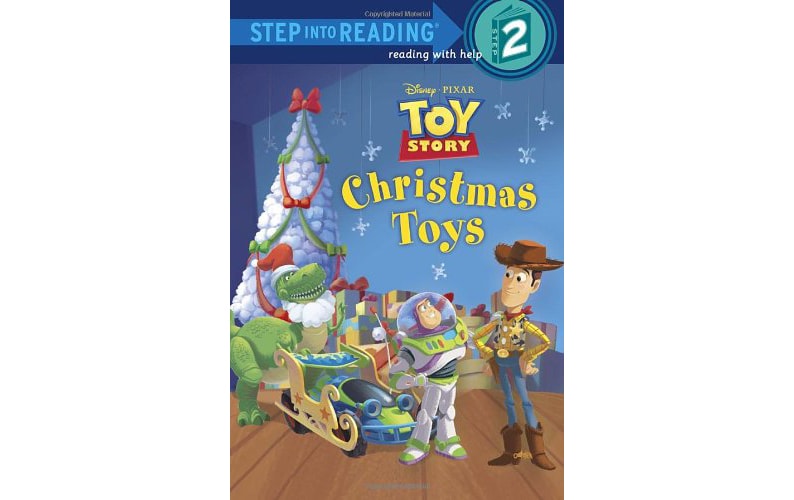 It is never too early to start teaching your kid how to read. Christmas Toys (Disney/Pixar Toy Story) is a children's book based on the popular animated movie.
Created for kids between 4 and 6 years, it serves as a great tool for kids who are reading with help.
We are sure that your children will find reading quite fun thanks to books like this.
50. Cartoon R/C Race Car Radio Control Toy for Toddlers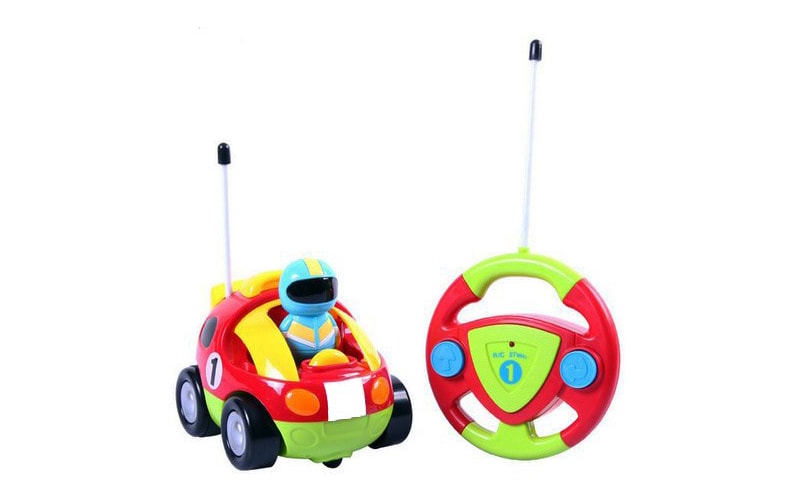 Remote controlled toys are fun and this RC car toy is a good example of that.
The cartoonish-looking-vehicle can go forward and reverse left. It has a nice action figure which represents the driver.
It also has lights, music and sound effects for a complete driving experience.
This is an ideal gift for toddlers and young kids.
51. LeapFrog Shapes And Sharing Picnic Basket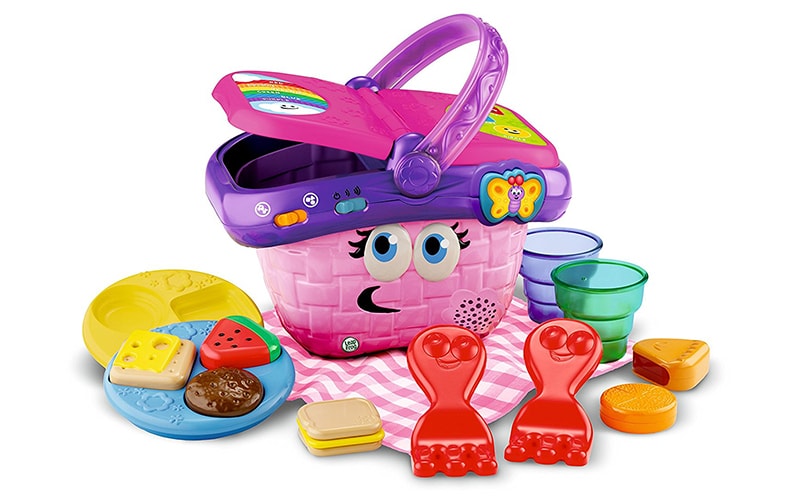 Those interested in helping their children develop motor skills should consider getting this learning toy.
The seemingly simple picnic basket comes with 14 items including food items, forks and cups that kids should collect and store in the basket.
With its help, kids between 6 and 36 months can learn the colors, shapes and develop fine motor skills.
52. Fisher-Price Barbie Tough Trike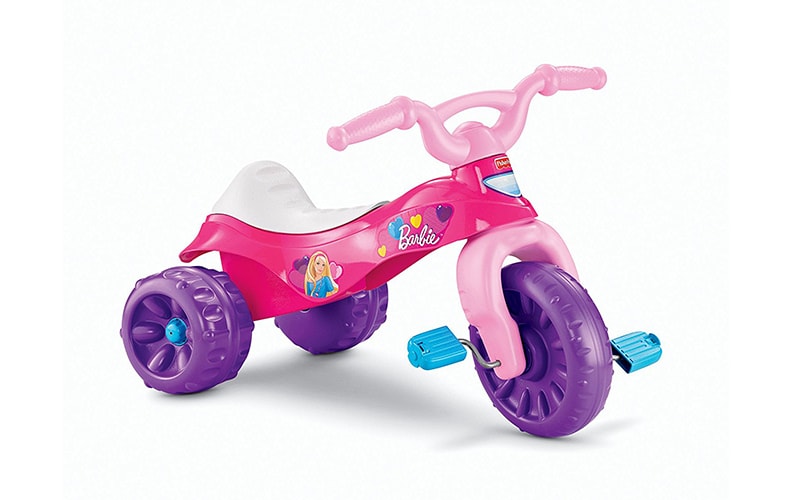 Barbie is still a very popular fictional character among girls.
This ride-on toy has Barbie styling and comes with a hidden storage compartment where children can keep other toys.
This is a safe ride-on toy with massive tires for extra stability and big foot pedals for better control. The pink and purple color and Barbie stickers suggest that this toy is great for girls.
53. ALEX Toys Craft Rock Pets Turtle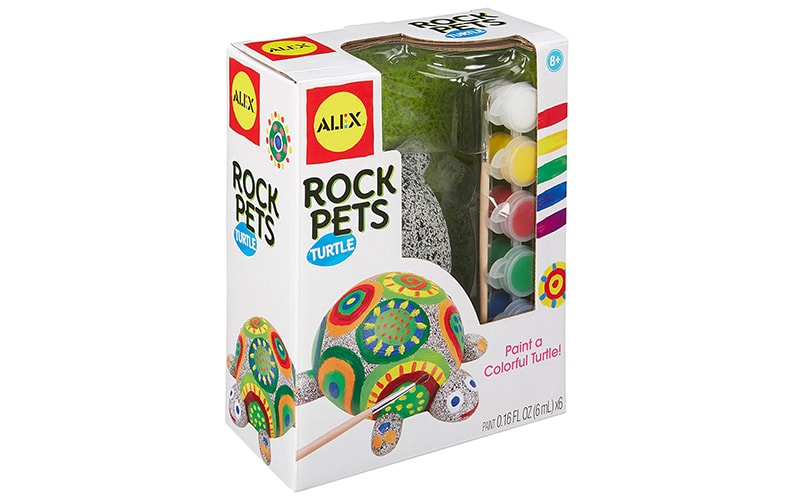 Experts recommend drawing activities for young children as a way to help them stay focused, release their energy and creativity and learn new things.
The Craft rock pets turtle is a great toy and a painting kit. It lets kids that are 8 years old or older to make a pet that looks amazing.
It comes with weatherproof paints, a simple brush and one turtle rock pet.
54. Mindscope LED Laser Twister Tracks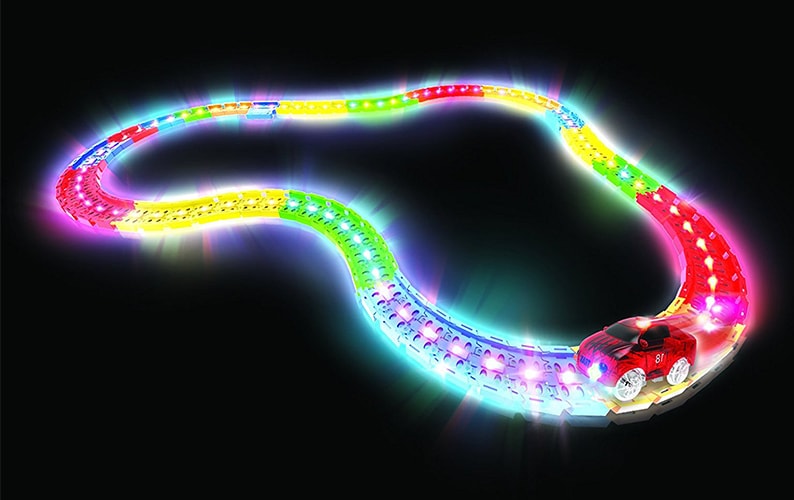 Train sets have been used as toys for decades, but if you want to let your kids truly enjoy these toys, you should pick ones with a modern theme.
This product is actually a race track for cars that has LED lights and flexible tracks.
In addition, the product is compatible with the rest of the tracks offered by Mindscope.
55. Fisher-Price Bubble Mower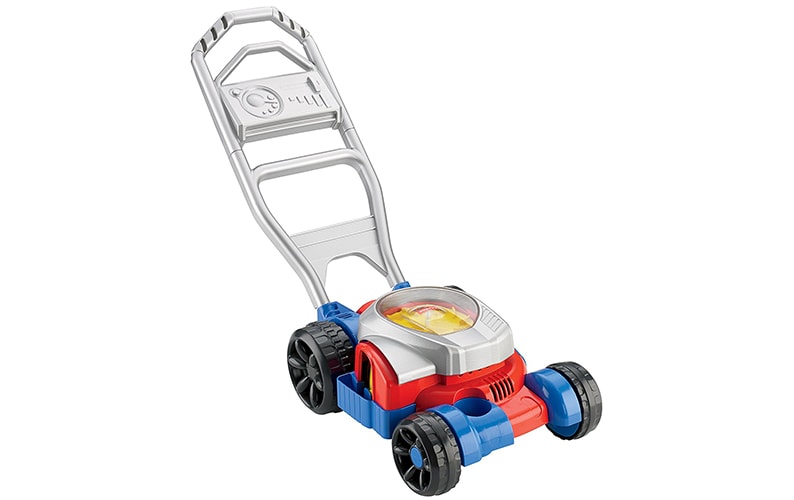 So, your kid loves the lawn mower, but he or she is too young to operate one? No problem!
With this toy mower, your kids can enjoy this activity as much as they want. Instead of cutting grass, they will create bubbles anywhere they go with the toy.
Additionally, they will enjoy the fun sounds and watch the motor spin.
56. Kangaroo's Flashing LED Light Up Toys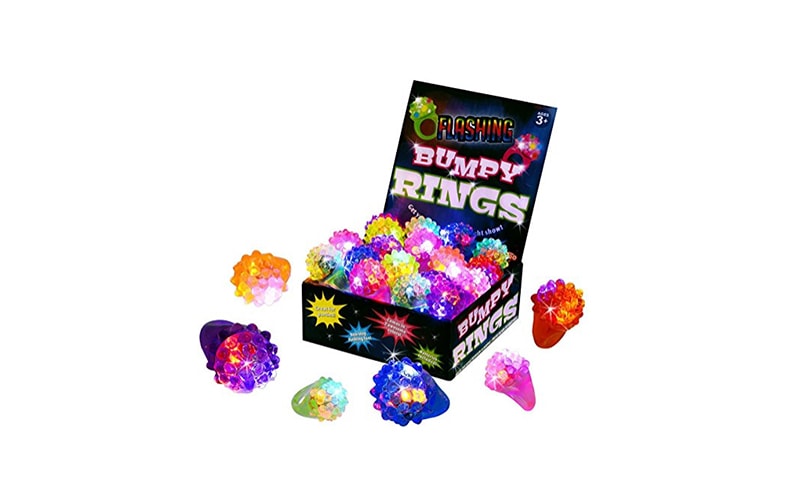 Who says that a toy has to be complex to be likeable?
This toy box includes 18 rings specialty designed for young children.
Of course, these rings are not ordinary – they come with LED lights and ability to glow in the dark.
By pressing the rings, kids can turn the flashing feature on and off.
57. Dress Up America 12 Color Face Paint

With Halloween just around the corner, you should prepare yourseld and your children for this night.
This is a great set of face paint which includes 12 different crayons.
You can use them on your face or any body part without worrying about toxins and harmful ingredients.
Red, orange, black, light green, white – these are some of the colors found in this face and body crayons set.
58. Melissa & Doug Food Groups – 21 Hand-Painted Wooden Pieces and 4 Crates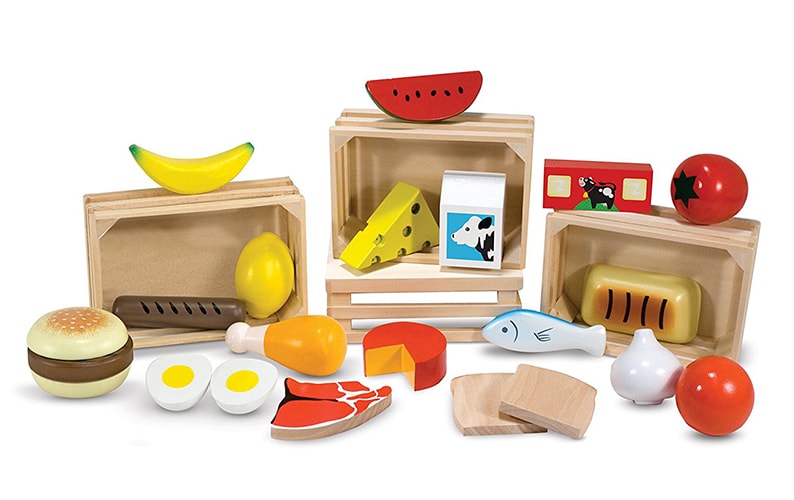 If you want to keep things simple when it comes to kid's toys, you might want to take a closer look at this product.
Allow children to learn which foods belong to the same category by using these four creates and 21 wooden pieces that represent different foods.
This is a fun, educational toy useful for kids that are three years old or older.
59. Melissa & Doug Decorate-Your-Own Wooden Butterfly Magnets Craft Kit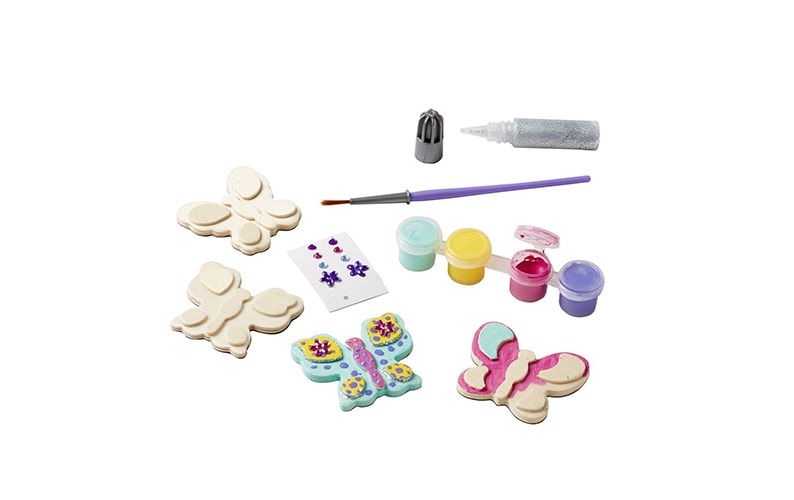 This decorating kit includes a wide range of ornaments.
Melissa & Doug Decorate-Your-Own Wooden Butterfly Magnets Craft Kit
It actually contains supplies and items for different projects – premade wooden magnets, plastic gems, paints, glitter glue, stickers and a brush.
This is an easy-to-use set which is great for any kind of party. It supports self-esteem and hand-eye coordination in children.
60. Melissa & Doug Deluxe Pounding Bench Wooden Toy With Mallet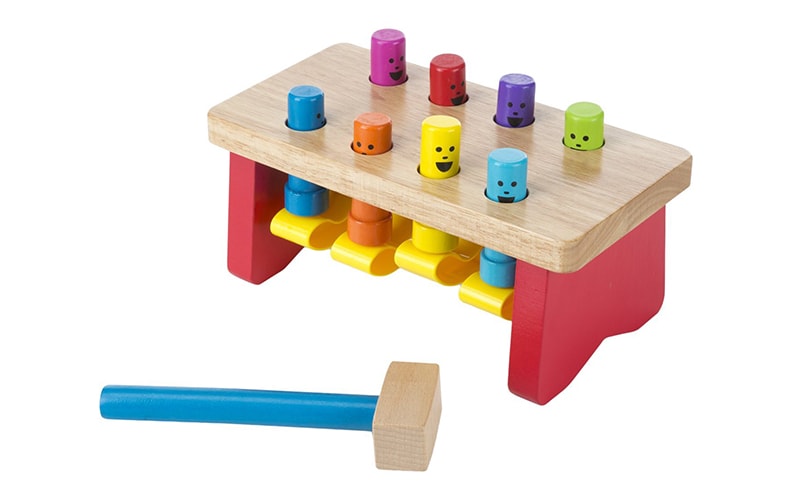 Hammering and pounding toys are popular among children because they find them exciting and fun.
In this case, you are looking at a traditional pounding toy inspired by peekaboo games. It's made from high-quality wood and comes with a nice little wooden hammer.
This game is recommended for kids aged 2 years or older.
61. L.O.L. Surprise! Big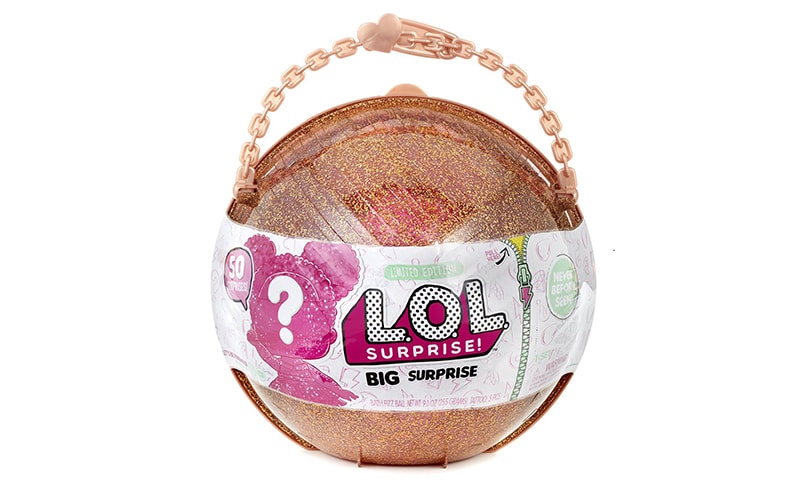 Kids love surprises and if you want to surprise them during the holiday season, you should definitely consider this L.O.L Surprise! Toy.
It includes 50 surprises and includes items that you have never seen before.
Of course, the most important ones are the cute little dolls that come in different colors and with different ornaments.
62. Soggy Doggy Board Game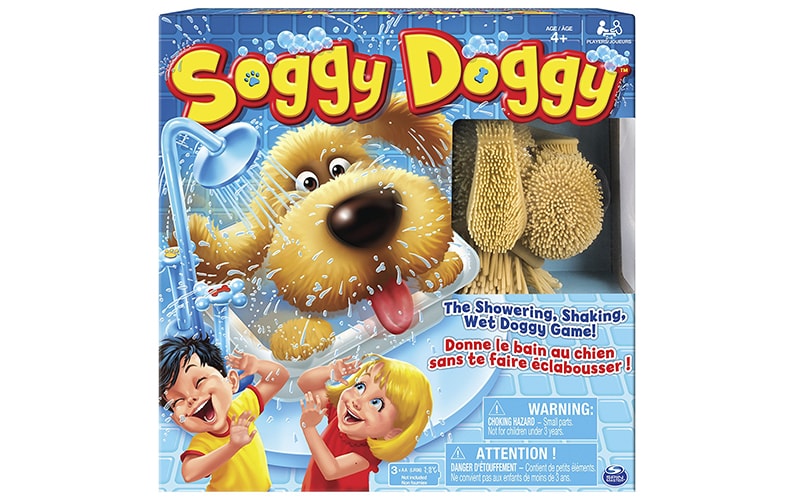 Board games have never lost their charm because they represent an evergreen source of fun for people of all ages.
This board game known as Soggy Doggy is suitable for children above 4 years and provides fun for up to 4 and at least 2 players.
Allow your kids to bath Soggy Dog and watch their competition!
63. Children Hub 60pcs Magnetic Tiles Set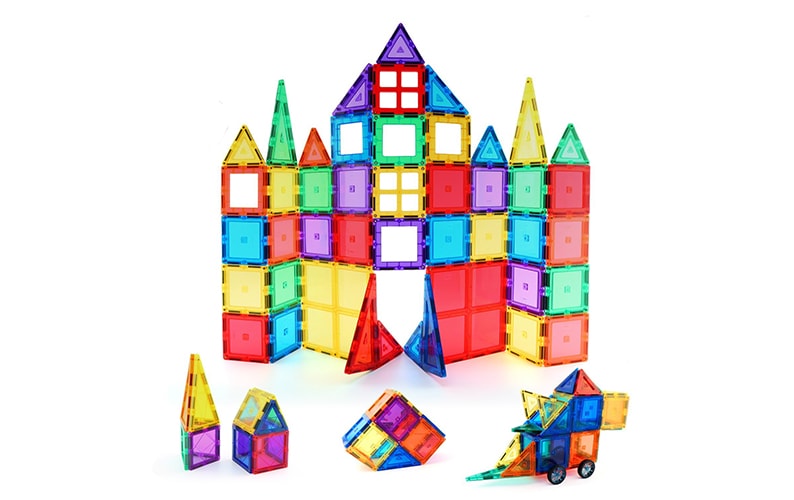 If you want to spend some quality time with your children, you might consider getting this magnetic tiles set. The stacking blocks found in this product will improve your kid's skills. It is suitable for children aged 3 and above and every block is made from safe materials. This is the ideal gift for any kid and any occasion.
64. Rubik's Cube Game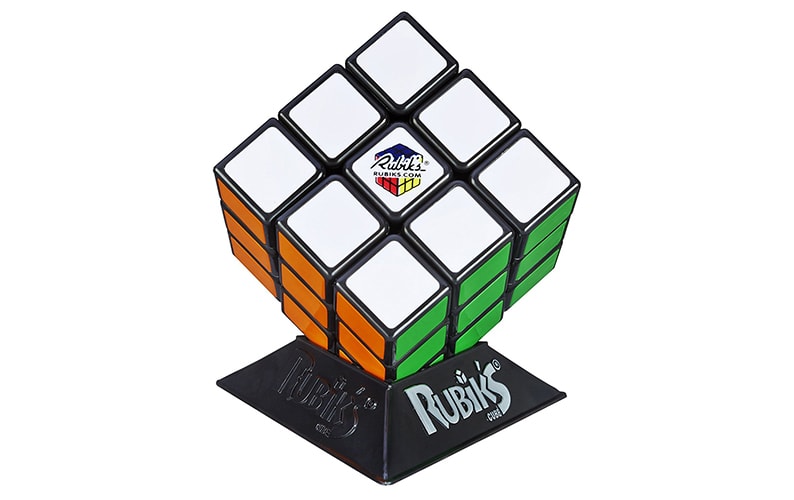 Now here's an example of a brain-teasing game that cannot go out of fashion. This is quite natural because there are billions of combinations that you can make with this small cube. The Rubik's cube is a cube with different colored squares places in different dimensions. It's a safe game that enhances a few skills in children like memory for example.
65. Scientific Explorer My First Mind Blowing Science Kit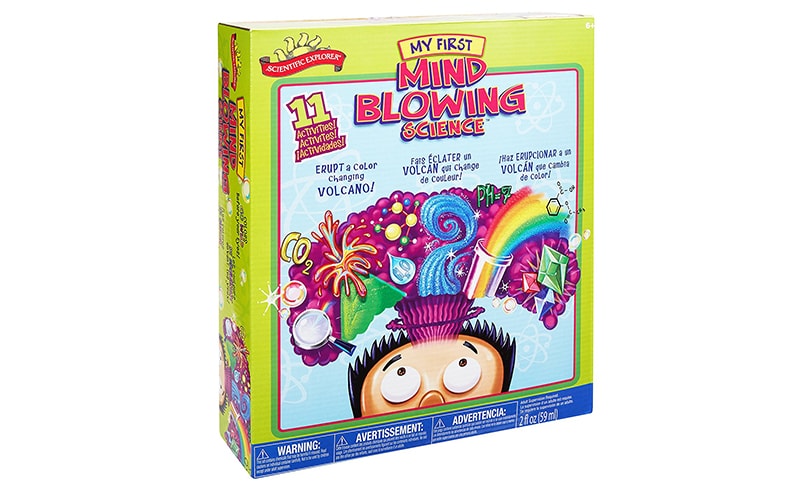 Parents should introduce the beauty and usefulness of science to their children from their earliest age. This kid science kit can definitely help you with this task. It includes some simple items that can be used for making a wide range of experiments. As a matter of fact, you can get involved in 11 activities with your kids and help them learn something completely awesome about science.
66. Fisher-Price Kick & Play Piano Gym, Blue/Green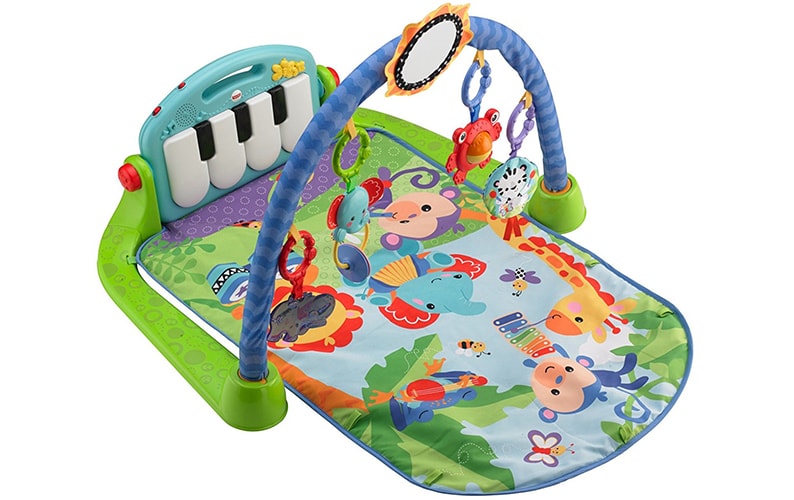 Music and sounds have proven to be one of the best ways to help children learn things. (You can read more about the benefits of music for child development here).
This is natural because they can grab kid's attention.
Thanks to this product, babies can kick the piano keys and listen to interesting music.
They can use four different types of playing modes and many interesting figures like the rollerball frog or the hippo teether.
67. Pin the Nose on the Pumpkin Game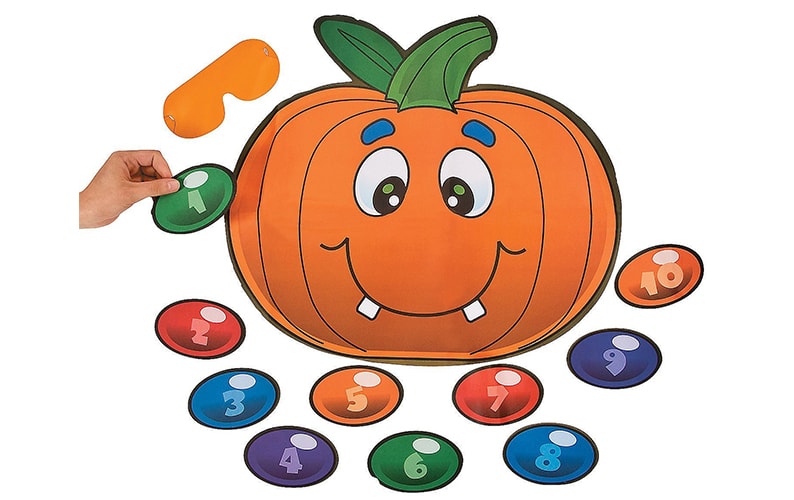 Kids love Halloween and with this toy, you can bring Halloween to your home whenever you want. This is a simple, yet attractive pin the nose on the pumpkin game. It comes with a pumpkin made of paper, ten noses in different colors and blindfold. The instructions are clear and we are sure that the kids will love it!
68. VTech Go! Go! Smart Wheels Auto Repair Center Playset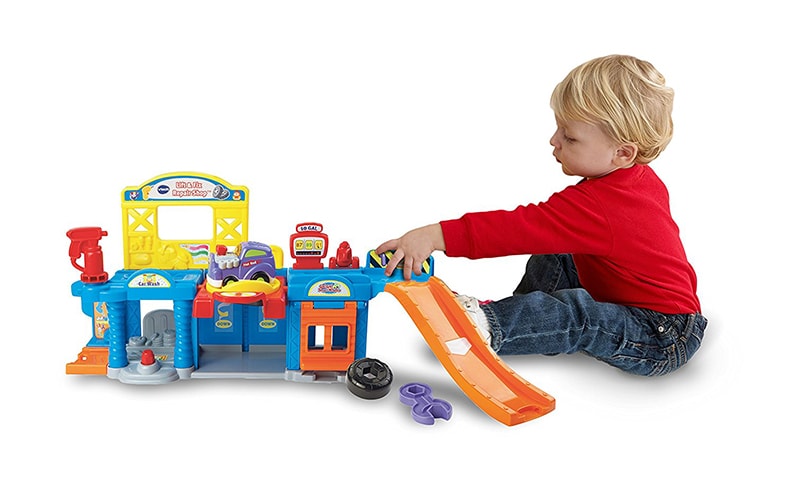 A perfect gift for boys who love cars and vehicles. This is actually a learning center in the form of a repair center for vehicles. Put your kids in the position of a mechanic and watch them fix broken cars. The set comes with a race car that has lights and plays a few songs too. This interesting learning center will help your kid develop motor skills in a fun way.
69. Feisty Pets: Glenda Glitterpoop the Unicorn – Goes from "Awww" to "Ahhh!" with a Squeeze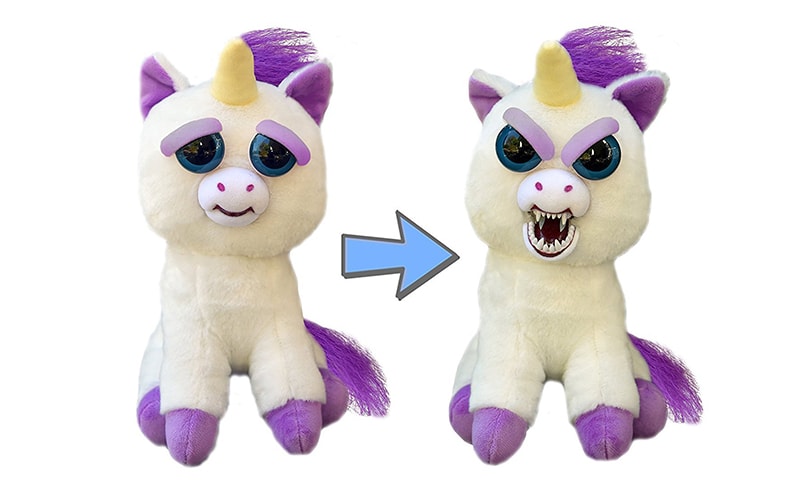 We all know how fun stuffed toys can be, but this time the manufacturer has added a twist to the ordinary stuffed animal toys.
Meet Glenda the Unicorn a cute, melancholic unicorn that can change its facial expression right away. By pressing a point behind the ears, you will turn Glenda from a cute unicorn to a unicorn monster. Keep in mind that this toy is washable.
70. Little Tikes Easy Score Basketball Set – 3 Ball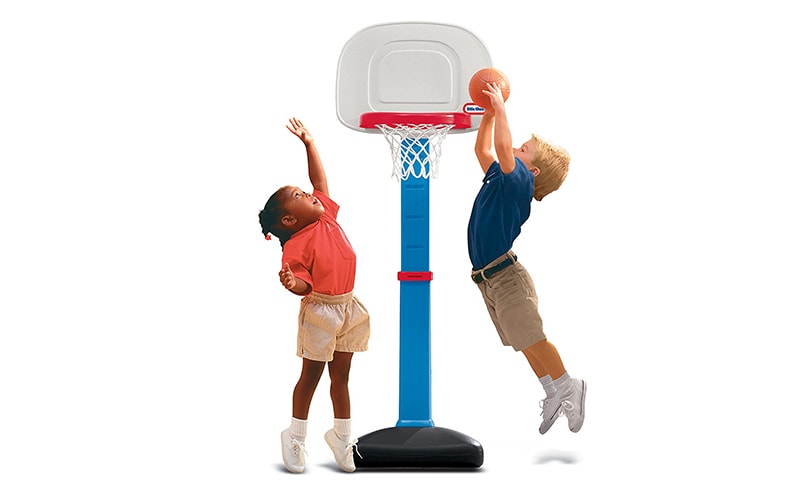 There are many ways in which sports activities support proper development in children.
But, what most people don't know is that even babies and toddlers can participate in activities like this.
The easy score basketball set by Little Tikes is suitable for kids between 18 months and 5 years and comes with an oversized rim and adequate basketballs for ultimate fun.
71. Hatchimals Nursery Playset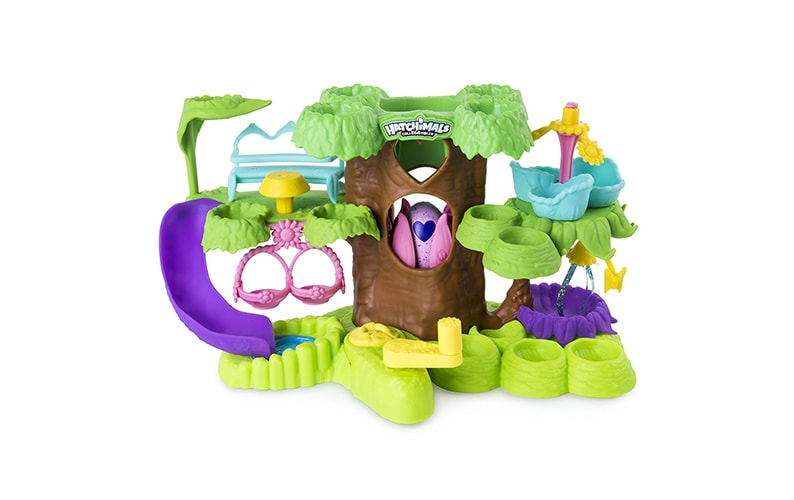 Hatchimals has become popular thanks to the hatching toys found in their offer.
This time, Hatchimals lovers can enjoy the great nursery playset.
This set has 35 different places to play and watch those little animals as they grow.
Children should put the hatching eggs in the tree and the shell will crack.
A fun gift for children that are 5 years old or older.
72. Pacon Lightweight Construction Paper, 9-Inches by 12-Inches, Assorted Colors, 500 Count (6555)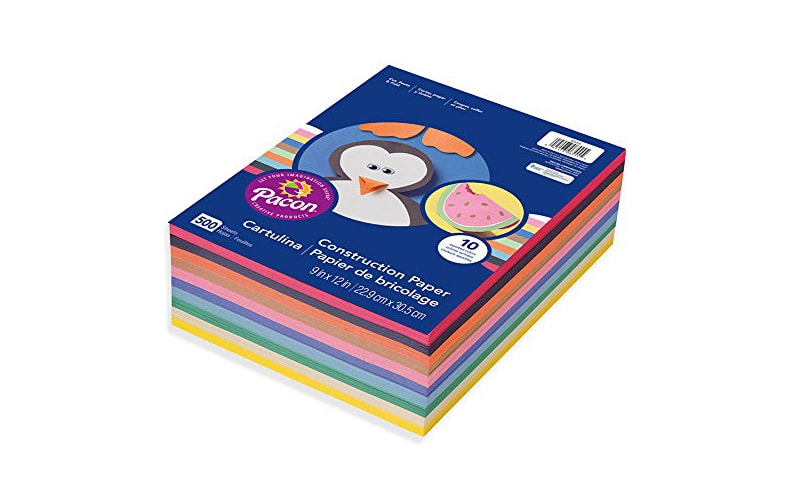 Sometimes kids don't need a lot to have fun.
All it takes is a few pieces of paper in different colors and they are prepared to unleash their imagination.
Of course, this product allows you to use the papers for something meaningful too like writing things down.
Use it for decorating your kid's room and let them play with these 500 sheets.
73. Munchkin Fishin' Bath Toy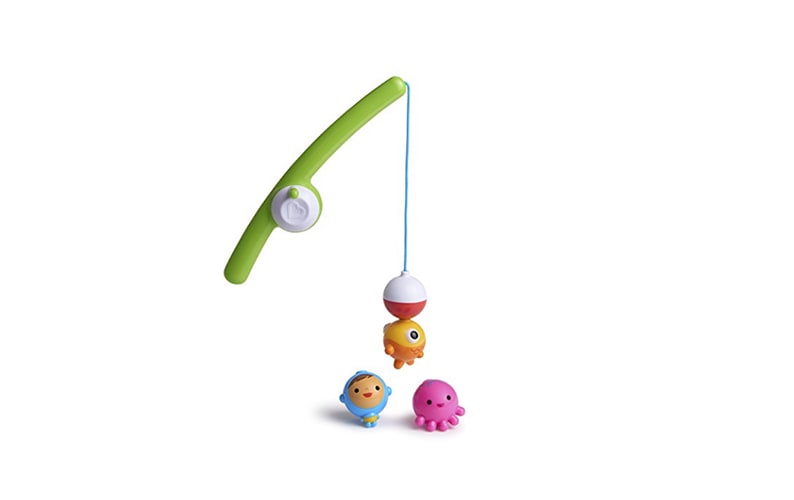 Many kids dislike bathing, but once they see the Fishin' Bath Toy their attitude is usually changed.
This special bath toy set comes with one magnetic fishing rod in green color and three underwater funny characters.
These air-tight toys are floating in the water and kids can catch them with the magnetic rod.
This is an excellent toy for eye-hand coordination.
74. Skyborn Alien Jellyfish Kite with Flying Winder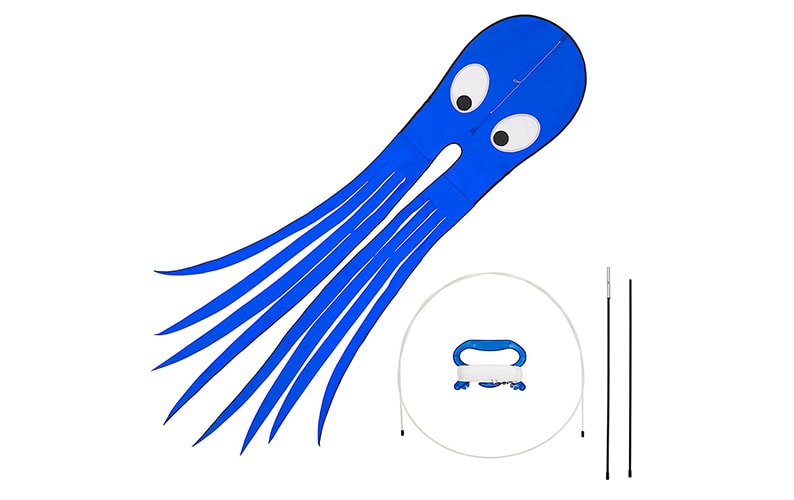 Jellyfishes are mysterious creatures, but in the case of this toy, they are even more mysterious because you are looking at an Alien jellyfish.
This is actually a kite made from high-quality materials.
It also has beautiful colors and specific design that allows it to float in the air for a long time.
75. 50 Pcs Assorted Stampers for Kids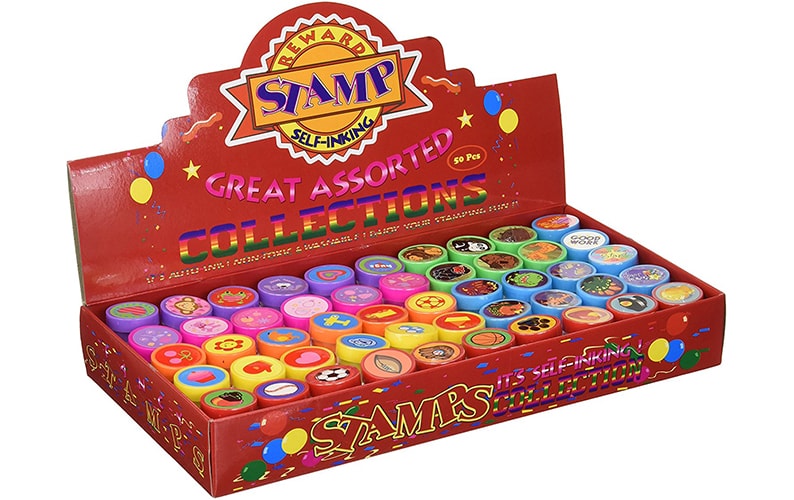 Throwing a birthday party is one of the most exciting kids in the life of every child.
If you want to make sure that the party will be memorable, you must provide some great party favors like these assorted stampers for kids.
There are 50 unique stamp designs in this set that are pre-inked and ready to be used!
They are excellent for crafts and arts at home as well as for decorating cards.
76. Little Sleepy Head Toddler Pillow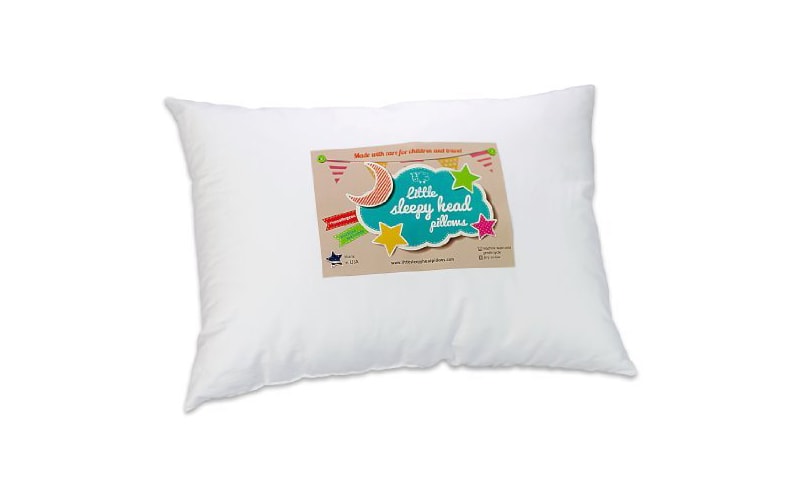 Pillows are equally important to kids as they are to adults.
This particular pillow is made in the USA and comes with hypoallergenic cotton.
The size is perfect and allows easy transport.
This means that you can let your kids sleep on it at home and when you leave your kid at his grandparents or other relatives. On top of that, the pillow is washable too.
77. Masterpieces Works of Ahhh Snowman Paint Kit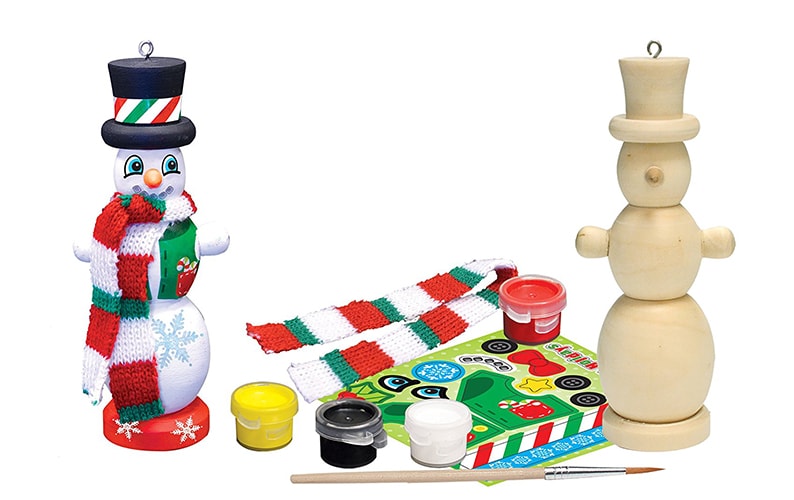 Most people know how creative kids can get especially when they have tools that can help them express their creativity.
With this crafts kit, we are sure that they can achieve this goal.
Help your child get in love with art and crafts with this set that includes four acrylic paints.
Let them use it on parties, projects or simply let them play at home.
78. Paw Patrol Look-Out-Advent Calendar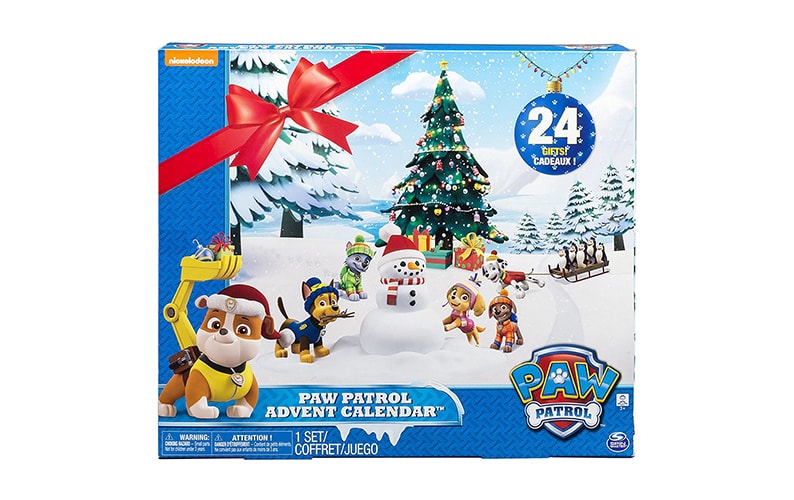 The famous Paw Patrol is getting prepared for the holiday season!
The specially designed Paw Patrol Advent Calendar comes with 24 lovely presents.
The calendar provides a unique gift for every day of this season.
By opening the doors, kids can get adorable Paw patrol mini figures.
79. 11,600+ Authentic Rainbow Mega Refill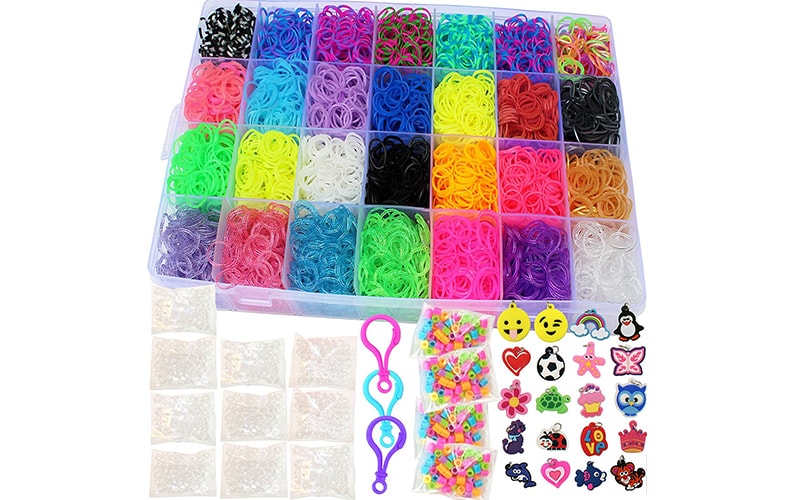 If you are suing weaving loom tools, then you probably know how chaotic the area where these supplies and tools are used can be.
Thanks to this special product you can forgot about that.
This product comes with over 11,600 unique rainbow mega refills – charms, beads, backpack gooks, rubber bands and more.
80. Melissa & Doug Shape Sorting Classic Wooden Cube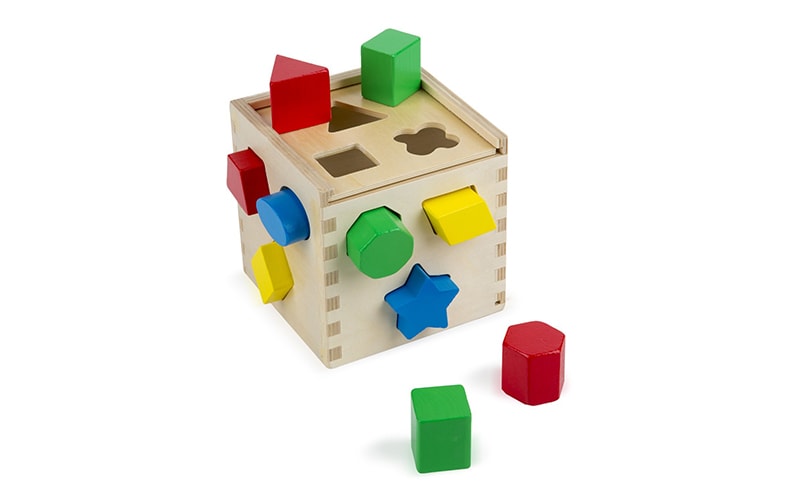 It is very important for kids to learn the shapes of objects since earliest age.
In addition, they should also learn the colors too.
Now, thanks to this Shape Sorting Cube they can learn things in a fun way.
This simple, yet effective toy represents a tool that can enhance problem-solving skills too.
Kids have to place the objects with the right color and shape on the wooden box.
There is no doubt that this will bring many happy moments for them.
81. Karaoke Disco Light Adjustable Mic & Speaker Stand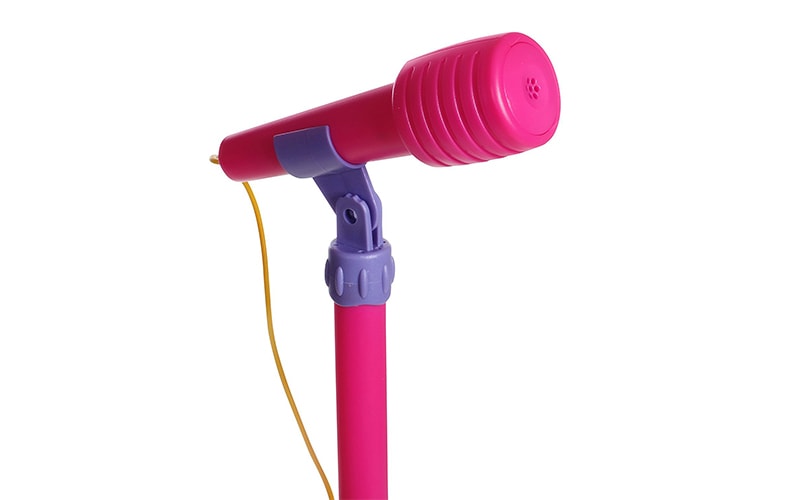 Bring the excitement of karaoke shows to your home with this exceptional karaoke machine.
This product comes with everything you need for a great karaoke show like a sing-along microphone and MP3.
It has a dozen of popular songs on mic and an audio jack for establishing connections on smartphones, Mp3 and CD players and iPods. Throw home concerts, create duets and have family sing-alongs!
82. Marvel Spider-Man Hero FX Glove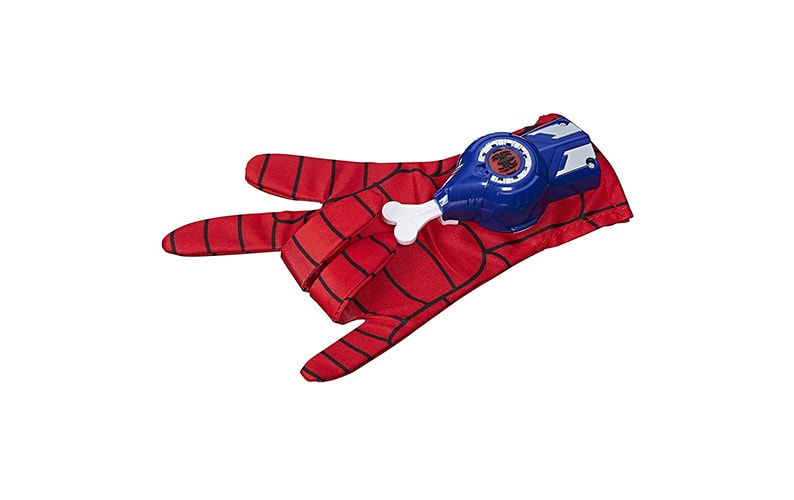 When Spiderman appeared more than 50 years ago in a comic book, it became an instant superhero hit.
Even today's children love Spiderman and they certainly want to have an item that reminds them of this superhero like this Spiderman hero FX glove. This glove comes with sound effects and an interesting web-slinger.
83. Alead Princess Belle Yellow Dress up Party Accessories 4 Set Gloves, Tiara, Wand and Necklace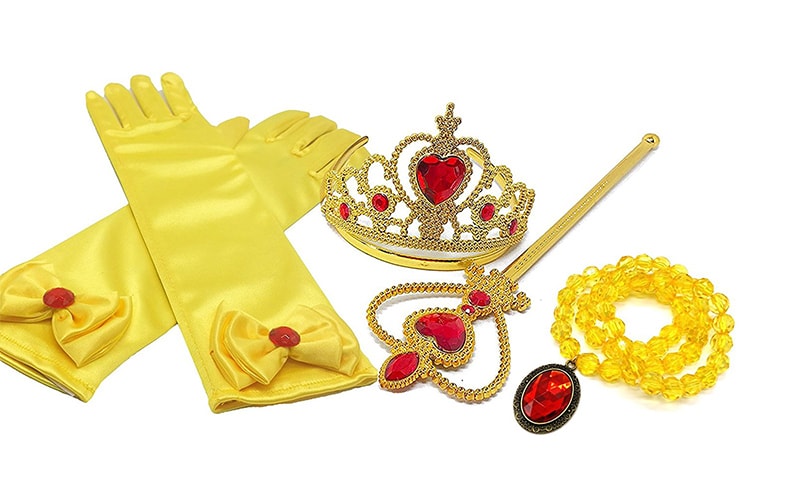 Girls love dress up games and if you need to buy a gift for a girl, you can't go wrong with this dress up party accessories by Alead.
The set contains gloves, wand, tiara and necklace – everything a little princess needs for a great party. This product is ideal for children between 2 and 10 and it can match different princess-inspired costumes.
84. Backyard Safari Cargo Vest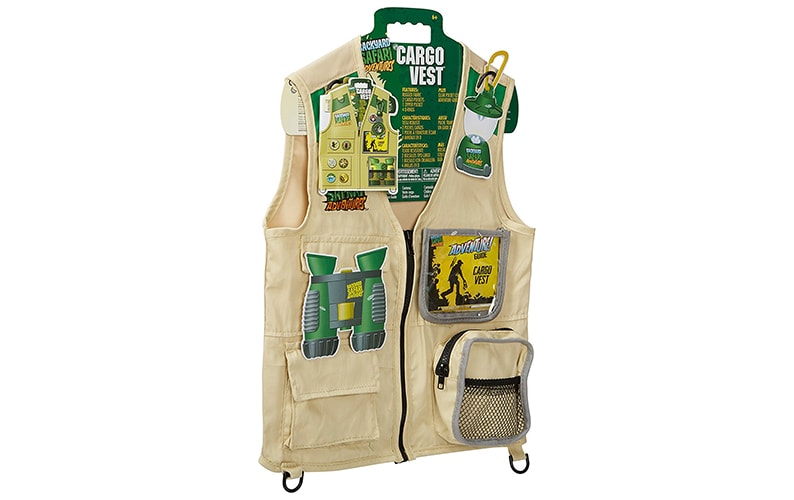 Who says that you have to travel to Africa to get involved in a safari?
Let your kid feel like he or she is thousands of miles away with this cargo vest.
They can put themselves in the shoes of a famous explorer while they are in their home or in the backyard. This cargo vest is made from a durable, comfortable material and has a few pockets and a detailed adventure guide.
85. Toysmith Tech Gear Multi Voice Changer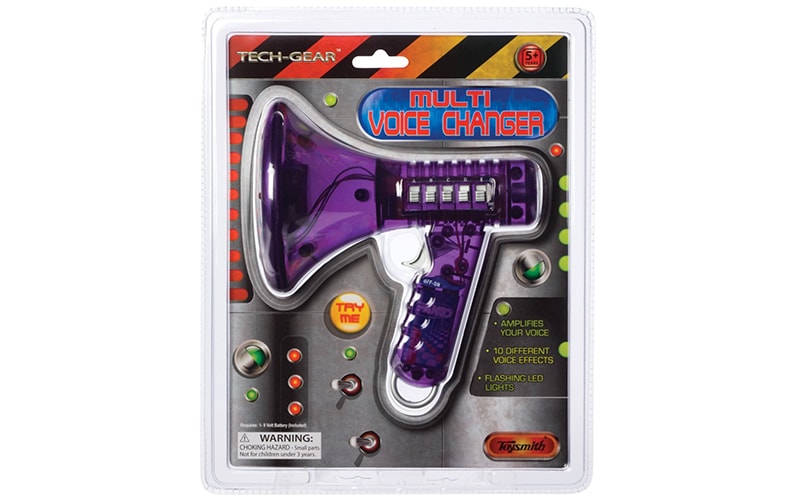 Every toy is designed to bring a certain level of entertainment. When a kid uses this voice changer by Toysmith, you will probably notice that they are having great fun.
This small toy has an ability to change user's voice. It comes with ten voice modifiers and an amplifier.
In addition, it has different flashing LED lights that will make the play even more exciting.
Toysmith Tech Gear Multi Voice Changer
86. Little Pretender Walkie Talkies for Kids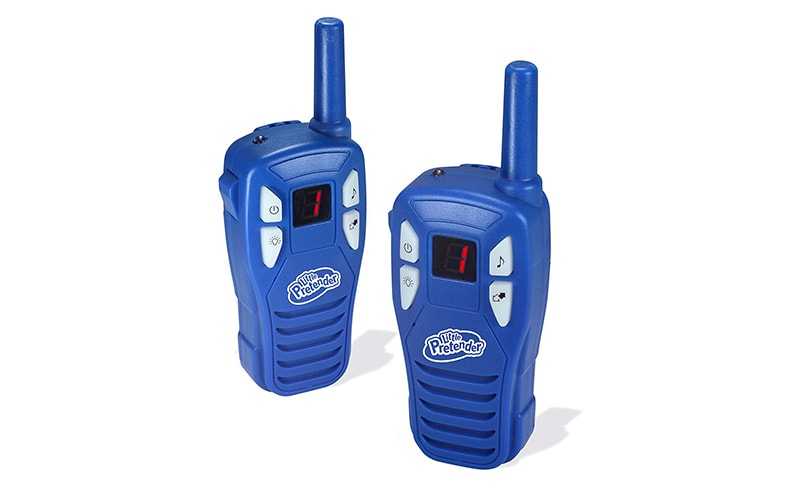 Introduce the power of technology to your children by getting these interesting walkie-talkies.
Designed with children in mind, these walkie talkies can get in touch in a radius of two miles. They have three separate channels and an interesting flashlight.
Even though they look simple, these walkie talkies are loaded with many fun features and provide a clear sound.
87. Little Tikes T-Ball Set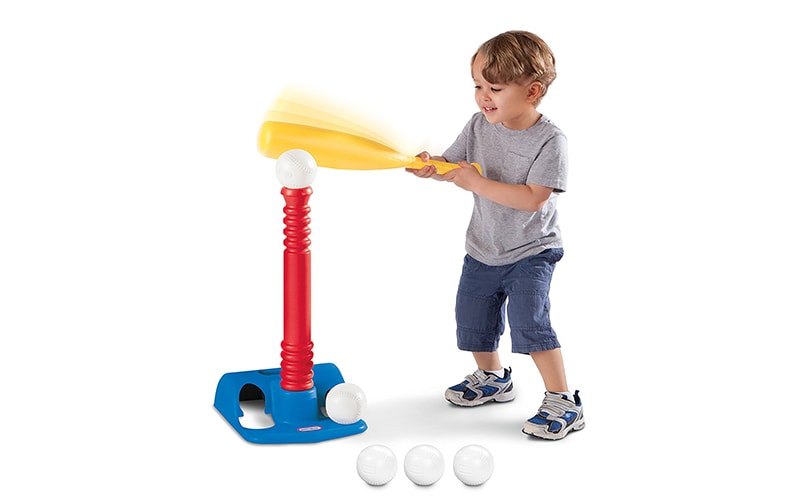 Softball and baseball can be difficult for small children and that's why people have invented t-ball.
With this set designed for t-ball made by Little Tikes, you can introduce this amazing activity to your kids. Besides the tee, the product comes with five balls and a bat.
The height of the tee is easily adjustable. This is the ideal product for developing coordination, motor skills, and batting skills.
88. Crayola My First Fingerpaint Kit, Washable Paint, Gifts, Ages 1, 2, 3, 4, 5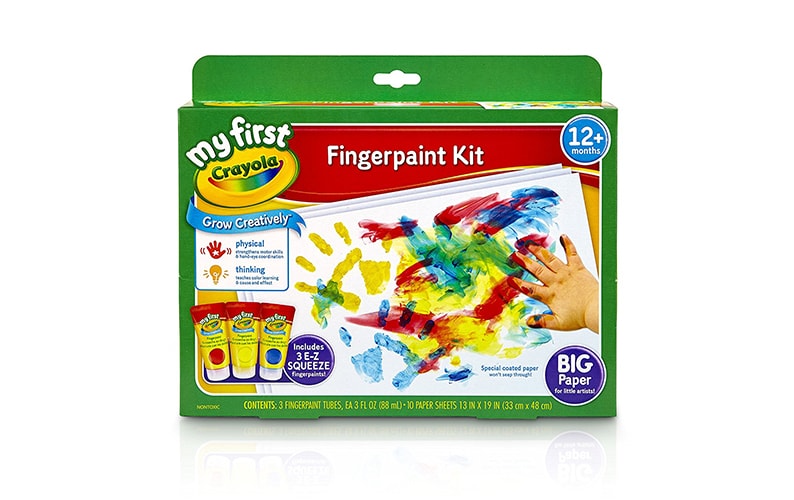 Children have an amazing imagination and creativity and it would be a real shame to keep these things to themselves.
With this fingerprint kit, you can allow them to express themselves in a unique way with washable paint that they can use with their own hands.
Allow them to mix colors, create shapes and have fun!
89. Magnetic Letters and Numbers for Educating Kids in Fun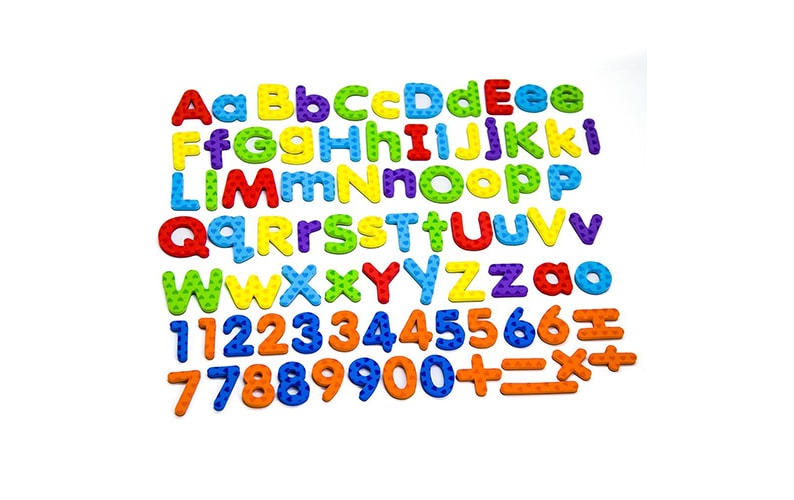 The refrigerator's door is the place where people usually keep magnets and papers with drawings and lists on them.
Thanks to Magtimes, the fridge's door can be used for educating kids about the meaning of numbers and letters.
Your kids can easily learn the numbers and letters with these magnetic items.
90. Melissa & Doug Deluxe Standing Easel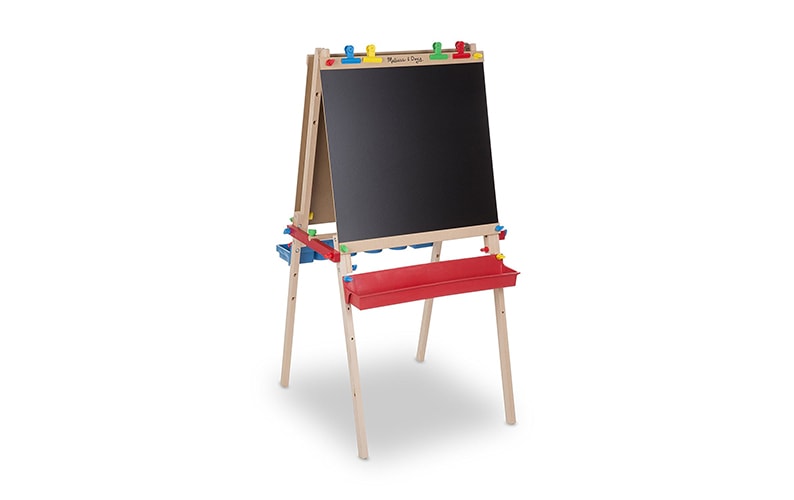 This is an excellent example of a multifunctional easel that you can use to inspire interest in drawing and painting in children.
In addition, they can use this easel in a different way whenever they want to express their creativity.
This easy-to-store easel has an adjustable height which means that you can adjust it to your kid regardless of his age.
91. Fisher-Price Zoom 'n Crawl Monster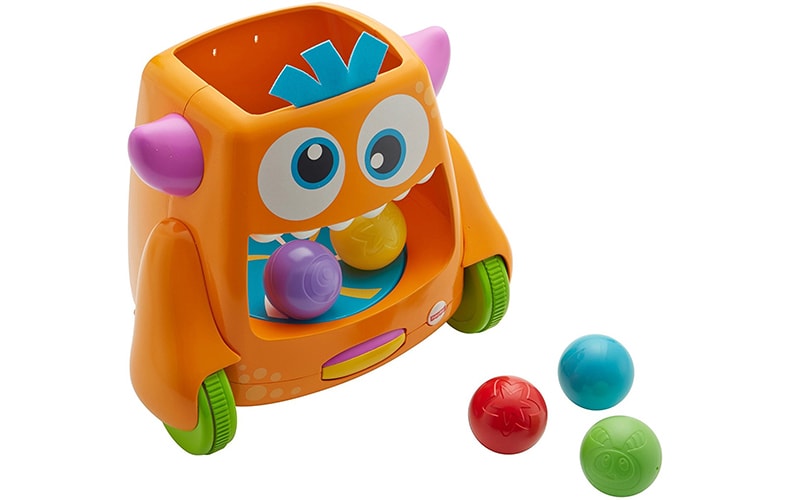 Baby and toddler toys are supposed to be fun, but if they are able to help kids learn new things that's even better.
With this Zoom 'n Crawl Monster Toy, the kid can enjoy two games – filling the mouth of the monster and spilling balls out.
The toy has fun sounds and songs and it has the ability to encourage the baby to crawl around it.
92. Insect Lore Life Cycle Stages Complete Set Insect Figurines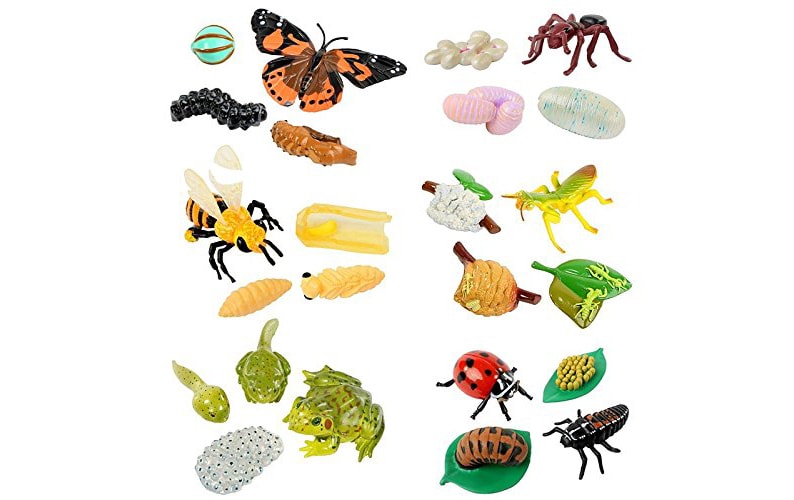 Nature is amazing and this is something that kids should learn as soon as possible. With this set of insects, they will learn the miracle of life cycle stages in different types of insects including ants, ladybugs, butterflies, bees, and mantises. There is a frog included in the set too.
93. Learning Resources Helping Hands Fine Motor Tool Set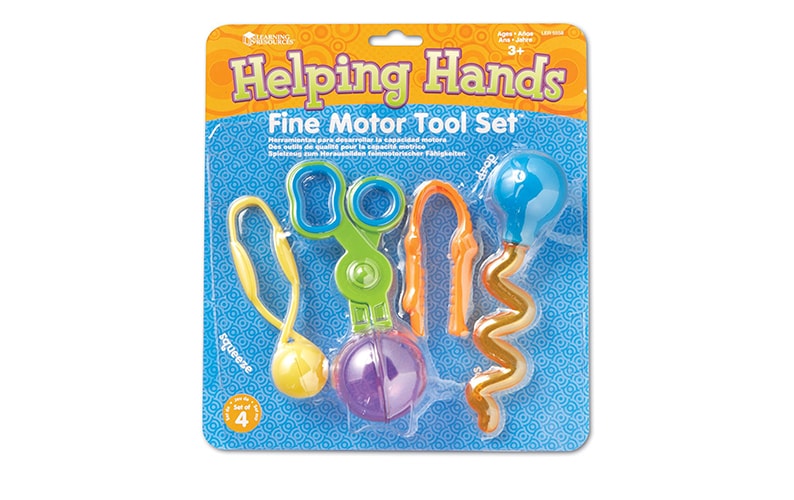 Early childhood education matters and it seems that the best way to help children at this stage is to use toys.
With this set of tools which includes scoopers, tweezers, and droppers (4 tools), you can help the child boost fine motor skills. These tools can also make the hand muscles stronger. This is a perfect gift for any child aged 3 or more.
94. Finding Nemo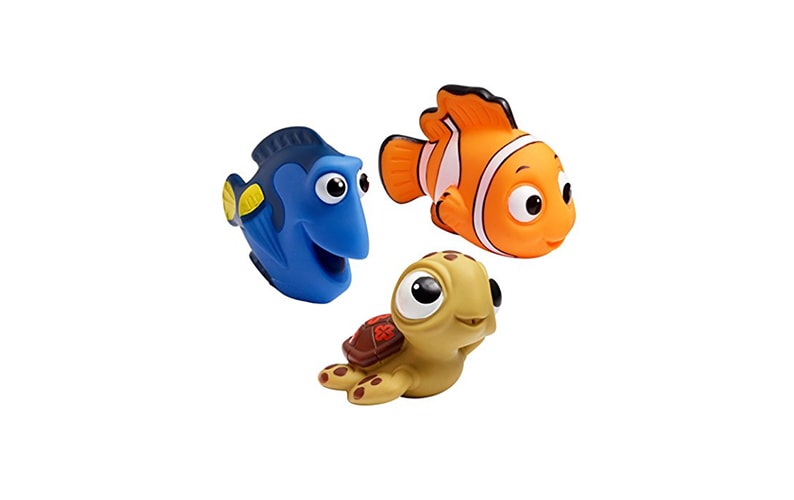 Finding Nemo is one of the most loved animated movies around the globe.
There is no doubt that bath time will become fun time if the kids have access to their favorite characters from Finding Nemo.
This beautiful set includes three squirt toys representing the main character Nemo, the Turtle and Dory.
95. Musical Duck toy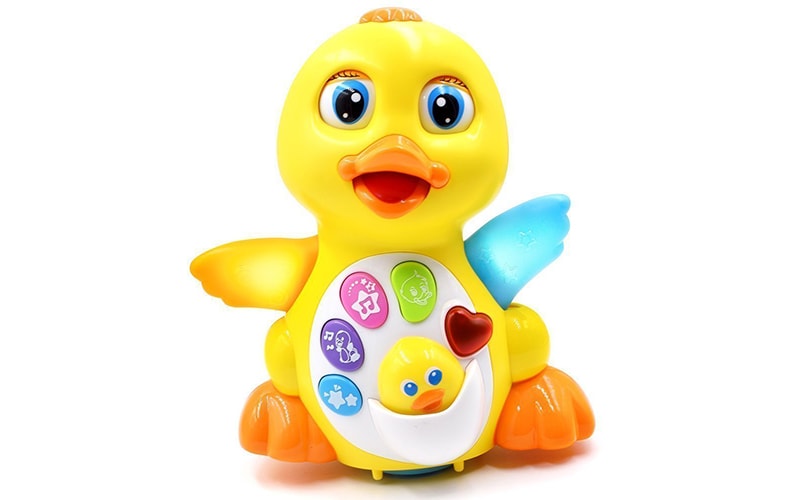 In case you are interested in getting a great toy for a baby, then you should check this musical duck toy.
This is actually a dancing duck that comes with a myriad of features like bright color effects, different sounds, music, colorful buttons with images and more.
This is a small, yet effective toy that can help kids learn many things.
96. LIGHTDESIRE Musical Caterpillar Toy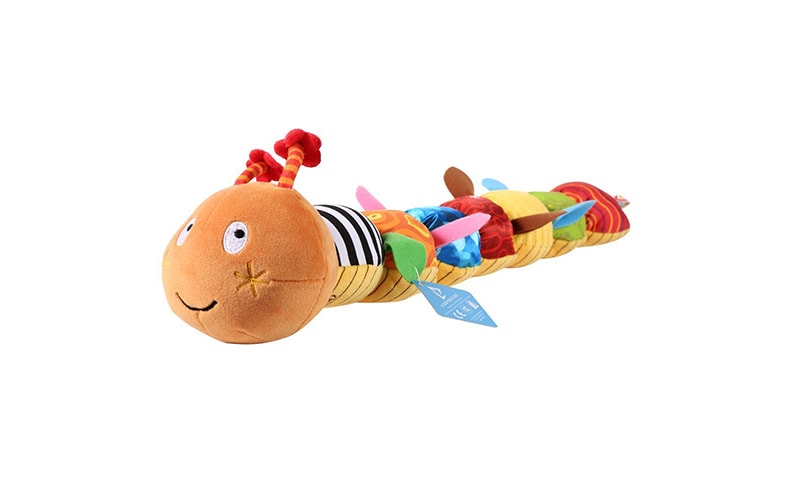 You have probably never seen a caterpillar that looks so interesting before. But, what's even better is that this toy includes some features that babies will find extremely fun. This is the perfect toy if you want to get the baby's attention. The different colors used in the caterpillar are excellent for visual development. The sounds and music that come out of it are ideal for grabbing the attention of the baby/toddler.
97. Dancing Stand Colorful Rocking Giraffe – Wooden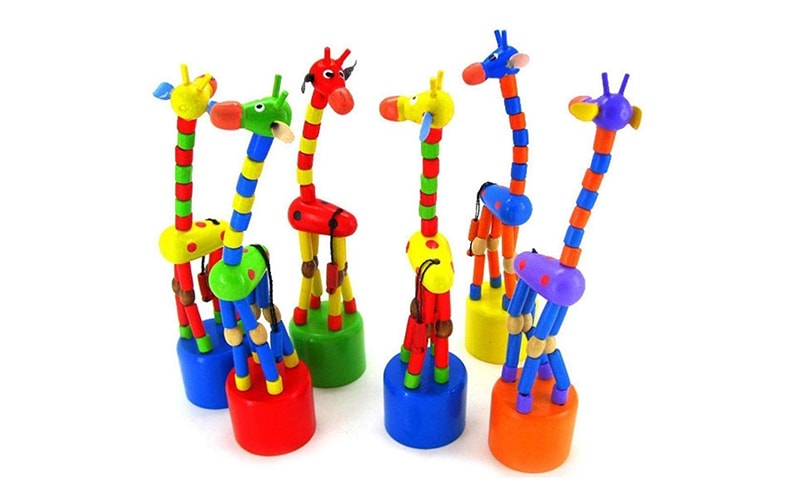 This is an example of s simple and very effective activity center. Wooden toys are a huge hit these days and with the rocking giraffe toy, you can see why. The package contains two rocking giraffe toys made from quality wood. They are controlled by wire which means that kids can develop hand=eye coordination. These toys are best for kids between 6 months and 3 years.
98. Toysmith My Sweet Baby Magic Baby Bottles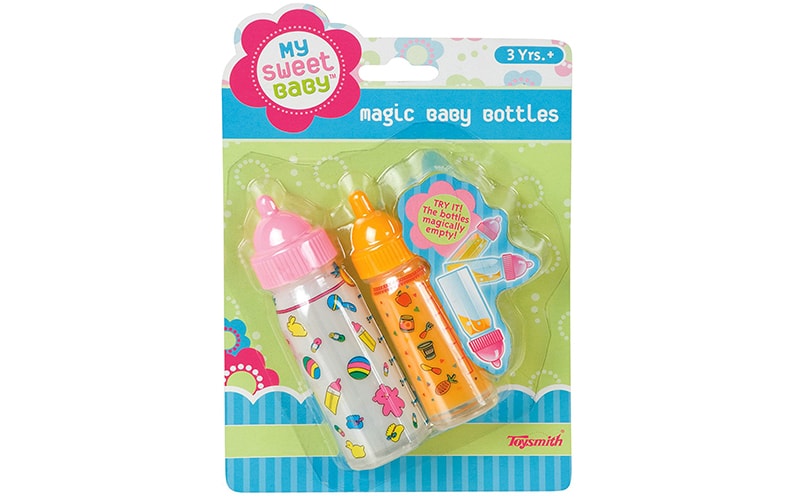 Yet another great product by Toysmith. This time we are looking at doll accessories that most girls will find helpful. This set includes two bottles that children can use when they are involved in pretend play – a baby juice bottle and baby milk bottle. They are very realistic and even include a liquid that is changing.
99. Educational Insights The Sneaky, Snacky Squirrel Game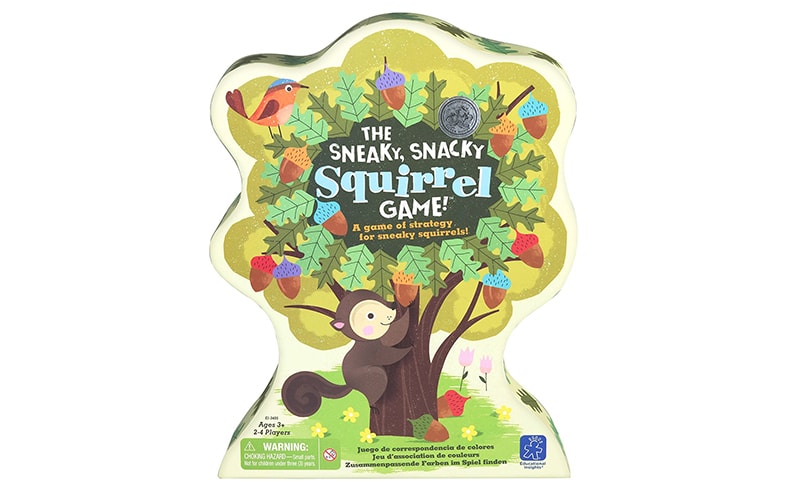 This lovely board game was made to teach kids about colors. This is a simple way to help them learn the basic colors. Thanks to the squirrel character they will be entertained and happy and they will learn 20 colors. The set comes with one squirrel squeezer and 20 colored acrons and a beautiful game board.
100. VTech Kidizoom Smartwatch DX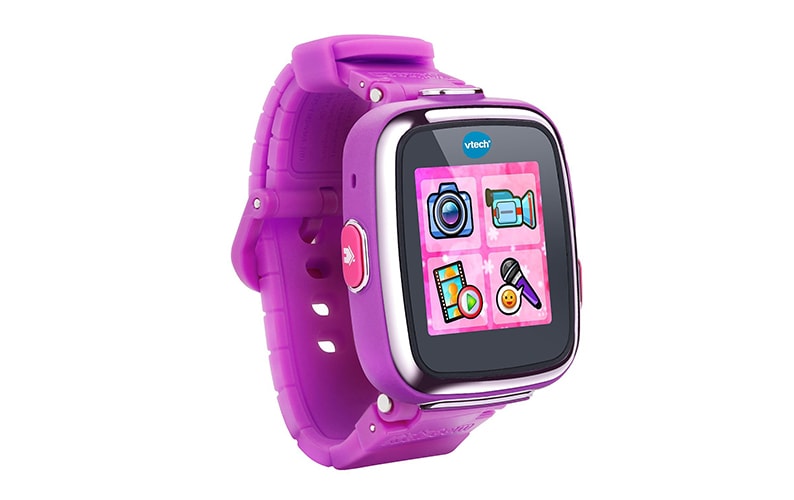 Wearable technology is a new hit and this is the reason why kids must learn more about it.
VTech has designed a nice smartwatch for children that includes a few games and activities.
The best part is that this smartwatch comes with a motion sensor too.
So, we are talking about a sophisticated toy that has a reasonable price.
101. Razor Dirt Quad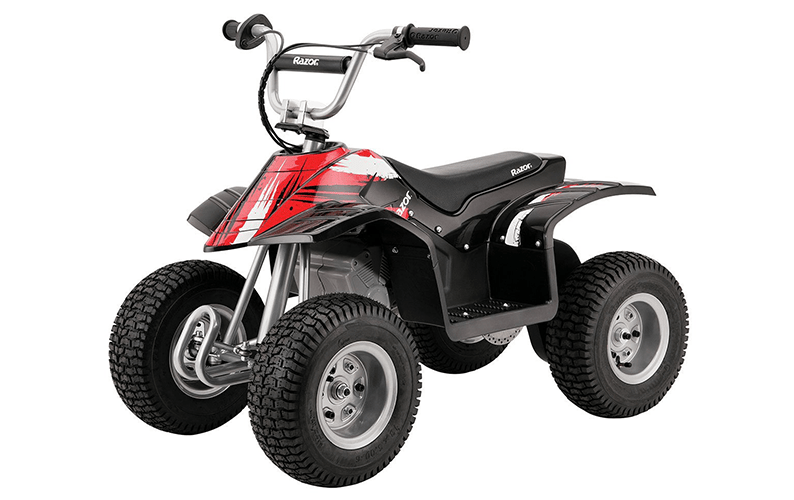 Kids love 4 wheelers too, so this is our pick for 2017 Christmas.
Wonderful surprise for your kids and if you want to see more models, take a loot at our list of the best kids 4 wheelers for 2017.