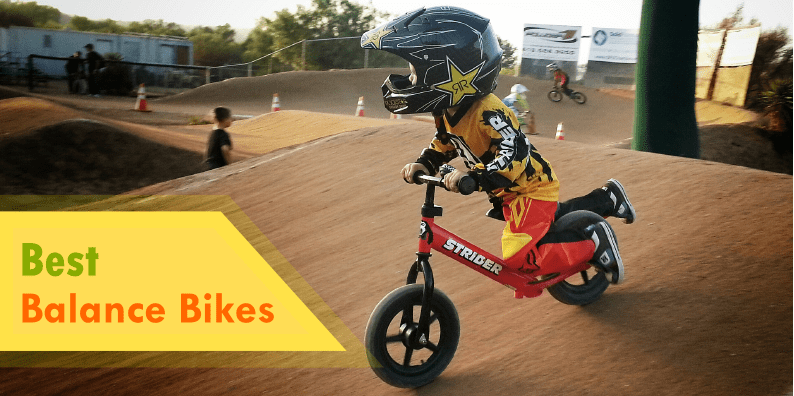 In this epic article, we will be looking at kids balance bikes, running through the futures and also making sure you get the lowest price online.
Best balance bikes in a nutshell.
Last update: 06 Nov 2017
1. Strider PREbike Balance Running Bike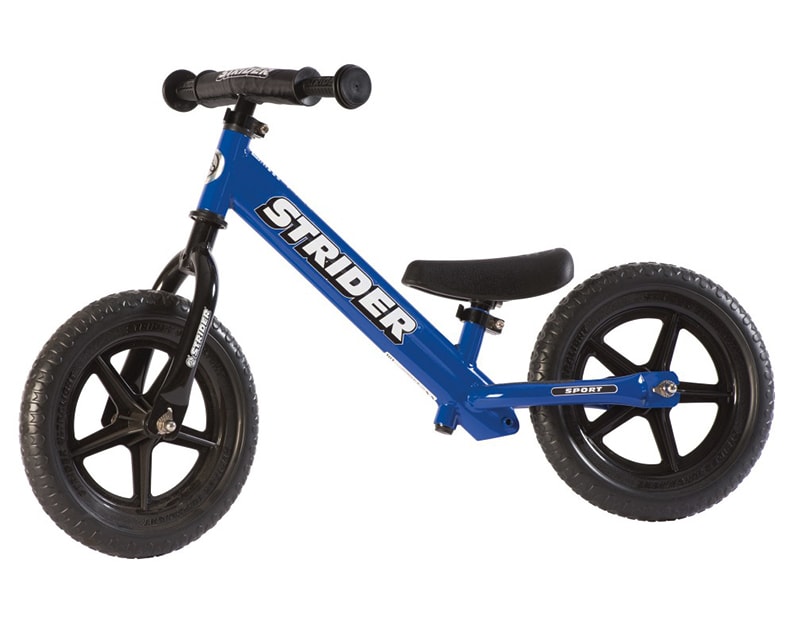 As soon as your child is able to walk, a Strider PREbike Balance Running Bike is an excellent tool for him/her to play with.
During early age growth, children especially toddlers are trying to develop some of the most fundamental physical or motor skills including balance and strength.
At this stage of development, children enjoy playing at outdoor environment, which will be useful to improve their awareness of the surroundings.
In order to optimize the development of balance and motor skills, a balance bike is the perfect equipment to encourage them to master those skills quickly and easily.
Such bike does not have pedals, so it will be very easy for any young child to control.
Main Features and benefits of the Strider PREbike Balance Running Bike
Strider started this business in 2007, and it is now one of the most reputable companies manufacturing balance bikes in the market.
Strider PREbike Balance Running Bike possesses plenty of good features including lightweight, adjustable height, and durable frame.
This balance bike weighs only less than 7 pounds allowing a young toddler to handle it very well without any help from parents or older children.
A light balance bike
A balance bike is a bicycle, which is also commonly lighter than its tricycle counterpart. The good thing is that Strider PREbike's frame and handlebars are made of welded steel, so it is both lightweight and durable balance bike.
Strider actually provides various series of balance bikes such as:
SS-1 (for kids aged 6 10 years)
ST-3 (for children aged 18 months 5 years), etc.
This Strider PREbike Balance Running Bike is specifically designed for children aged 1-5 years.
The saddle height adjusts from 11-inch to 16-inch from ground.
Praise to the safety of the little rider
Nonetheless, the manufacturer also provides optional seat-pot with saddle for older children, which adjusts from 16-inch to 19-inch from the ground.
Another good thing is that the foot rests are integrated into the main frame. The bike does not have any chain, pedal, kickstand, or cable; in other words, there are no protrusions that may harm the rider.
Can accomodate up to 50 pounds
Thanks to its durable frame and construction, the bike can accommodate a maximum weight of 50 pounds. The PREbike is equipped with all-terrain puncture-proof tires with 5/16-inch steel axle.
The Strider PREbike Balance Running Bike durable balance bike
A balance bike with such specification should be suitable to bring to park, backyard, or any playground. The manufacturer also offers 1-year warranty against manufacturing defects ensuring its durability aspects.
Stability
One of the best things found on Strider PREbike is stability. The well-built frame allows any child to ride the bike comfortably since the handlebar and saddle are smartly constructed. The handlebar encourages the rider to lean or reach forward instead of up. Besides emphasizing on comfort aspect, the design also allows for better steering.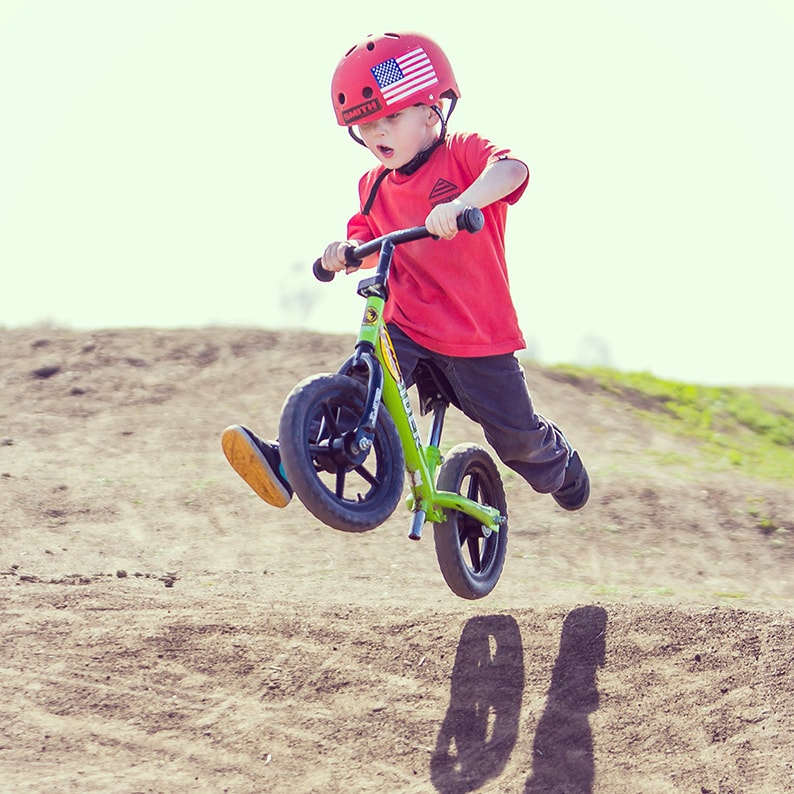 All-terrain tires
The all-terrain tires also play important roles in delivering stability. All in all, the design helps the rider to mainly focus on training and developing the abilities to maintain balance and maneuvering with a bike.
8 different color variants
Furthermore, Strider PREbike Balance Running Bike is available in 8 different variants including blue, orange, green, yellow, pink, and red. Two more options are available including Monster Jam Silver and Nitro Circus Red, so there are colorful choices for every boy and girl.
Drawbacks
Strider PREbike Balance Running Bike does bring promising features in almost all parts, but it still has some possible drawbacks. The first thing to mention is the price; this bike is more expensive than most balance bikes available in the market. Nonetheless, considering its durability and stability, the bike should be worth the price.
Another disappointing problem is that it is not possible to add optional pedals to the bike. It is designed especially as a balance bike; the manufacturer does not provide optional pedal accessory for this item. Once a child is able to ride a pedal-equipped bicycle, this balance bike will have served its main purpose.
Conclusion
In general, this vehicle is an excellent beginners' bike that encourages a child to develop motor skills, hand-eye coordination, balance while riding a bike, and maneuvering. It is a good training before the child is ready to ride a larger bicycle equipped with pedals and other accessories.
Once again, any child who can walk is ready to take the next stage of motor skills development by riding a Strider PREbike Balance Running Bike.
For further details about price, shipping options, and other available buying options for this item, please check at Amazon.
2. The Trikke Bikee Balance Bike Review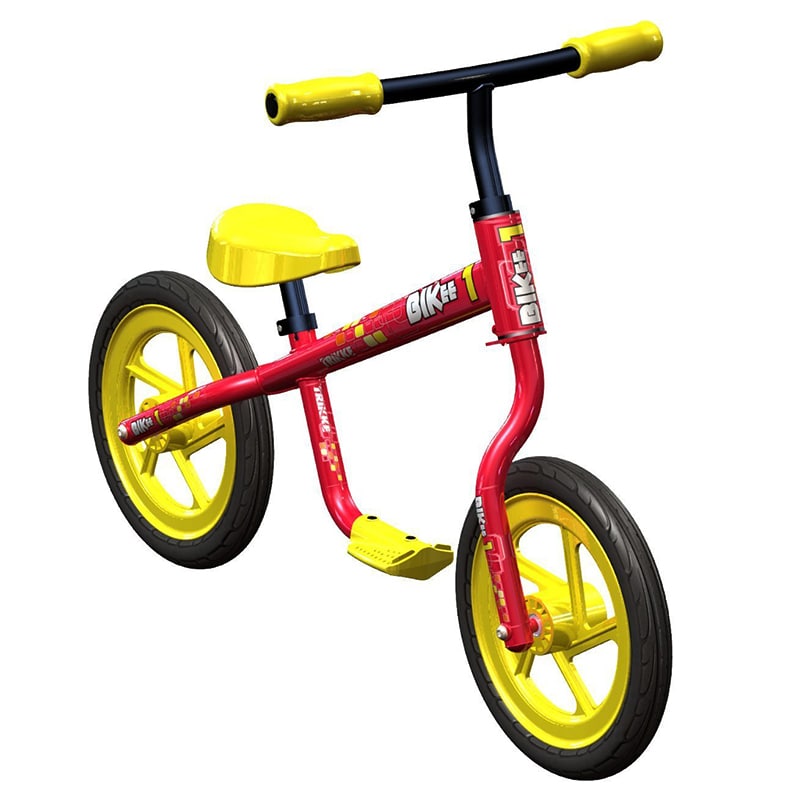 Bikes are a standard all around the world, the freedom that a bike can provide is irreplaceable.
But before we can start on our enchanting journey on a bike, it is very important to learn how to ride a bike properly, and what is better than self balanced bikes or training wheels?
Everyone knows the importance of a sturdy yet comfortable training bike, and a balance bike which has been manufactured only for children. It is a pre-bike vehicle without stabilizer wheels at the backside of the vehicle.
So it comes handy to a child who has the least physical balance to ride with any bike. T
he Trikke Bikee Balance Bike is one such bike that meets all the requirements of children who are novice to deal with two wheelers, to give one of the best learning experiences.
Fast Learning with Trikke Bikee Balance Bike
The Trikke Bikee Balance Bike is undoubtedly durable and eco-friendly, the steel hardware of Trikke models for kids is ultra-thin and it weighs less than 7 pounds, which makes it very easy to control. While pointing out the tech specifications of this Trikke Bikee Balance Bike, experts approve of the availability of adjustable saddles as a major positive. They can be heightened up and lowered down as per the needs of young riders.
The ergonomic handlebars are not painful for young babies to operate, as during the infantile period the skin of a baby is very soft, which can be bruised easily. For this reason, they need special skin protection to prevent scratches and injuries.
Children confidently ride these pre-bikes. They get fun while pushing and dragging Trikke bikes maintaining their perfect body balance. the Trikke Bikee Balance Bike has a solid and flexible footrest and the tires on front and rear portions of the bike dont show any tendency to deflate. The non-skid tires are not uneven, giving the rider a smooth riding experience.
There is an easy way to replace these light weight tires, as The Trikke Bikee Balance Bike has passed through many different technical modifications. For instance, both the tires are bigger in size, to reduce the risk wobbling. The extra safeguard that has been added ensures stability of technically tuning up the saddle post.
The seat is not only height adjustable but also very flexible and small children never complain about the quality of the saddle of the Trikke pre-bike. Fantastic color shades of fashionable Trikke pre-bikes are natural and vibrant, giving this bike one of the most outstanding looks.
Children need energy to learn bike riding. However various problems faced by them to ride bikes because of lack of physical fitness. Therefore, they must not be in a hurry when they practice to steer bikes. Trikke balance bikes are used by million of children.
These pre-bike vehicles adjust the physical balance of kids. They are happy to saunter on the land by riding in these ergonomically upgraded vehicles. The durable chassis of the Trikke balance bike is not prone to weather roughness. The steel frame of the Trikke balance bikes is scratch proof. Ball bearings have been properly sealed for the fixation of wheels perfectly.
The Cons
The Trikke Bikee Balance Bike has also a few cons which must be removed to make it popular. Many young riders have suppressed vexation about the front wheel which has low quality axle bars. Small nuts inside the wheel face friction with the axle bars. So there is risk to put extra pressure on the front wheel. While travelling through uneven terrain, the front wheelbase may be broken down due to this type of technical defect.
Another caustic remark has been launched by a victim when he points his finger at the Trikke balance bike. He is displeased over the frequent jerking tendency of this small pre-bike when he steers this bike through the sloppy terrain. This bike jerks unsteadily to accelerate the possibility of getting body injury.
Verdict
Customers will have to do comparison properly prior to purchase this newly launched Trikke bike. However, the response is good as customers have full satisfaction to handpick Trikke balance bikes to train their children.
In our personal opinion The Trikke Bikee Balance Bike, is amongst few of those bikes that really does help the new rider. It gives them the much needed stability which is fine tuned to meet the requirements of any young rider. Even with its few drawbacks, it is one of those few sturdy bikes which become really helpful for any new learner to become the best.
With the light weight body, well balanced wheels and one of the best looks going around, this is perhaps one of the best bikes to get your training started. Our rating 4.8 out of 5
3. Glide Bikes Mini Glider Balance Bike – A Review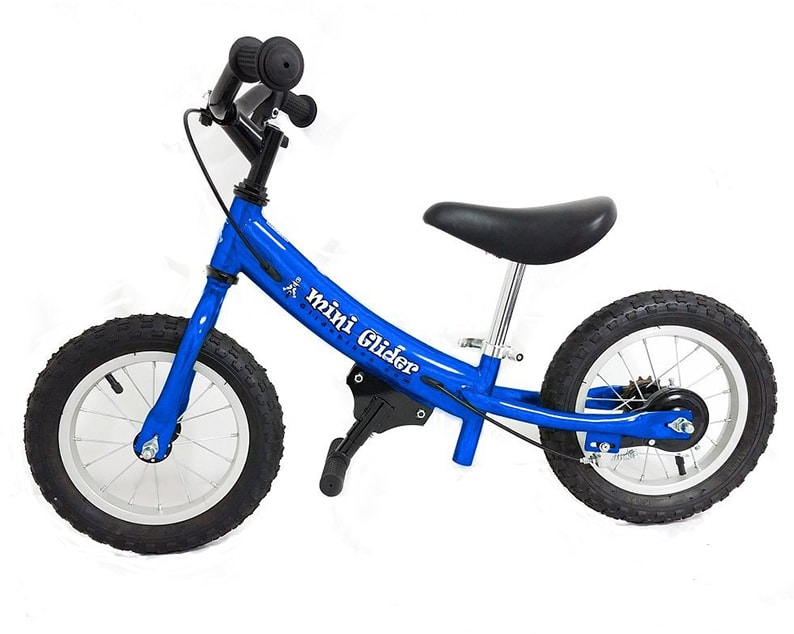 Teaching kids to ride the bike is both demanding, as well as a rewarding job. The conventional method of training kids by mounting them on a bike that is equipped with balancing wheels and then, encouraging them to pedal slowly can be very time consuming. If you want your kids to learn bike riding real fast, then you may want to opt for balance bikes such as Glide Bikes Mini Glider Balance Bike.
Why choose Glide Bikes Mini Glider Balance Bike?
There are a lot of reviews and testimonials available on Mini Glider Balance Bike, most of which talk about the special features of the bike which make it stand apart from the others. After all, so many people cannot be wrong.
Here are some important features of the bike: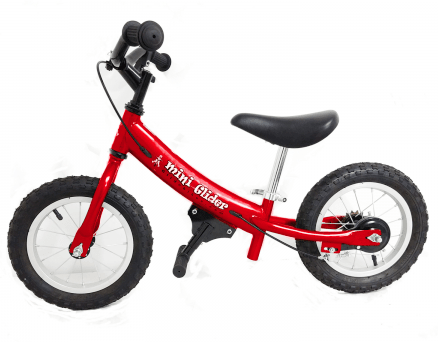 Light weight (8lbs)
Hand brakes
Foot pegs introduced for the first time
Limited turning radius for a safe ride
Life time warranty
Glide Bikes Mini Glider Balance Bike is equipped with high quality airless EVA alloy tires.
Some Important Facts
Mini Glider balance bike allows children to learn balance, get acquainted with the brakes, sit comfortably while riding for long hours, improve bike riding skills and more importantly, gain confidence. With the help of Mini Glider Balance Bike kids can learn all these things while having a lot of fun.
The bike does not have any pedals or balancing wheels, which encourages the kids to learn the most important aspect of riding a bike, BALANCING. As they start to push their bike with alternate feet, and try running on the bike in seated position, balance and control will come to them naturally. Soon, they will start to glide keeping their foot off the ground, placing them on the foot pegs as they became stable riders.
Glide Bikes Mini Glider Balance Bike helps kids to gain the much required confidence that lacks with many of the conventional kid's bikes. Older models have balancing wheels attached to bikes which make your junior to rely a lot on them, without ever learning to balance on their own.
This can lead to tip-overs causing injuries and making the bike ride less fun. Mini Glider balance bike has a lower center of gravity that helps the little riders to be more stable while riding and prevents any tip-overs.
The bikes are designed with downhill mountain bike geometry that only allows a maximum speed of 1.5 MPH. This ensures that your kids do not speed preventing them from potential crashes.
These bikes are made with light weight materials that are of high quality and durability. Glide Bikes Mini Glider Balance Bike only weighs 8 lbs and allows kids to carry the bike all by themselves. Also, lightweight means the chances of kids getting injured by getting trapped underneath the bike are considerably reduced.
Advantages
Quick Balancing and steering: Glide Bikes Mini Glider Balance Bike is designed in such a way that the little ones can initially walk around on the bike, with both their feet comfortably reaching the ground. This design allows for a quick but smooth transition of the junior from walking around on the bike to balancing it and then steering it, within no time.
Pedaling: As soon as the kid learns to balance and steer the bike, now it's time to add the pedaling. This will come to them naturally, as they might have mastered it on their tricycles. Thus, it doesn't take much time for the transition of your kid from walking, running, balancing and then finally pedaling the bike.
Lever Brakes: With Mini Glider Balance Bike, kids are exposed to the braking system at an early stage that will help them to ride bigger bikes at a later stage, with much ease and comfort. Safety: There are many safety measures taken into consideration while designing this bike to provide your junior with the best bike riding experience.
For example, the handle and stem are padded to decrease the impact of a tip-over. Stable ride is ensured with a slack head angle and the rear brake along with the limited steering angle help prevent crashes.
Disadvantages
Low Ground Clearance: Though the foot pegs are pretty useful, they have a less ground clearance.
Foam Tires: Though the air-free foam tires serve the purpose for younger kids, they end up resulting in less traction for bigger kids.
Foot Rest: Toddlers and preschoolers do not need foot rest. Though small, the foot rest placed in Mini Glider Balance Bike often comes in the way of kids trying to run on the bike posing safety hazards.
Verdict
In spite of having some negative remarks on the overall design, the numerous advantages that Glide Bikes Mini Glider Balance Bike offers definitely makes it one of the best balancing bikes available in the market today.
Related Reading: 11 Best Kids 4 Wheelers for 2017
4. A review of the Burley MyKick Balance Bike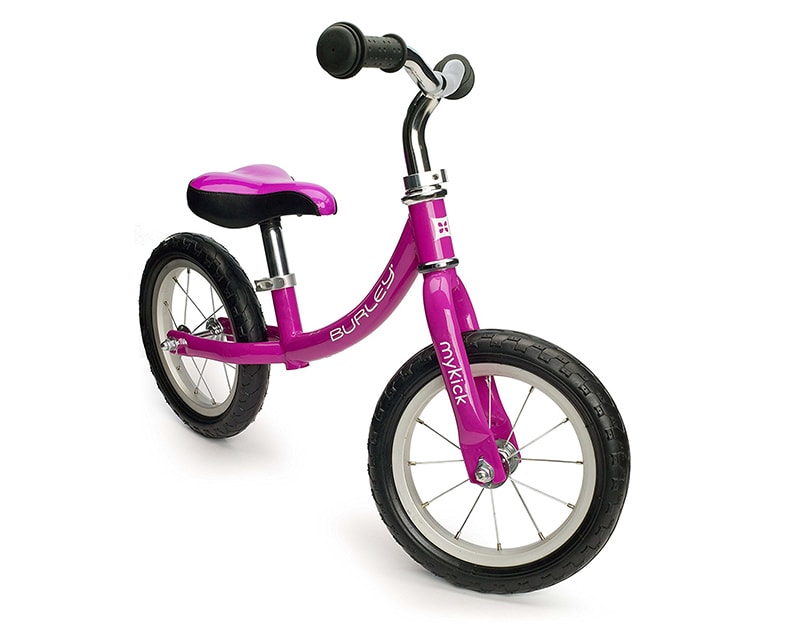 The MyKick Balance Bike from Burley is probably one of the best balance bikes available on the market at this time.
In this review we'll take a good look at why this is.
If you've been wondering which balance bike to get your child, you're essentially looking for four main attributes.
Ease of use, value, durability and build quality. The MyKick excels in these four categories.
Particularly the last two.
It has been built to last and could easily be handed down to younger siblings when they come of age, and still be a great bike.
1. Ease of use.
Though the MyKick Balance Bike is on the heavy side for a toddler's balance bike, that's not necessarily a bad thing.
Though the extra weight may make it more difficult to manoeuvre if they become stuck; it also has the benefit of making the bike more stable and tougher. It's also doing your toddler a favor, as when they move up to a bigger bike, the weight will be significantly heavier. It's 11.3 lbs in total. A Strider PREbike weighs around 7.
The crossbar of the frame is low (down-tube), which is much more crash-friendly than a top-tube. If your child should hit a small hole in the path and suddenly come to an abrupt stop, it will save a lot of tears as your child does not injure themselves on the crossbar.
The seat is easily and very quickly adjustable. It can be adjusted for children aged 2.5 up until 4 years of age.
The cup and cone smooth rolling bearings are exceptional, and will allow your child to glide great distances to their hearts content. This gliding distance is further aided by the high-quality tires – which we will speak about later.
2. Value.
The MyKick Balance Bike is on the mid-range to higher-priced end of the scale. There's no getting around that. It's not cheap. But it can be good value.
At $119.00 it's more-expensive than a Strider ST-3 by around $50, yet it's significantly less-expensive than the FirstBIKE Baby Jock Edition at $159.99.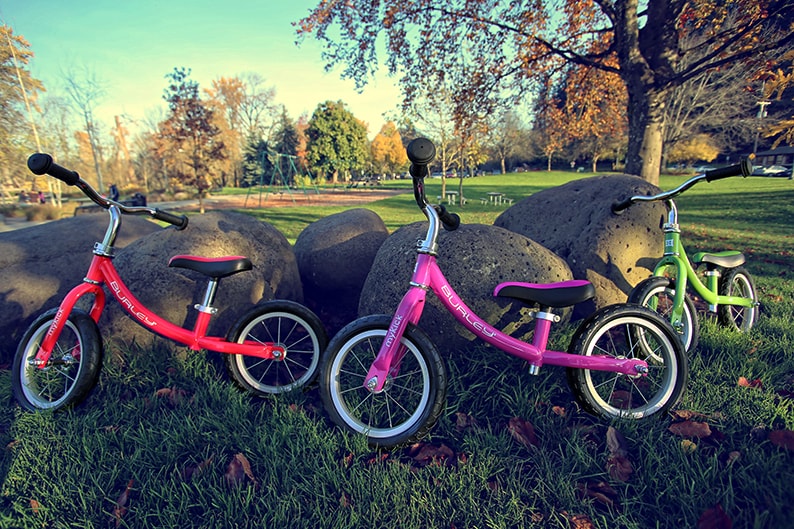 When taking into account the value, you have to consider the build-quality and durability though, both of which on this bike are magnificent. This bike will very-likely outlast more than one toddler, without needing a single repair. It's that good.
3. Durability.
Now let's talk about those tires. They are probably the MyKick Balance Bike's best feature. They are neither foam, rubber or pneumatic. They are honeycomb. They have the exceptional all-terrain performance of pneumatic tires, but the durability of foam and solid rubber.
A thick outer wall protects them from puncturing. However, if in the very-unlikely event they were to be punctured; there are four separate sealed air chambers. So the tire will not go entirely flat. It really is the best of both worlds. Foam tires will often lose traction on dirt roads, making a balance bike just not worth the effort off-road. But these tires will keep the bike wheels turning smoothly; even over harsh terrain.
Apart from the tires, they've just put in the effort wherever they can to ensure the bike keeps going. For example; they've covered the tips of the handle-bars with large, hard, plastic caps to ensure that the rubber doesn't split.
4. Build-quality.
From the nice paintwork to the polished metal; everything is top-notch. It doesn't look particularly space age – it definitely has a retro look – but everything is done well. The attention to detail and quality control is fantastic.
The seat is padded imitation leather rather than just a piece of rubber stuck on-top. The steering and turning of the wheels is so smooth. Overall, the build-quality is so high on this bike, it's like Burley are operating on another level compared to most other manufacturers. They've spent money where other manufacturers may scrimp.
What's more, it comes out of the box 100% pre-assembled. So there's nothing you could mess-up which may effect the build-quality. It's very rare for a balance bike to come in one piece.
Conclusion
You can pick up the Burley MyKick Balance Bike on Amazon for $119.00 with free shipping.
It comes in a variety of colors. Each one is co-ordinated to look very simple, yet stylish. It's a great balance bike. Though it is higher-priced than some, it remains great value for money thanks to it's durability. If you've been wanting to buy your young child a balance bike; but you've been worried about ending up with a lame duck; you will definitely not be disappointed with the Burley MyKick Balance Bike.
5. A Review Of The Kazam Balance Bike (Green)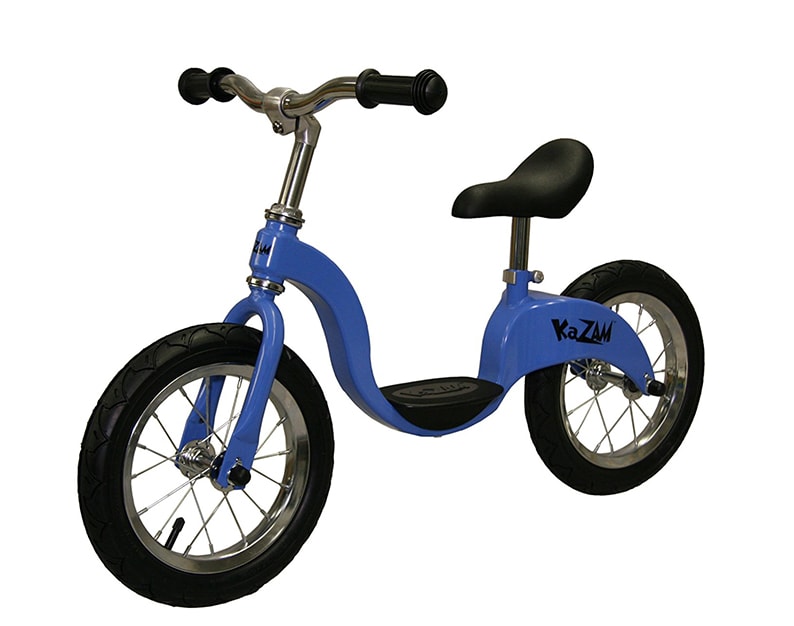 The Kazam Balance Bike (Green) is a good looking balance bike with its bright green, curvy frame, black seat and chrome detailing on the handlebars and spokes. It seems as though a lot of thought has gone into the design of this bike, which also includes padded grips and a unique footrest, and the different measurements and dimensions in the specification suggest that it is a highly adaptable and capable model for many ages particularly with its weight capacity of 75lbs.
Does this product's look match up to its actual performance? This review will look at the benefits and disadvantages of the bike to see if it meets expectations.
What are the main benefits of this Kazam bike that have been highlighted by parents?
Reading through the many five and four star reviews that have been received for this Kazam balance bike, it is clear that there are plenty of parents that are pleased they bought it for their child and that are proud of the progress being made. What it notable, however, is not the talk about the results and the children's responses but rather the many positive comments regarding the materials.
The bike's specification boasts "quality, bike-dependent components" and buyers feel that it is indeed a high-quality construction with impressive, durable materials. One such example is the use of air-inflated tyres, which have been highly praised by buyers that disapprove of the usual, slippery foam substitutes.
The other reason why this product is rated so highly in customer reviews is the adjustable nature, which means that kids of different ages and heights should able to use it with a good degree of comfort. The seat has range of 14 to 17.5 inches, which goes higher than some other brands, as well as adjustable handlebars that go from 18.75 to 22.5 inches a feature that is sometimes overlooked but can make a big difference to a growing child.
Despite these considerations, however, some buyers feel the need to criticise the size of the frame, feeling it is much too small to be used by children over the age of four and that it therefore limits the overall appeal.
What other disadvantages are there to buying a Kazam Balance Bike, other than the potential size issue?
There are clearly plenty of great features with this Kazam bike and it seems to please most of its riders and their anxious parents; the only problem is that there are a few additional lines in the specification that highlight the downsides of the design.
The one that is perhaps the most commonly mentioned is the quality and reliability of the quick-release seat adjustment system.
This feature is designed to let parents adjust the seat height with greater ease but it is a little too quick and mobile for some users and is prone to readjusting itself during rides. Other negative features are the weight of the bike 11.2lbs being a little too much for some young children to handle and the strange angle of the moulded seat, which has caused a number of children to slip off.
Summary: is this Kazam Balance Bike (Green) a worthwhile purchase or could a larger, lighter model be a better option?
This bike is definitely not without its flaws and the issues regarding the limited size and the quick release system will surely raise some concern with parents whose children are a little older or taller. Perhaps this particular bike is not for everyone, and it it may well have a smaller demographic than it hoped, but this does not stop a large number of children under four from learning their balance and enjoying this bike.
There is a sense that the overall design of this bike, with the focus on adjustments and materials, has been developed with more of a eye towards the parents buying it than the kids riding it. If you think that you would be happy for your child to ride this durable, high-quality bike then the best option is to head over to Amazon where it is available in a selection of different colours with a nice little 10% discount. This could well be the right balance bike for teaching your children how to ride, that is as long as you are prepared to make some adjustments and see them outgrow it quickly.
6. The Chicco Red Bullet Balance Bike Review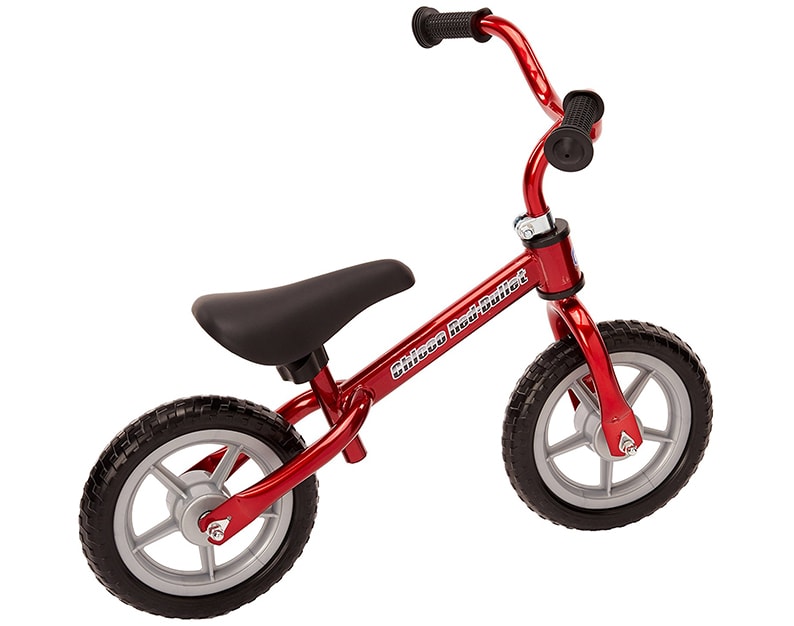 Looking at the pictures and the brief product description, the Chicco Red Bullet Balance Training Bike appears to be a great product with the ability to teach young children while staying safe and fun.
It has a lightweight, bright red metal frame that is apparently "ergonomic", soft tyres, a padded seat and it claims to be adjustable for different heights.
The bike is attractive but, as this review will show, there is one major disadvantage alongside the many appealing features and functions.
The "Red Bullet" has received numerous 5-star reviews for its design, comfort and results.
Starting with the positive factors that parents have experienced, this is a study, reliable bike that offers young children the chance to develop their skills with comfort and safety.
The frame and seat seem to be able to take the weight of older, heavier kids with no problems, the seat is well-padded for extra comfort, the tyres are made from a material that claims to be puncture resistant and there are rubber grips on the handlebars.
Parents feel confident enough to let their young children enjoy this balance bike and the kids are just as keen to ride it because of the way it looks. This striking, bright red balance bike looks a lot more like a real bike than a toy and it will definitely appeal to kids eager to get on their sibling's "big boy" bike.
The feedback for this balance bike suggests that it is both easy to use and easy to assemble, although most of the work has already been done prior to shipping. Kids seem to learn to balance easily and adapt to this style of riding very quickly, with many showing a great deal of confidence. There have been some comments on the lack of brakes with this model but this can be seen as another advantage because their presence can often confuse some kids and hinder their learning.
Most importantly, this capacity as a great learning tool means that the bike provides desirable results. Many children that have used this Chicco balance bike have taken to pedal bikes with ease and show no confusion over what they need to do.
This Chicco Balance Bike has some great features; the problem is that only a small group of children seem to be able to enjoy them.
When it comes to the disadvantages of this balance bike, the size is clearly the biggest drawback and a deal-breaker for many parents. There is no avoiding the fact that this is a very small bike and buyers should be aware of user reviews that say it is "compact". The product description boasts an adjustable seat and handlebars and while this is true to a degree, they are not adjustable enough to make the bike adaptable to a growing child.
Tall kids aged three years and up can have difficulty sitting on the bike comfortably and using the bike to its full potential, which suggests that this is for younger toddlers; however, there is a strong warning in the product description that this is not suitable for anyone under three because of the small parts. There are of course exceptions to the rule, with some parents saying that their six-year-old kids are riding this bike with ease, but this small group of users shows the product's limits.
Summary: is this Chicco Red Bullet Training Bike too small to be of any worth?
This issue of size is an important one; the shorter the life of the product the smaller the chance that it will actually fulfil its aim of being a useful transitional aid. Having said this, there are many other advantageous features that outweigh the negatives and it seems that it is so effective that your child will not need it for very long anyway.
The decision to buy this product is entirely up to you and there is nothing to stop you buying it for a child under three if you are happy to do so many other parents have given it to two-year-old kids with no complaints. If you do decide it is worth buying, Amazon are offering a small reduction on the $49.99 list price with free shipping although it only seems to be in available in red making it surprisingly cheap compared to other bikes of this style.
The Chicco Red Bullet Balance Training Bike is a great value product that may not last long but it could prove to be just what your child needs in terms of style and function.
7. The Diggin Active Skuut Wooden Balance Bike Review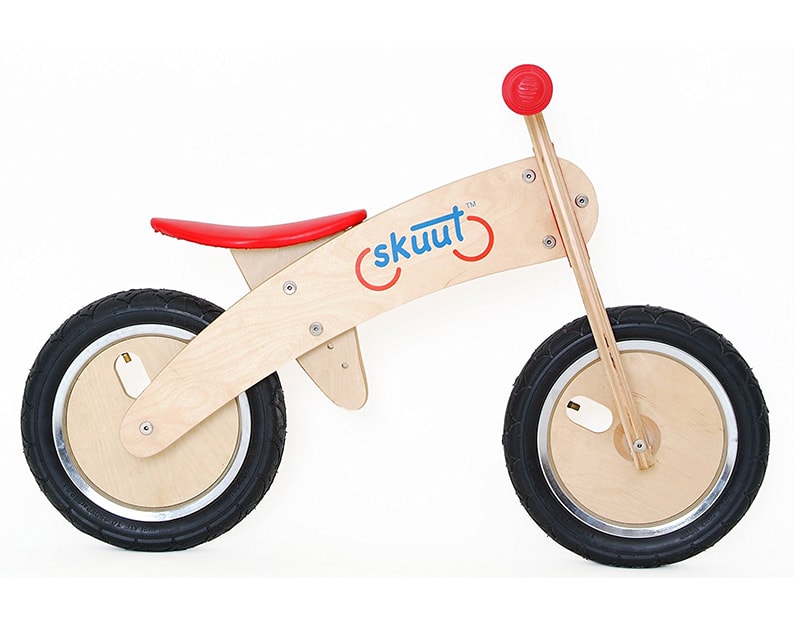 From first impressions, it is clear that the Diggin Active Skuut Wooden Balance Bike is a training bike with a difference. It has been created out of birch wood with a subtle paint-job, it earned its name because of the focus on encouraging children to develop a so-called"skuuting" motion and it has won awards. The 'National Parenting Center Seal of Approval' is a very encouraging indicator for the quality of this product but, as this review will show, there are limitations stopping this clever design from being a true, 5-star product.
There are few balance bikes that have the style and adaptability of this Wooden Skuut Balance Bike.
The first aspect of this bike to be mentioned has to be the use of birch wood because it really makes the product stand out as a unique, stylish toy and gives it some advantages over other models. It should be no surprise that it is award winning because the enviable shape and clean lines will be desired by neighborhood kids and parents alike. The true benefits of this wooden design, however, are its light, manageable weight and the full, spokeless wooden wheels. These wheels mean greater safety, a benefit that is enhanced by the inclusion of handlebar grips.
Another advantage that has been highlighted by parents is the adjustable nature. The handlebars have a height of 21 inches and the seat adjusts between 13 and 16.5 inches, meaning a wider range of children should be able to use the bike comfortably and effectively. The product description suggests an age range of 2-5, which is younger and wider than some other bikes, and it seems to have been designed as much as a learning tool as a fun toy.
Young toddlers have been given the chance to enjoy riding their very own bike alongside their siblings while also learning about balance and technique. This ability to accommodate a range of ages is helped by the weight capacity of 75lbs. This means the Skuut bike is tougher than it looks in some respects but, as the next section will show, it definitely has its limits.
The Diggin Active Skuut Balance Bike goes so far with its design and innovations yet it falls down at the final hurdle.
The fact that it has been made out of wood has already been mentioned but this choice of material is as much as con as it is a pro because it has led to the bike's biggest issue its durability. The birch has supposedly been strengthened by its non-toxic lacquer but there are many user reports of the wood splitting and breaking and some questions over its resistance to the elements. It seems that Diggin Active has taken the time to think about some elements but have neglected others, such as a comfortable, well-padded seat or a tyre that does not need inflating.
The tyres do not always fare any better than the wheels and buyers mention some rips and "explosions", although the latter review may be a little extreme in its wording. Basically, the bike seems to have a short life so while it may be completely fine for one child, it may not have the longevity to be passed on to their younger siblings.
Summary: is this Diggin Active Skuut Bike still worth buying if it has such a short life expectancy?
The fact that one of the other awards given to this product was the 'Creative Toy Top Toy of the Year Award 'says a lot. It is a great toy for young kids to practice with and should be praised for the creativity in the design; however, it struggles to live up to other transitional bikes in the eyes of some parents and some of the creative aspects have their downsides.
This bike has come a long way to impress people and has earned a lot of fans but the quality and final experience has slipped slightly and it was unable to please everyone.
Perhaps this bike can be best described as a fun, fashionable balance bike for one-child families. If you are in that demographic and favor the quality of the ride and your child's enjoyment over the durability and life of product, Amazon are carrying both the red and pink versions with an attractive discount. $99.99 is a lot to pay for a product of this nature, particularly when other, longer-lasting bikes have a lower list price, but the 21% reduction helps.
Essentially, the Diggin Active Skuut Wooden Balance Bike is an attractive, practical toy that has the potential to teach your child the basics and offer a lot of enjoyment while it lasts.
Suggest this reading to new parents: 21 Best Baby Walkers 2017
8. STRIDER ST-4 No-Pedal Balance Bike Review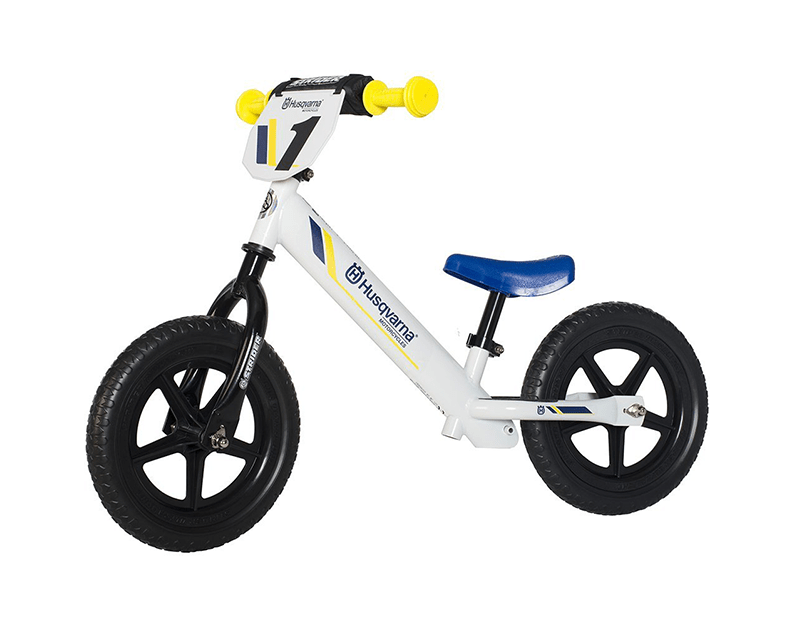 When it comes to balance bikes for children, parents often struggle to make a decision as there are several choices available int the market at any given time.
The Strider ST-4 No-Pedal Balance Bike is unlike any other kind of kids bike in the market today and it is certainly worth taking a closer look at.
Listed below are product specifications as well as pros and cons of the Strider ST-4 No-Pedal Balance-Bike. Customer feedback is also included, to guide potential buyers to making a sound decision.
Product Features and Benefits
Sealed Cartridge Bearings
Compared to its ST-2 and ST-3 predecessors, the ST-4 is built to provide a smoother and better ride for the passenger. The sealed cartridge bearing replace the cup and cone that was fitted in the two previous models. This feature makes the bike easier and more fun to ride for kids. In addition, the bearings do not need maintenance since they are made to withstand wear and tear.
Powder Coat Finish
The baked enamel paint that was previously used for the earlier version has been updated to a powder coat finish, which gives the bike an entirely new look and feel. Its overall visual impact has been immensely improved, making the bike look more impressive than most other run-of-the-mill units.
This type of finish is more durable so it does not need re-painting all that often, even when exposed to harsh elements like direct sunlight and precipitation.
Sturdy Electrodeposited Paint on Seat Post
The black paint on the seat post is rendered differently than the rest of the bike. The electrodeposited paint is scratch resistant and provides a sleek STRIDER appeal that is unqiue to this particular product line.
Softer Durometer Grips
Since this bike is intended for kids between ages 18 months and 5 years, the grips have been designed to have a softer feel to make them more comfortable to children and their soft (often sensitive) skin.
Lightweight but Sturdy Materials
At 6.7 pounds, the ST-4 is among the lightest bikes in production today. However, while it is lightweight, it is made of highly durable materials so it is very likely to last a very long time despite being subjected to slightly rougher terrains (i.e. rocky parts of certain public parks, etc).
Adjustable Saddle Height and Handle Bar
As the child grows, the bike can be set accordingly since the saddle height and handle bar are designed to be easily adjusted. This also means that siblings can share one bike regardless of their age/s.
Excellent for Balance Training on Toddlers
Pediatricians and child experts concur that this bike (and its particular specifications) is perfect for teaching children how to gain and maintain balance. While most parents prefer their kids to start on bikes with training wheels, the ST-4 is in fact more appropriate since it allows children to practice excellent balance and coordination without the safety hazard.
EVA Polymer Tires
Both the front and rear tires have an entirely new tread design, and they are meant to provide a smooth but stable ride. Barring extraordinary circumstances, the pair will likely last years before needing to be replaced. The treads of the tires are placed much closer in order to provide low rolling resistance when tackling hard and/or uneven surfaces. The multiple knobs are fitted in order to provide excellent all terrain grip and allow for great stability and easy handling.
Mini Saddle
The ergonomic design of the saddle for this model is specifically fitted to accommodate small toddler hips. It is much smaller and narrower than typical saddles so it ensures maximum riding comfort for children. The seat is also weather proofed so it can be used indoors as well as outdoors in all types of prevailing climate.
LaunchPad Footrest
This balance bike is specifically designed to train beginners to for advanced riding. The launch pad footrest is located ideally to accommodate the riders' foot when coasting and balancing. The footrests also allow advanced riders to learn how to pump and balance even without having to sit down on the saddle.
Cost Effective
At just a few bucks above a hundred dollars, this bike is still at the affordable range.
Drawbacks
No Training Wheels
Unlike most children's bikes, the STRIDER ST-4 No-Pedal Balance Bike does not include training wheels and cannot be fitted with one. This can be a point of contention with parents who are just a tad nervous about getting their children a bike with no added support.
Verdict and Recommendation
Considering its features, price, and its overall appeal, the STRIDER ST-4 No-Pedal Balance Bike is indeed an impressive unit. Compared to most of its contemporaries in the market today, this bike definitely rest head and shoulders above the rest and there is no reason why parents should not buy one for their child right away.
9. The Strider ST-3 No-Pedal Balance Bike Review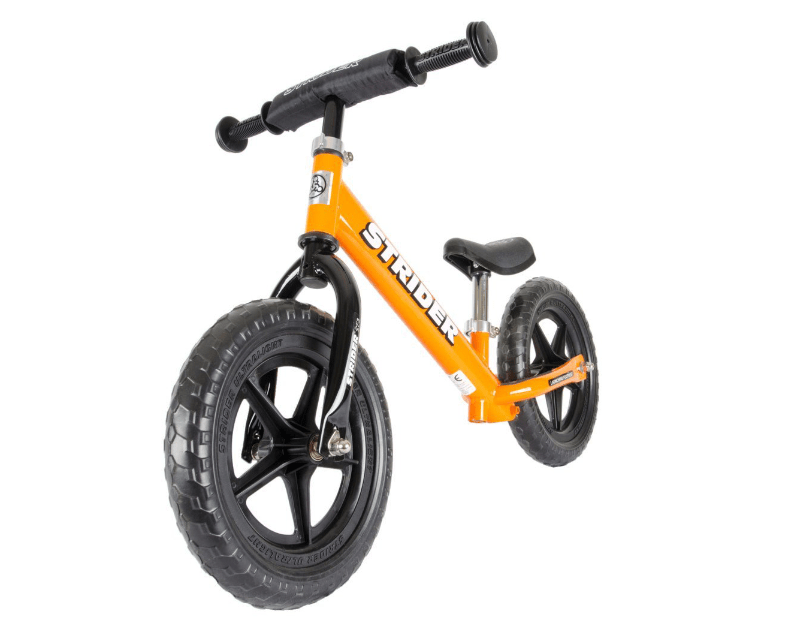 Strider is a name that parents trust when it comes to balance bikes and training aids and the STRIDER ST-3 No-Pedal Balance Bike has become a much loved product with a high percentage of positive customer reviews.
The different designs and the detailed specification mean that this balance bike is highly appealing to both parents and children because of its apparent considerations over safety, comfort and function; however, as this review aims to show you, there are some features that are particularly worthwhile and others that have received negative responses.
The specification for this ST-3 model has been cleverly thought out to provide a great experience for a wide range of users.
Balance bikes can be viewed as miniature training bikes for the very young that still need to work on their motor skills and balance. As a result, it could be easy for designers to just shrink down a kid's bike and remove the pedals but Strider have gone even further and included modifications and features to make it ideal for toddlers and learners.
The basic features like the seat and handlebars have been altered to be ergonomic for small kids the seat being much more narrow than normal and the diameter of the handlebars being reduced by 43% for smaller hands while the unusual addition of the footrest aids their comfort as they coast along. Other benefits in the specification are the 6.7 weight, which is manageable for most kids, and the "maintenance free" wheels.
A lot of thought has clearly gone into making this bike as child-friendly as possible and this continues with the wide age range and adaptability. Another rare feature is the fact that children as young as 18 months are able to ride this bike because the seat drops as low as 11", meaning children can jump on and start to learn the basics as soon as they want with no concerns about it being to old for them.
As the child develops and learns new skills and confidence, they can continue to use the same bike they have grown to love up to the age of five because the seat can be easily raised up to 16" thanks to the use of a quick clamp adjustment system and the product has a 60 pound weight capacity. This adjustable nature means that this model can let kids learn and adapt in their own time with no pressure.
This STRIDER ST-3 Balance Bike is a little let down by the use of materials and surprising cost.
Unfortunately there are some negative aspects to this product that limit its appeal slightly the most important being the price and the use of materials. Some parents feel that this bike is perhaps a little overpriced given the construction and use of hard plastic on the wheels and seat, which could be a lot more comfortable.
Buyers appreciate that the plastic tyres reduce the overall weight but many would prefer something a little more traditional.
There is a padded replacement seat available directly from Strider but it comes at an additional cost, making this questionable price tag even higher for some parents. Elsewhere, there are also criticisms about the use of the clamp system, because it is apparently prone to being knocked out of line, and the lack of control over of the handlebars.
Summary: is this Strider balance bike too expensive or does its potential outweigh this disadvantage?
Weighing up the pros and cons, it is safe to safe that this is a bike for parents who are happy to let their child learn as and when they feel like it because of the long life and adaptability from 18 months to 5 years. The price is a deciding factor for many and a solution to this problem is the Amazon sales page where you can not only find the bike with a 19% discount on the $110 list price but also a massive range of colors and designs including Cobra and Nitro Circus branded models.
In the end, this STRIDER ST-3 No-Pedal Balance Bike may be flawed but it is open to a wide range of children and it offers them a model that has been specially designed for their needs by using features and modifications that other brands neglect.
10. Radio Flyer Glide and Go Balance Bike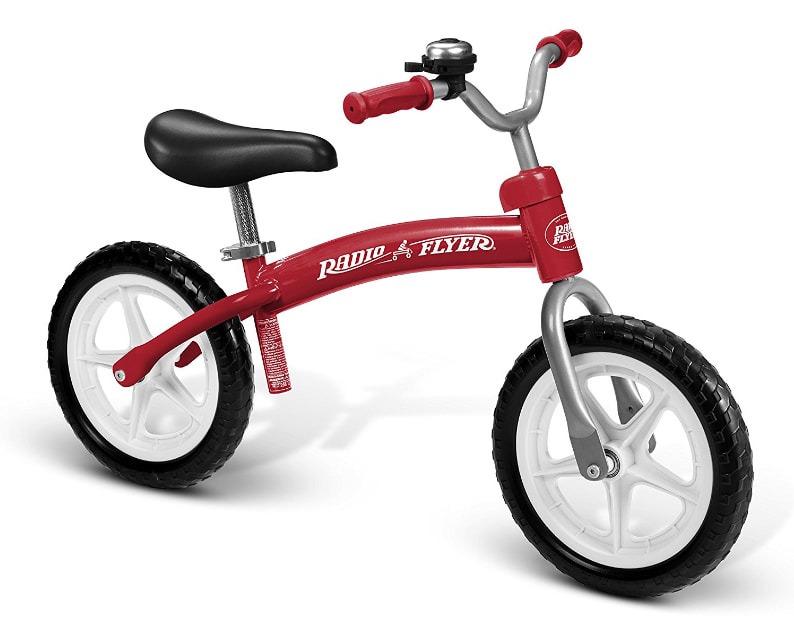 Running bikes are now available in a large variety of models, but Radio Flyer Glide and Go Balance Bike still brings forward simplicity without reducing the main functionality.
Constructed from strong metal frame and equipped with sporty wheels, the Glide & Go is a good-looking small vehicle which will not only help the rider to develop motor skills, but also boost his/her confidence.
Compared to other balance bikes, Radio Flyer Glide and Go does not actually offer a great deal of differences, except its aesthetics value.
A bright red frame, white sporty wheels, and traction tread tires are nicely blended creating a colorful small vehicle suitable for preschoolers.
Some of the best features and minor drawbacks of this balance bike are briefly outlined as follows.
Main Features and Benefits Radio Flyer Glide and Go Balance Bike
Apart from its good appearance, Radio Flyer Glide and Go Balance Bike emphasizes on durability factor by using steel material to create the main frame.
Compared to wood or molded plastic, steel is always a stronger material promising an excellent durability value.
Metal material is often considered heavy or at least heavier than wood.
Nonetheless, Glide and Go is able to maintain lowest amount of weight to allow the rider to control and handle it with ease.
When fully assembled, this balance bike only weighs around 9 pounds; it is even lighter than some wooden bikes in the market.
Its red frame displays the Radio Flyer logo, enhancing the bike's overall beauty.
Radio Flyer Glide and Go Balance Bike is designed specifically for any kid aged from 30 months to 5 years.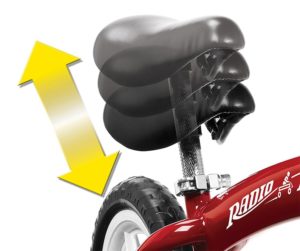 In order to accommodate the rider's growth, the seat post height is adjustable from 14.5-inch to 18-inch.
With its sturdy construction and quality materials, this balance bike can support a maximum rider's weight of 80 pounds.
The seat post has an easy-to-use mechanism, allowing parent to simply adjust its height without using any additional tool.
Radio Flyer Glide and Go Balance Bike RedThis balance bike features 5-spoke wheels which create such sporty appearance.
The wheels are wrapped with non-inflatable traction tread tires.
Non-inflatable tires are usually considered inferior to the pneumatic types in terms of traction.
However, Glide and Go's tires are well-treated and expected to provide great amount of traction even in unfriendly terrain. Even better, these tires are puncture resistant and they do not require air pressure to work. Generally speaking, they are almost maintenance-free.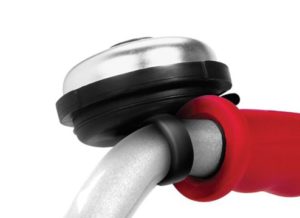 In addition, Radio Flyer Glide and Go Balance Bike includes a ringing bell accessory free of charge; this part is already attached to the handlebar.
Another great advantage is that this balance bike is attached with 1-year warranty by the manufacturer.
It is possible to extend the duration of this warranty by registering this product.
Drawbacks
Despite the fact that it has good-looking appearance and solid sturdy frame, Radio Flyer Glide and Go Balance Bike brings some minor drawbacks as well.
This balance bike does not have footrests. Although footrests are not actually the most important parts, they can be useful to support the rider's small feet. Without these parts, riding a balance bike can be a very tiring activity for a little rider.
Furthermore, 5-spoke wheels are probably not the safest types for a balance bike for safety reasons.
Small feet might get caught by the turning wheels, especially when the bike does not have footrests.
The use of puncture resistant tires can be a drawback as well. These tires are indeed very durable, but pneumatic type functions better as shock absorber which can greatly help to maintain stability on uneven surfaces.
Also, this balance bike does not have hand-controlled brake; once the toddler is brave enough to ride faster, the unavailability of brake can be a problem.
Verdict
Radio Flyer Glide and Go Balance Bike Red brings a good-looking appearance with its bright red steel frame and white sporty wheels.
It does not have any confusing feature or too many additional accessories which can be protrusions for the rider. It only has one additional accessory which is a ring bell.
Its easy-to-adjust seat post height is a clever design allowing parent to quickly find a perfect fit for the small rider.
The best advantage is that Radio Flyer Glide and Go Balance Bike is affordable. As usual, the best deal is available at Amazon. Take a look for testimonials there.

11. FirstBIKE Street Bike with Brake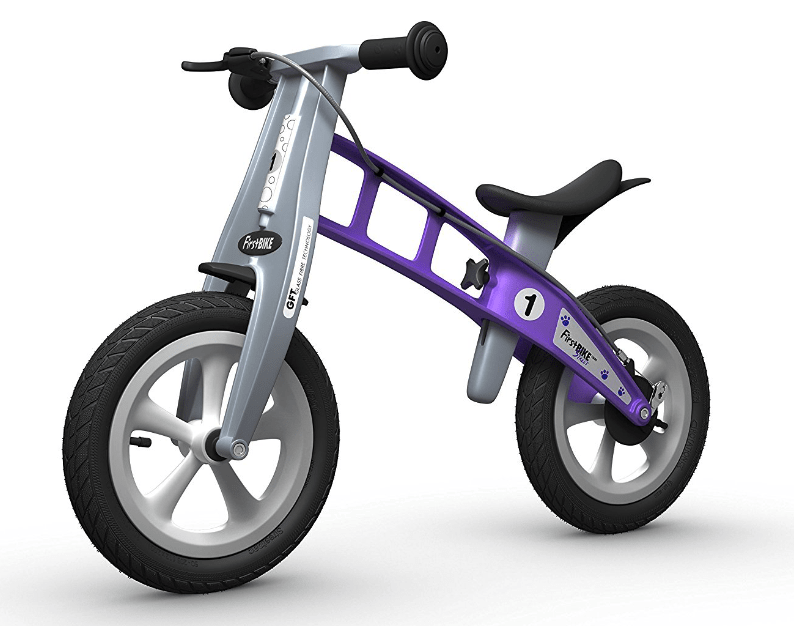 Among the entire choices of balance bikes available in the market, FirstBIKE Street Bike with Brake is one of the most fully-featured products.
All parts of this bike including frame, saddle, seat post, tires, brakes, and all its accessories provide safety and comfort for toddlers to enjoy the ride.
Although similar products also exist, this Street Bike offers unique frame construction, height adjustment, safety features, and more.
The manufacturer also provides several optional kits in case modification is necessary. There are many reasons why FirstBIKE Street Bike is superior to other products; some of its best features are listed in the following passages.
Important Features and Benefits of the FirstBIKE Street Bike with Brake
The most prominent feature of FirstBIKE Street Bike is the frame.
It is a molded composite material instead of wood or metal, making it flexible yet very durable.
This powerful frame is lightweight, water-resistant, as well as rust resistant.
Its flexible nature provides good shock absorption, which in turns, protects the rider's spine.
Since the frame is resistant to water and rust, it is worry-free to wash the bike anytime necessary.
Another important thing is that all bolts used for construction are recessed into the frame.
The main purpose of such design is to prevent kids from getting injured or scratched by exposed bolts.
Furthermore, recessed bolts also provide additional clearance for kids to ride.
The overall dimension measures at 15-inch W x 33-inch L x 22-inch H and it weighs only around 8.6 pounds; any toddler who can walk surely will handle the balance bike very well.
Other good points to highlight are saddle and seat post.
The saddle is made of rubber designed to grip the rider's bottom, thus it prevents the kid from sliding or slipping.
It also has a horse saddle shape, providing better comfort.
The rubber is non-porous, which is a nice addition to the water-resistant frame.
The adjustable seat post height is not round-shaped, so the saddle will not swivel for the child's safety.
The manufacturer offers lifetime warranty on fork and frame, and 5-year warranty on all other parts of the bike, ensuring its durability aspect as well as value for money.
FirstBIKE Street Bike with Brake is designed for any child aged 22 months to 5 years.
The optional lowering kit is available, allowing a child of an earlier age to be able to ride the bike as well.
The seat height on stock model adjusts from 13.5-inch to 17.5-inch; with the optional lowering kit, it adjusts from 12-inch to 16-inch.
The tires are inflatable, which is ideal for common urban areas where the terrains are mostly filled with stone, packed dirt, or concrete.
The wheels are equipped with sealed industrial bearing for smoother gliding.
Another excellent feature is its hand-controlled rear drum-brake.
Compared to the usual V-brake, this drum-brake is generally smoother; braking power can be adjusted as well.
The brake cable is stretched neatly along the frame, eliminating protrusion for the rider.
Drawbacks of the FirstBIKE Street Bike
While its frame, saddle, seat post, and brake are well-constructed, FirstBIKE Street Bike with Brake still has some possible drawbacks.
The easiest thing to notice is that it does not feature footrests. In order to enhance comfort, the rider's feet need supports while riding.Footrests can be protrusions in some cases, but these are important parts that prevent the kid from getting tired too soon because he/she needs to lift up the legs too often.
Another possible drawback is that the lowering kit should be purchased separately as an optional accessory. The lowering kit is a useful part for very young toddler, but consumer will have to spend more money for this. Moreover, inflatable tires are not puncture proof, so they are vulnerable to any sharp object along the road.
Verdict
In general, FirstBIKE Street Bike with Brake is such good example or well-constructed balance bike.
It features lightweight yet durable composite material and is as well equipped with drum-brake.
Safety, comfort, ease of use, and durability aspects are nicely combined in this bike, making it one of the best choices in the market.
This is an award-winning balance bike accredited across the world; it is designed specifically to provide fun time riding for children without compromising quality.