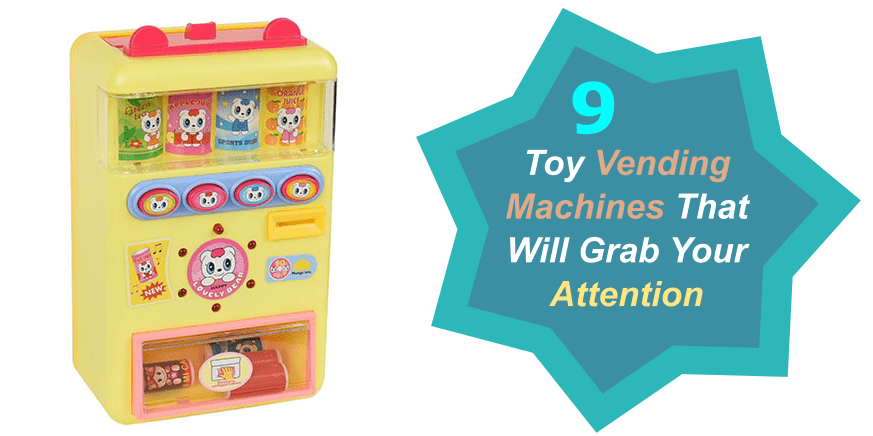 When someone mentions vending machines, the majority of people think of soft drinks, snacks, gums, and candies.
But, the fact is that there are few other types of vending machines that have proven to be useful and profitable.
One of these types of vending machines that have grabbed the attention of the public, especially the attention of youngsters, is the toy vending machine.
Toy vending machines are specially designed vending machines that usually vend toy capsules in small sizes. In some cases, they vend bouncy balls too.
In this article, we will display 9 super-cool toy vending machines for kids.
1. Give me juice vending machine love Anpanman Anpanman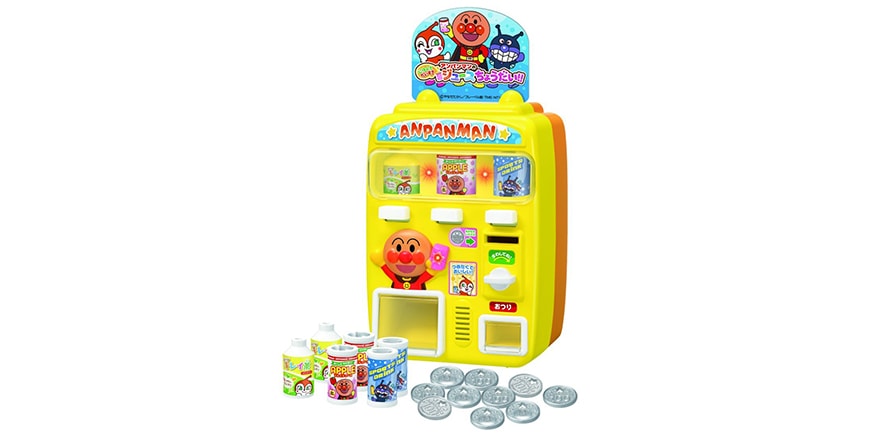 Give me juice vending machine by Joy Palette does exactly what the name of this product suggests – it vends juices.
This is a nice way to teach your kid how to use a real vending machine. The Give me juice vending machine love Anpanman is a relatively small toy vending machine that looks quite realistic. It comes in bright yellow color and the main feature is the cute little man known as Anpanman.
Even though the juices are not real, the manufacturer has taken care of the details and your kids can get apple juice, sports drink, and a special drink. They can also use coins like adults. We are quite sure that not only kids but their parents too will enjoy with a toy like this.
2. The Grossery Gang Season 1 Vile Vending Machine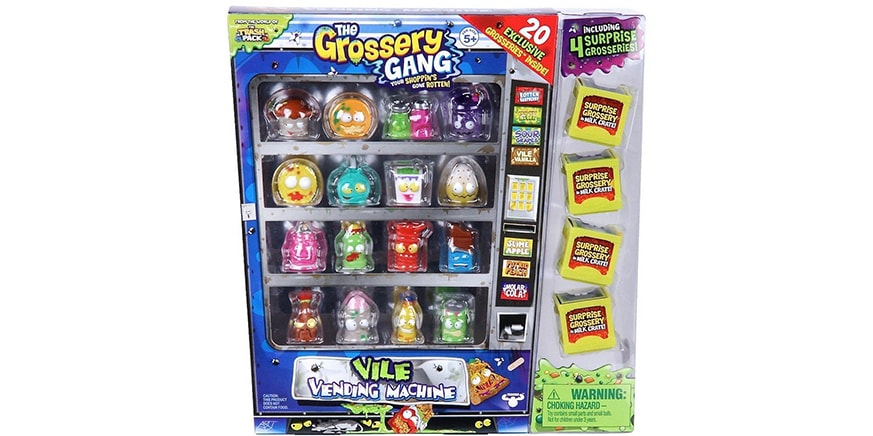 Now here's the perfect gift for your kid. The Grossery Gang Season 1 Vile Vending Machine comes with twenty amazing grosseries.
This product was made by Moose Toys, a company that has a strong reputation in this field.
Ideal for kids aged 5 or more, the Grossery Gang vending machine will make you and your children keep coming for more.
One of the best things about this toy vending machine is the wide selection of figures like the Mushy Slushy cup, Chunky Crunch Box, and Crusty Chocolate bar. You can even get the famous rotten egg too.
This fact alone makes this toy worth the investment.
3. Emoji Gumball Machine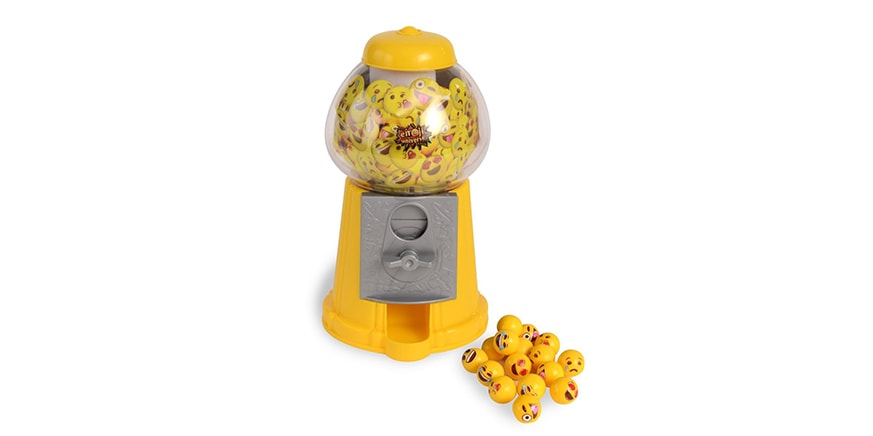 Even though this is not a vending machine technically, the Emoji Gumball Machine promises a lot of fun! Based on the emoji universe that includes different emojis, this gumball machine and toy gumball bank will keep your kids happy for hours.
The Emoji gumball machine is an ideal way to teach your kids the importance of saving money in an enjoyable way.
This product has six different emoji designs – wink with tongue, smiley face, tear face, heart eyes, kissy face and tears of joy.
Allow your children to learn the modern language of social media and internet communication while having a great time – buy emoji gumball machine.
4. Mallya Talking Beverage Vendor Machine Toy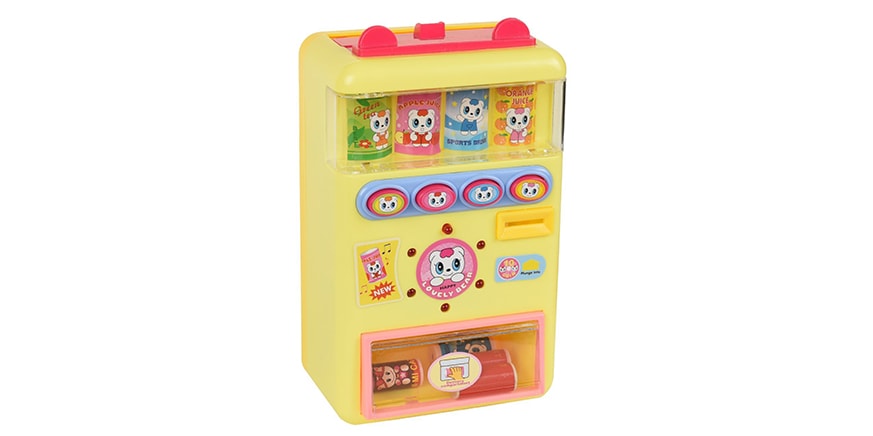 Kids probably won't find more interesting vending machine when they grow up. This toy vending machine comes with a special feature that will put smiles on the faces of many kids. Namely, Mallya's best selling product can actually talk. You can see that this product is designed with kids' preferences in mind.
The colors are exciting and fun, it talks and it is very easy to get your "beverage".
There are four different kinds of drinks and specially designed coins to select a drink.
Obviously, the cans are made of plastic, but they do come with stickers that make them look real. This is one of the best toy vending machines currently available in the market.
5. The Tin Box Company Coca Cola Tall Beverage Machine Bank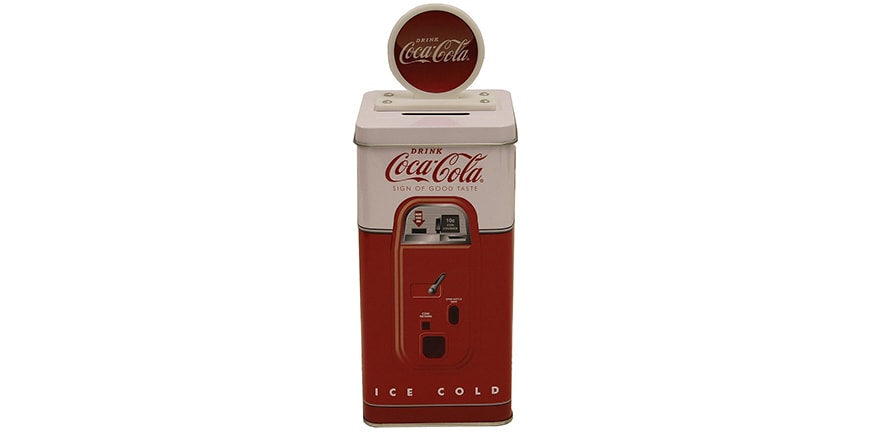 People of all ages love Coca Cola and kids are not an exception. So, why don't you bring excitement in their lives by buying the Tin Box Company Coca-Cola Beverage Machine Bank? Kids should learn the benefits of savings from their earliest age and one way to do this is to use a tin penny bank.
This is an officially licensed penny bank by Coca-Cola. It has a removable lid and it can be used by adults and children too.
Another thing that makes this product great is the fact that it looks beautiful and can fit well in almost any type of environment. This is a great gift for Coca-Cola collectors.
6. Japan Disney Toys Vending Machine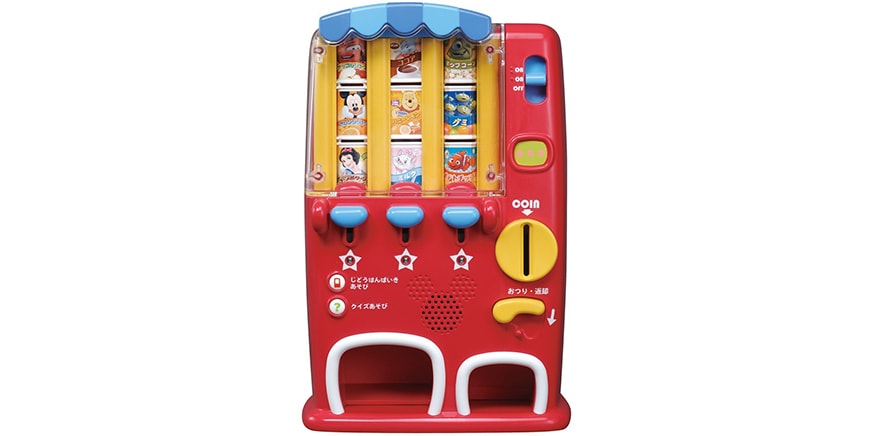 Disney is one of the most popular entertainment companies in the world. Modern children, just like their parents when they were kids, enjoy Disney movies and they find Disney characters especially attractive.
With this special Japan Disney Toys vending machine you can allow your kids to enter the world of Disney from the comfort of your home.
This is an easy-to-use machine that features some of the most famous animated characters including Nemo, Dory, Winnie the Pooh, Mickey and Minnie Mouse, Dumbo, Toy Story characters and many other characters that kids love. On top of that, this vending machine is quite affordable.
7. Candy Gumball Machine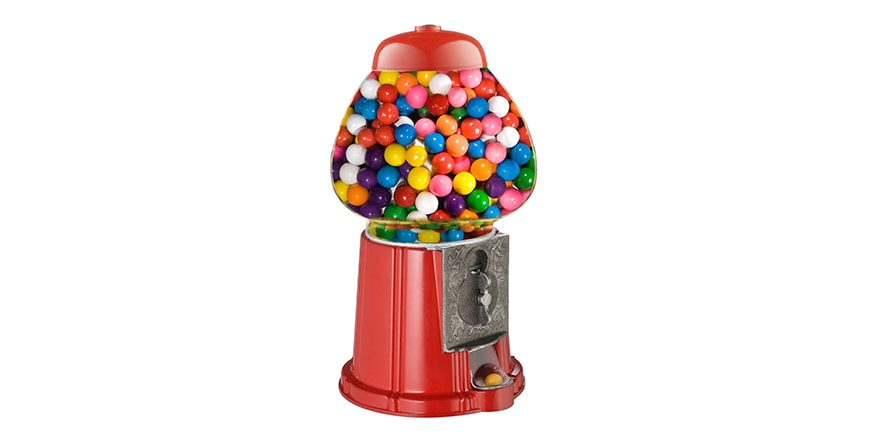 Who says that it's all about technology these days? There are some things that both children and adults enjoy even though they look a little bit outdated.
For instance, you can have a great time and great fun with a candy gumball machine and bank like the one made by Great Northern Popcorn Company.
Everyone loves gumballs so you can't go wrong if you are buying this product as a gift. The device has an attractive stand and a globe made of real high-quality glass. It accepts all kinds of coins.
So, you can use this machine in your home and in your business. It will definitely spice up any area.
8. Big Pro 2 Toy Capsule Vending Machine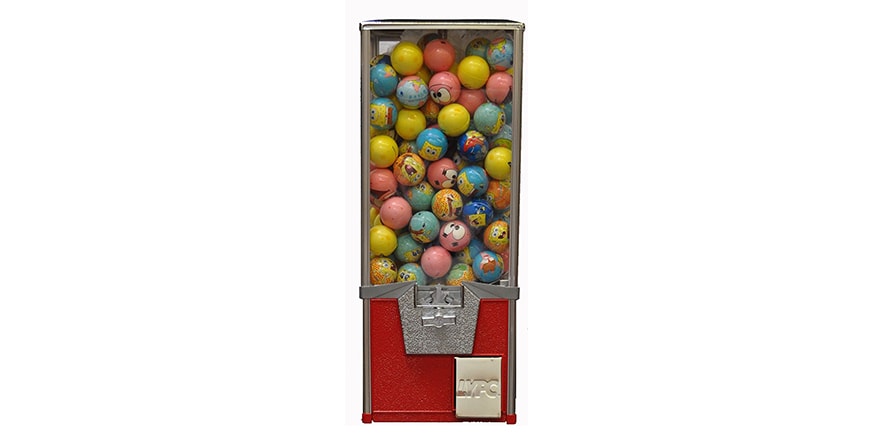 Big Pro toy capsule vending machine comes with a classic design and a capacity of 120 capsules.
It can also receive up to 200 dollars in quarters.
If you are looking for a vending machine that you can rely and depend on, then you should stop your search.
The strong metal construction and the sophisticated coin mechanism make this machine ideal for use in any location.
There is also a cash box for simple collections.
The manufacturer of this product is sure that they've made a quality product which is why they are providing a one year warranty and a one-month money back guarantee.
9. Toy Capsule Vending Machine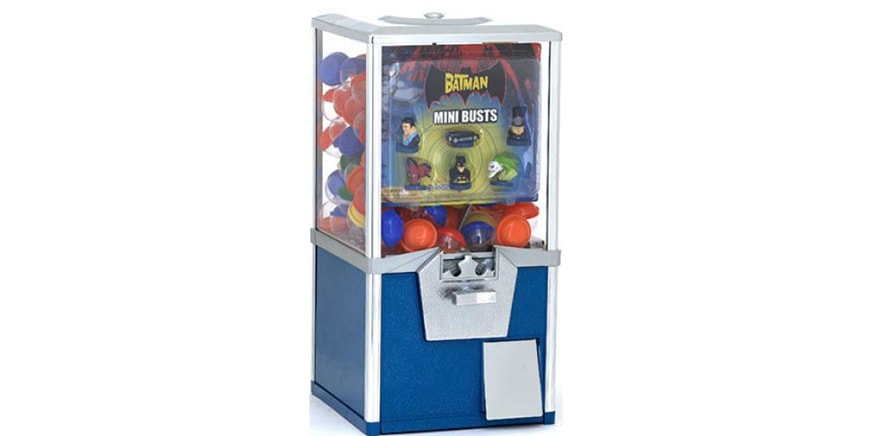 This amazing 20-inch toy capsule vending machine is designed to last for a very long period of time.
This is the perfect vending machine for any type of terrain and any location.
You can use it to provide capsules, jawbreakers, bouncy balls, and gumballs. Buyers can choose from yellow, blue, black and red color with a special chrome trim.
There is also a cash collection box that will make serving much simpler.
In addition to the paid spins, there is an option for free spins, but it is up to you to decide whether you will use it or not.
Overall, this is a great toy vending machine.