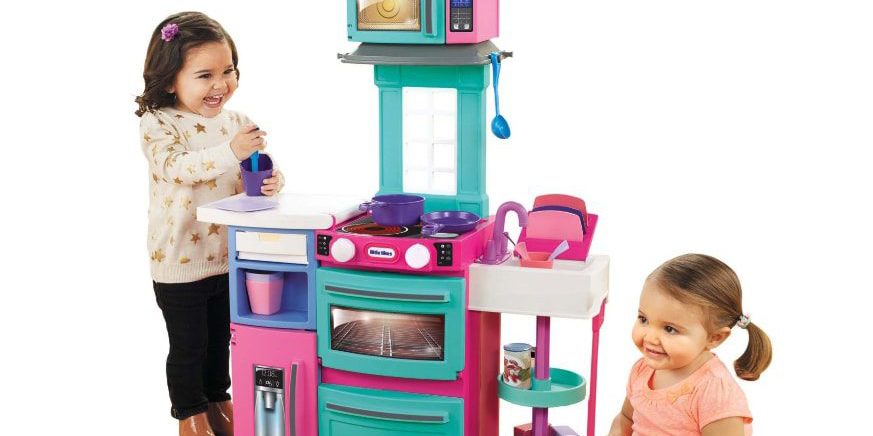 Nowadays, people are searching for toy sets which are able to help their kids play and learn new things at the same time. Toy kitchen sets are a good example of a toy set like this.
With the help of toy kitchen sets, children can unleash their creativity and imagination and learn some basic things about control, management and hard work.
These toys have been present on the market for a long time now, and today buyers can choose from many different sets.
In this article, we will highlight 7 ultimate toy kitchen sets for 2 to 7-year-old kids.
Step2 Best Chef's Kitchen set in blue, black, and brown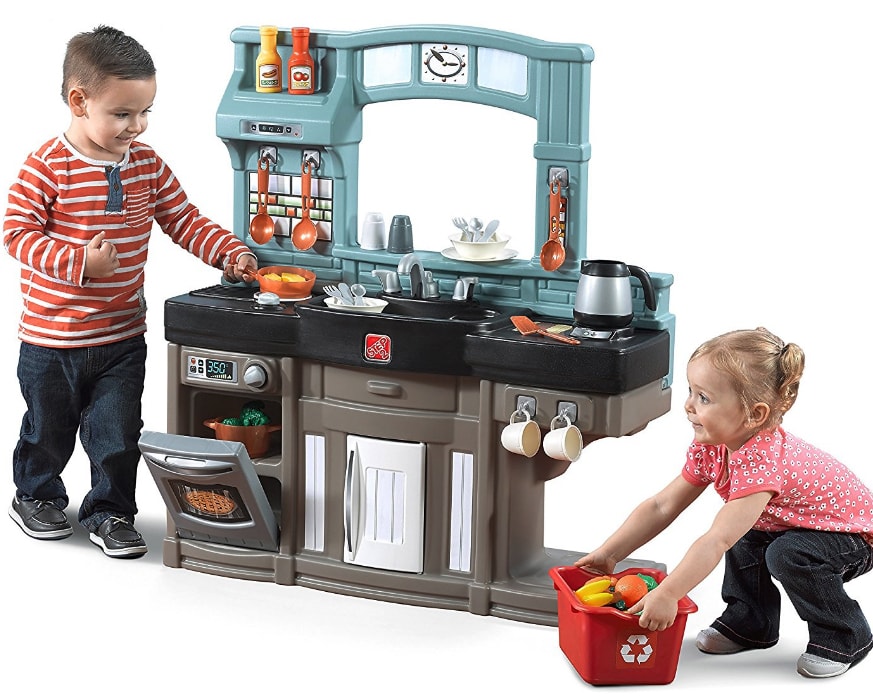 If you are looking for a good play value for the price, then you should definitely add this product to your list.
The Best Chef's Kitchen set by Step2 is a realistic representation of a modern kitchen in a small size suitable for your kids.
The entire set includes 25 pieces of accessories.
It has a realistic stove burner that uses sounds and exciting lights instead of real heat.
There is also a fridge door, working oven, counter space, a window and few other things.
What makes this toy kitchen set even better is the details like the clicking knobs for example.
So, next time you get distracted by your kids when you are trying to cook, consider this option.
Little Tikes Super Chef Kitchen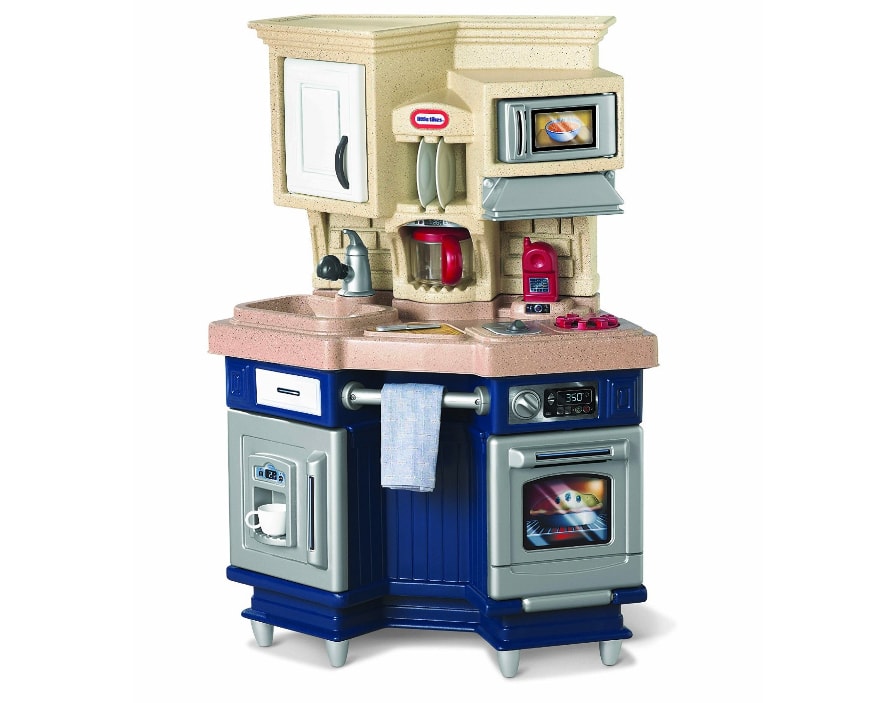 Teaching your kids about the use of different kitchen appliances and this space, in general, is always a good idea.
The good news is that they can start learning this even when they are two, thanks to a toy kitchen set.
This Super Chef Kitchen made by Little Tikes is a very trendy and compact contemporary kitchen.
It's not very big so you can use it literally anywhere you want.
This made in USA product includes plates, cups, pots, spoons, knives, and even a phone.
In addition, there is a modern refrigerator with a door that can be opened, a burner that produces sounds and few other things.
This kitchen set will keep your kids busy while you are involved in real cooking or something else.
American Plastic Toy Deluxe Custom Kitchen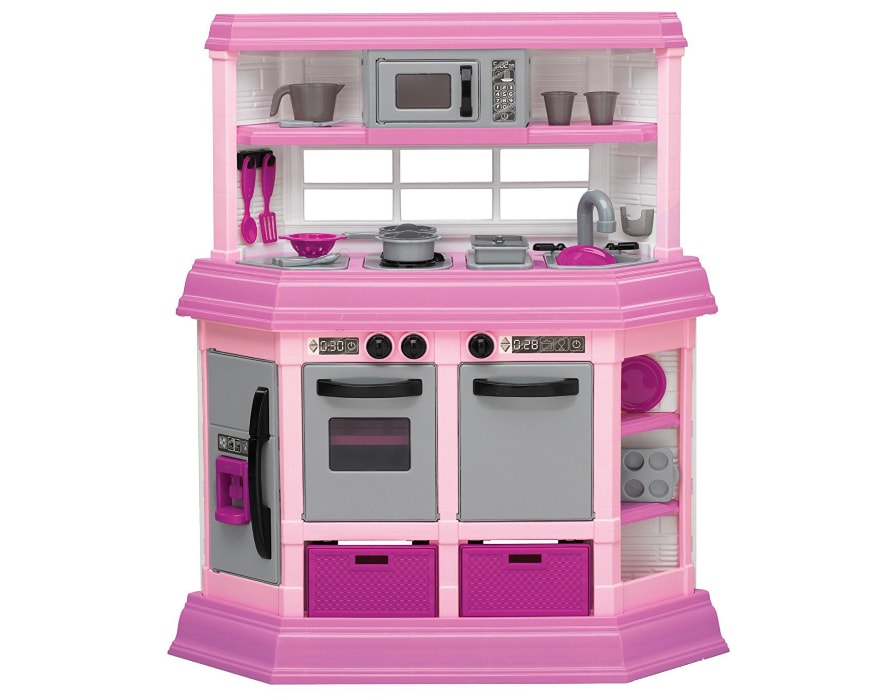 The kitchen is the place in our home where we often get very creative.
That's why it's a smart move to buy a toy kitchen set and give your kid the same opportunity.
Thanks to the American Plastic Toy Deluxe Custom Kitchen, imaginary cooking has never been simpler.
This toy kitchen set which is preferred by little girls because it comes in pink color features a few interesting things found in modern kitchens.
It has real-looking burners capable of making sounds and lights, it has special shelf space with wicker baskets that can be removed and a modern dishwasher and microwave.
In addition, kids can enjoy in 22 exciting play accessories.
Let your kid prepare you a "dinner" and enjoy this quality time with your kids.
Little Tikes Cook 'n Store Kitchen Playset – Pink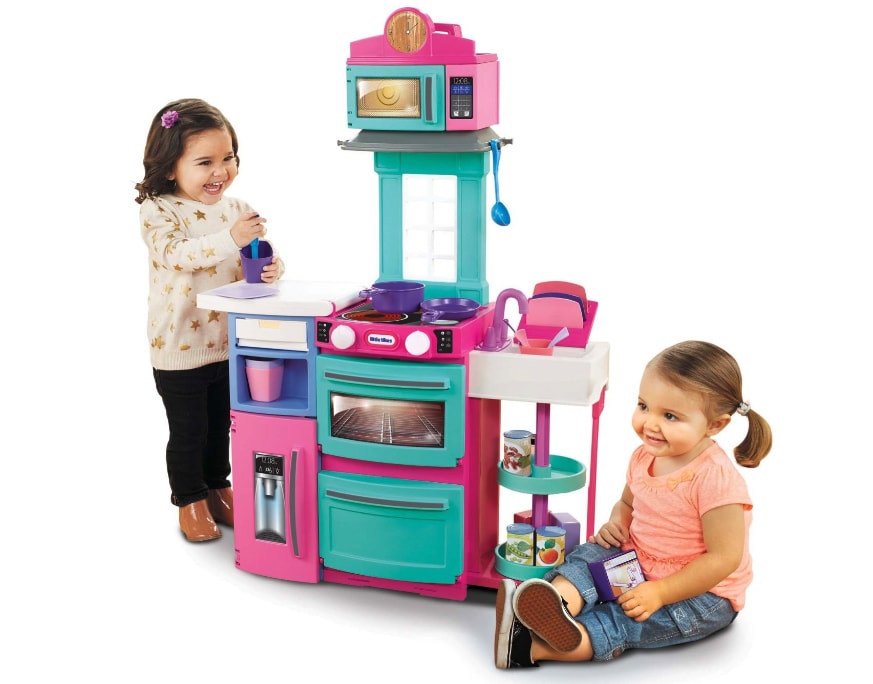 Little Tikes is a popular brand name when it comes to toy kitchen sets.
This specific set known as Cook 'n Store Kitchen comes with a few amazing features.
For starters, you don't have to assemble anything because the kitchen is fully assembled.
Next, this kitchen comes with all the features found in modern kitchens like stove tops, ovens, sinks, clicking knobs and other things making it more enjoyable and exciting.
There is also a lot of storage space where you can keep the accessories.
Even though it takes relatively large space, you can easily fold it when your kid stops playing.
Finally, this is one of the toy kitchen sets with the highest number of accessories (32).
Step2 Little Bakers Kitchen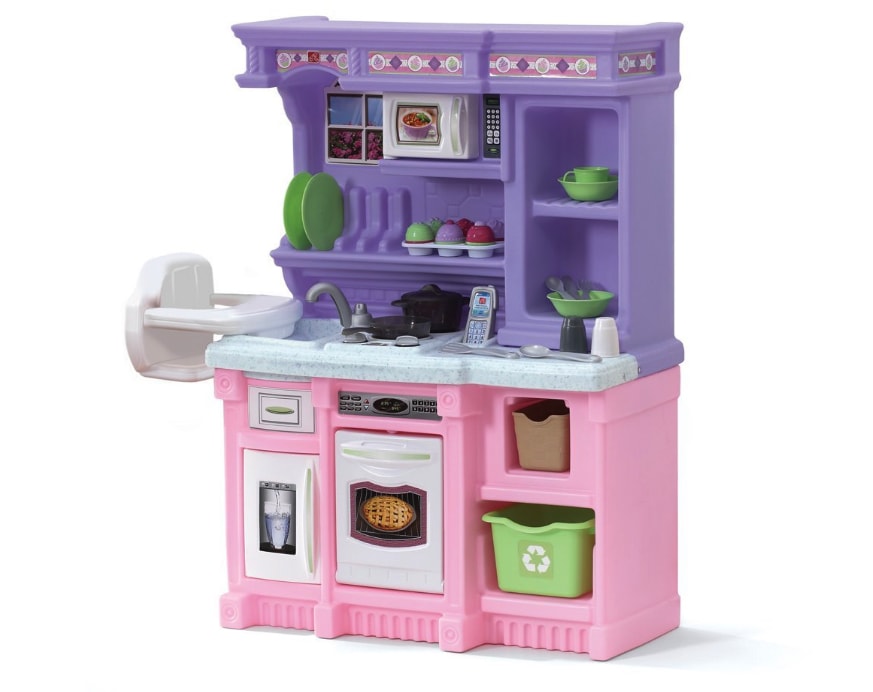 With so many toy kitchen sets in the market, it is easy to get confused and make a wrong choice.
However, you will definitely avoid making a wrong choice in case you opt for the Little Bakers Kitchen by Step2.
It seems that the manufacturer has used all the best things from their previous sets and added few new things for the ultimate toy kitchen.
This is a compact, high-end and colorful toy kitchen set that is ideal for kids between 2 and 7.
It comes with an oven, electronic burner, refrigerator, and microwave.
Kids can even store the dishes in a beautiful plate rack or simply put them on the countertop.
This kitchen set also has some incredible accessories like boiling pot and a frying pan.
Step2 LifeStyle Custom Kitchen Playset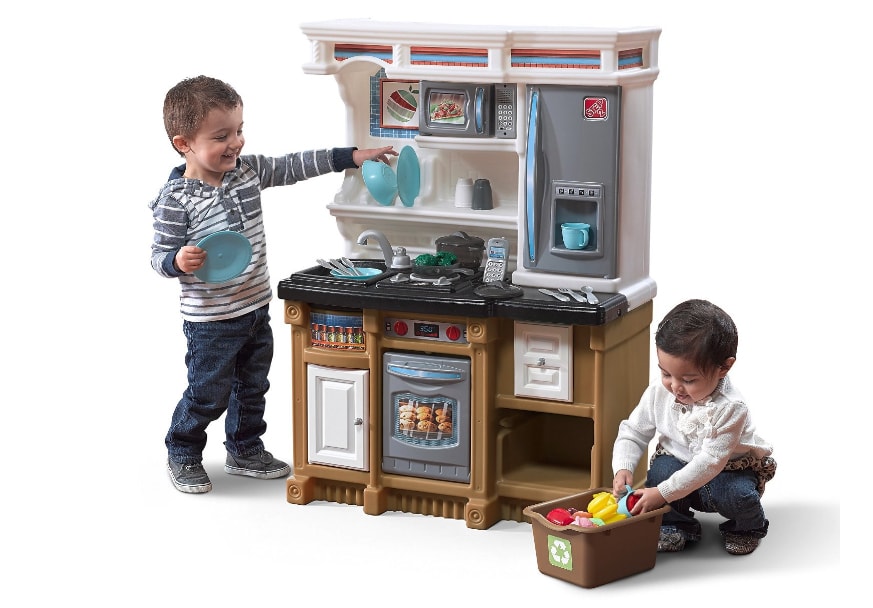 Are you looking for a toy kitchen set that follows modern décor trends?
If the answer is YES, then LifeStyle Custom Kitchen Playset made by Step2 is your perfect solution.
Your kids will definitely love the modern electronic details used in this kitchen.
Thanks to these features you will provide them a unique feeling similar to the one you have in your own kitchen.
Thanks to the compact design and lovely colors, this toy kitchen set will look great in any kid's bedroom or playroom.
Pull-out drawers, recycle bin, boiling pot, frying pan, beautiful countertops that look like they are made of granite, storage shelves, oven, microwave, fridge – these are just some of the things found in this amazing set.
Little Tikes Ultimate Cook Kitchen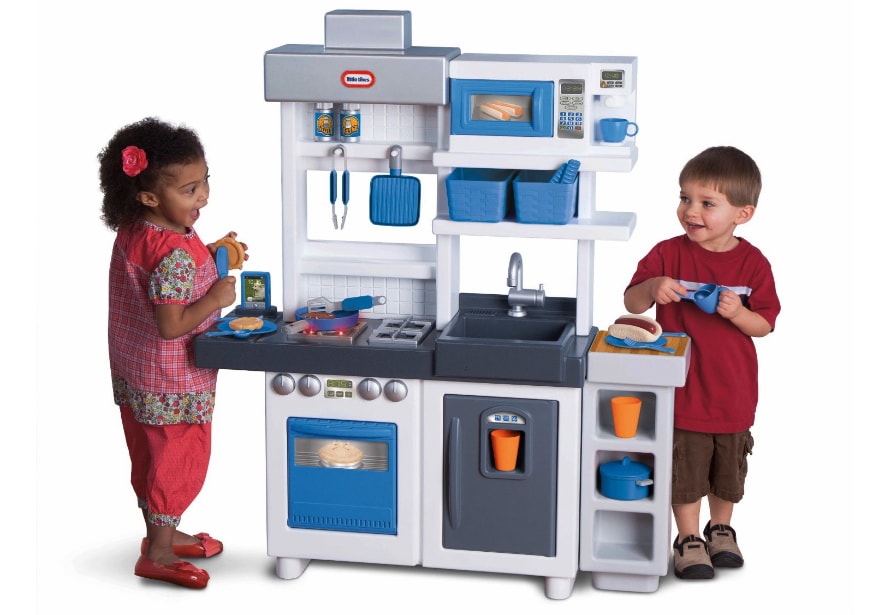 Every kid dreams to be like their mother and father.
With the help of the Ultimate Cook Kitchen by Little Tikes, you will make their dreams come true at least when it comes to cooking and kitchen activities.
This Ultimate Cook Kitchen has everything you have in your actual kitchen.
It has a practically extended countertop space, a microwave, a refrigerator and an oven with opening doors.
One of the things that make this set so interesting is the attention to detail that the creators obviously have.
They have added special shelves where you can store some of the many accessories, plenty of storage space and even pegs used for your kid's utensil storage needs.
The kitchen set also comes with specific sounds that make the "cooking" process more fun and enjoyable.
We hope that this article will help you make the right choice and buy the best toy kitchen set for your kid.